The 12 Best Dry Vermouths You Should Be Using in Your Martinis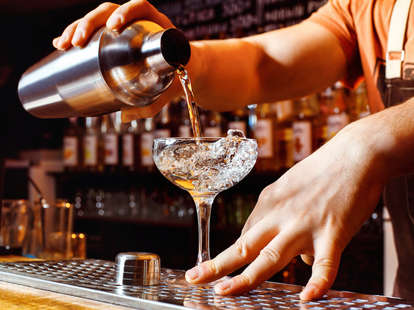 Andrei Mayatnik / Shutterstock
The original Gin Martini called for a good slug of dry vermouth. It was the crisp yin to gin's herbaceous yang. But in the '80s and '90s (aka the Cocktail Dark Ages), fishbowl-sized, bone-dry Martinis became all the rage, and vermouth was relegated to the back shelf where it was left to turn sour. Now, though, thanks in part to the craft cocktail mania that has swept our country, bars and bartenders have once again become pro-vermouth. And as a result, there are more Martini-friendly vermouth options than ever.
In California's Napa Valley and Oregon's Willamette Valley, winemakers are releasing small-batch vermouths made with locally grown flowers, herbs and aromatics. And importers are filling liquor store shelves with once forgotten Italian and French bottlings. With so many available, it can be daunting to choose the best dry vermouth for your palate or your preferred style of Martini. To help ease your indecisiveness at the liquor store, here are our favorite dry vermouths (and dry vermouth alternatives) to use in your Martinis.
It was only natural for the makers of one of the best Old Tom gins in the world to make a delicious vermouth to accompany it. Made in Sheridan, Oregon, by alchemical magician Tad Seestedt, Ransom's dry vermouth has a base of pinot blanc, other local white wines and brandy aged in French oak. Tart with balanced acidity, this vermouth is bone dry, bitter and herbaceous.
Known as "Vino di Moda," or "fashion wine" (it was originally marketed toward young, sophisticated Italian women), this traditional Italian vermouth is a spin on Dolin's original formula, the white semi-dry vermouth from Chambéry now known as Dolin Blanc. On the palate, the vermouth has a mild bitterness, flavors of stone fruit and baking spices, and a bright, citrusy finish. Mix it with less juniper-heavy gins like Plymouth or vodka for a crisp, citrus-forward Martini.
Salers Aperitif $21
With a recipe that dates back to 1885, Salers is one of the oldest French aperitifs still in production. Infused with hand-harvested gentian root indigenous to the mountainous Alpine region of Auvergne, France—where the spirit is made—the aperitif has a rustic, vegetal flavor and a deliciously bitter bite that's all its own. Substitute Salers for dry vermouth in a classic gin or vodka Martini recipe, or, for something uniquely French, make Julia Child's famed aperitif, the Reverse Martini (two ounces of dry vermouth with one ounce of gin).
There's always a bottle of this vermouth in our fridge. Before the bottle is even empty, we already have another one purchased. Starting with a Long Island Sauvignon Blanc made by Channing Daughters, the wine is fortified with grape brandy and infused with herbs and flowers that grow on the winery's property in the late spring/early summer. On the palate, the vermouth has a crisp minerality, green vivaciousness and a honeyed, floral finish. Our go-to Martini with this fortified wine is a 2-to-1 ratio, which we then dilute with water, bottle and store in our freezer.
Made in the Napa Valley with wine made from locally grown grapes, this dry vermouth has a juicy, mouth-watering acidity that lends itself perfectly to cocktails. Beyond the bracing acidity, the spirit rounds out with full bodied creaminess, with hints of jasmine, elderflower, baking spices, and a subtle bitter finish on the palate. Use in a Martini with softer gins like Nolet or even in a tequila-based Martini variation.
In production since 1891, Cocchi Americano is a fortified wine made with Italian Moscato d'Asti grapes. Infused with citrus, gentian root and cinchona bark, the vermouth is robust and layered, with a sharp, bitter finish. While Cocchi Americano is delicious in just about any vermouth-based cocktail under the sun (hell, you can even drink it on the rocks), it really shines in a Vesper as the substitute for the bygone Kina Lillet.
With a flavor as rich as its history, Cinzano is also known as the Vermouth of Turin, where it was created in 1775 by two brothers, Giovanni Giacomo and Carlo Stefano Cinzano. Infused with 35 different botanicals indigenous to the Italian Alps, including marjoram, thyme and yarrow, it has delicate vanilla aromas and a strong, savory flavor that's reminiscent of olive oil and eucalyptus. Pair Cinzano Extra Dry with vodka for a minimal, appetite-whetting Martini, or with gin and a fat Castelvetrano olive (brine recommended) for the ultimate Dirty Martini.
This is the quintessential French dry vermouth. It is dry, crisp and savory all at once. Different from the company's Dry bottling, Noilly Prat Extra Dry is made with Clairette wine at the base, which is infused with more than 20 different herbs and spices, including bitter orange, chamomile, gentian and nutmeg. Almost buttery on the palate with notes of wet stone, sage and cedar, this dry vermouth is so delectable that it can be sipped straight. In a Martini, Noilly Prat adds a unique savory depth—especially if you infuse it with burnt onion skins.
One of our favorite new bottlings, Vermouth Routin Dry is made in the Chambéry style, which is known for being light, dry and herbaceous. Made from a blend of Sauvignon Blanc and Jacquère wine, this dry vermouth is infused with more than 17 different plants and botanicals, including rose petals, juniper, rosemary, wormwood and bitter almond. On the palate, it is herbal and fruity with notes of wormwood, rosemary, jasmine, chamomile tea, apricots and peaches. Exceptional in a crisp Vodka Martini, Routin Dry is also a wonderful accompaniment to gooey, barnyardy French cheeses.
While this vermouth is technically sweetened and made in the blanc or bianco style, its robust bitterness dries it out. Made from a blend of Cortese and Chardonnay wine, Contratto Bianco is fortified with sugar and brandy. It's infused with more than 50 different herbs, botanicals and spices, including hawthorn flower, coriander seeds, chamomile, clover, aloe, hibiscus and bergamot. It is a total flavor bomb. It has big, juicy citrus notes and flavors of clove, orange blossom, rhubarb, ginger and menthol. Serve this vermouth in a Martini with a drier, less juniper-forward gin like The Botanist and a swath of lemon peel (or even grapefruit peel) to bring out the citrus-notes.
It's not a vermouth, nor is it technically a sake, but this infused Japanese rice wine is the ingredient your Martini has been missing. To make this delicious spirit, the brewery macerates umeboshi (traditional Japanese salted, pickled plums) in high quality junmai sake. Finished with pure cane sugar, Kamoizumi Plum Sake is everything that you want from a vermouth: It's briny and umami-rich, with a touch sweetness and a funky fresh finish. Once you make the switch, you may never go back.
Who would have thought to put sherry in a Martini in place of vermouth? But it works, with astoundingly delicious results. It's bone-dry, with salty, oceanic flavors, the acidic zing of lemon, and a rich finish that unfolds like a piece of origami. Mix with a gin of distinguished character and depth, like Greenhook Ginsmiths Old Tom Gin.