If everyone at your house party is drinking the same batched cocktail or wine from identical glassware, things will almost certainly get a little confusing once the party gets going. Instead of having your guests guess at which glass is theirs all night, help them identify their own with ease by providing fun drink markers. Don't worry; we're not talking about your grandma's boring wine charms. These whimsical drink markers will put a smile on anyone's face—especially when they're able to pick their glass of Pinot Noir out of a sea of identical red wine glasses. Here, our 13 favorite ways to make your drink stand out in a crowd.
Recommended Video
Really Dough's Mark & Scott Take a Bunch of Shots, Do Blind Pizza Taste Test, Argue a Lot
Everyone has a favorite doughnut flavor (we're partial to strawberry frosted with sprinkles). Now, the delicious breakfast pastry can do more than ease early morning hunger—these miniature doughnut drink markers from Chelsea Lane and Company on Etsy will help you keep track of your cocktail. This half dozen batch of doughnuts, which come in 'flavors' ranging from glazed French cruller to chocolate with vanilla swirl, would look particularly adorable adorning a tray of Irish Coffees.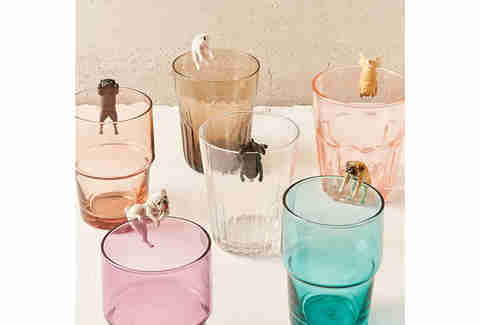 Man has two best friends: dogs and—you guessed it—booze. These drink markers from Kitan Club help you enjoy both at once. You'll get four pugs in various slouching positions that cling to the rim of your drink. But don't be fooled: They're really trying to climb inside for a swim.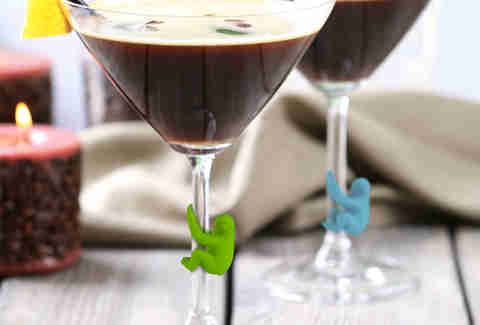 If you're having a chill night in with your friends, lounging about the house and going through a few bottles of wine, these sloth drink markers are the perfect glassware accessory. They'll cling to your drink so you don't even have to stress about keeping track of it—leaving you free to just be a sloth. We know—this boozy sloth is your spirit animal.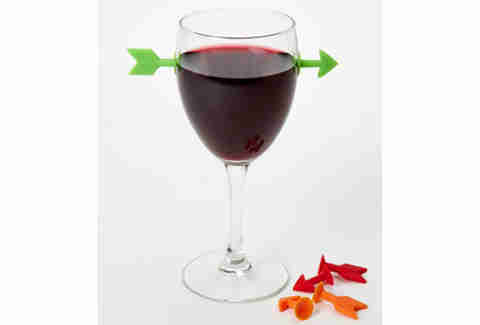 Don't believe in Cupid? You might change your mind after this arrow "pierces" your glass. The fun of these arrow-shaped drink markers is that you stick two sides of the arrow on to either side of the glass, giving it the illusion that the arrow is piercing through the other side. OK, maybe they're not that that convincing, but they're still pretty darn cute.
If you have a friend with a reputation for nursing one drink for the entire night, these cute snail drink markers would make an especially amusing gift. As they say, slow and steady wins the race (or, in this case, avoids a hangover).
Give your brewskis literal beer goggles with these drink markers from Home Wet Bar. Each one snugly wraps around a bottle of beer so there's no chance it'll fall off. They'd be great for a beach party, where everyone is rocking their own brightly colored shades.
Stick one of these whimsical silicone mustaches onto the brim of your glass, and you'll have instant party photo fodder for Instagram. Choose between different facial hair styles that will make you look like an old-timey prospector or famed Belgian detective Hercule Poirot.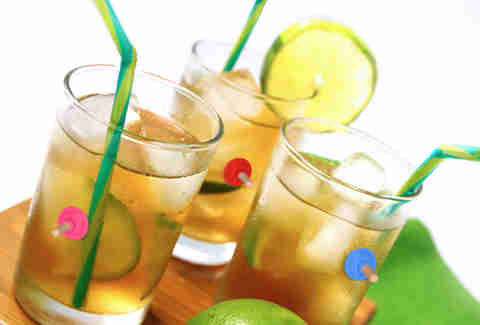 Perfect for anyone with a penchant for toilet humor, these mini plungers from Fred and Friends suction onto the sides of your glass—but it's still up to you to drain the contents of that glass.
Queen Elizabeth II is our drinking idol—the 91-year-old downs four alcoholic beverages a day, including a Dry Martini and a glass of bedtime Champagne. Do her majesty proud by adorning your glass with her miniature, waving likeness, which latches to the rim of the glass by her purse. While you can use them to host an afternoon tea party, the Queen is equally at home on the brim of a stiffer drink.
"Is that my Mai Tai?" "No that's my Mai Tai." Avoid this potential "Who's on First" situation with these MY TAI umbrella drink markers, which clasp on the rim of a glass with a mini clothespin. Unlike paper umbrellas, these tropical silicone toppers won't collapse if they touch your tiki beverage.
These beefy cabana boy drink markers, which appear to be doing pull-ups on the rim of your drink, are a perfect addition to bachelorette parties. Their names—Josh, Ryan, Cody, Brad, Chad and Mitch—are emblazoned on the backs of their very, very small bathing suits.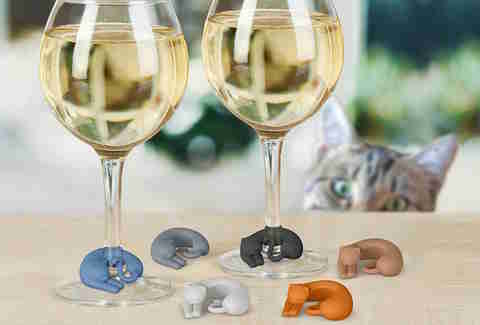 The cat-obsessed will love these drink markers, not least of all because they'll be able to differentiate between their glass and the glass of cat-friendly wine they poured for their feline companion. Better yet, these kitties won't be tempted to push your glass of Cabernet off the edge of the table.
These "wine watchers" have their eyes wide open, keeping an eye out for anyone who may confuse their drink with yours. Just look at how anxious these little guys are—there's no way they're letting anyone take your coupe glass on their watch.