We Tried Black Tap's New Candy-Covered Frosé and Survived
Matthew Kelly / Supercall
Buy a new toothbrush and re-up your ClassPass, because Black Tap has gone full Willy Wonka on frosé. The New York-based burger chain—known for its ornate, candy-festooned milkshakes and city block-wrapping lines—is selling their extreme take on summer's hottest blush beverage, officially titled The Crazy Frosé, from July 24 to July 30, but we got a chance to try out a preview of the over-the-top slushie.
A mix of White Girl Rosé (the social media-driven wine from The Fat Jew), raspberry sorbet and sugar, The Crazy Frosé is a hearty pink slush. But that's only the beginning. It comes in a glass rimmed with vanilla frosting and Nerds, and it's garnished with a tower of Sour Patch Watermelons, Swedish Fish, gummy sharks, peach rings, a candy necklace and a whirly lollipop.
Matthew Kelly / Supercall
The whole sugary monstrosity is surprisingly balanced for a cocktail that essentially comes topped with the entire contents of the candy aisle. As general manager Peter Caporal explains, the drink may be a smorgasbord of candy, sweet wine, sorbet and icing, but that doesn't mean there's no thought behind the ingredients. (Caporal designs the liquid innards of Black Tap beverages, while the group's social media head Courtney Wright contributes the candy garnishes.) The Black Tap team put a lot of work into choosing both sweet and sour candies, and ensuring that every ingredient complimented the flavors of the rosé-raspberry base.
Matthew Kelly / Supercall
Don't worry if you can't make it to Black Tap this month—this definitely won't be the last cocktail creation designed to satisfy (childish) adult palates. Caporal says the team is working on a number of unnamed cocktails, but specifically mentioned a Frozen Blue Margarita as one of the forthcoming options. We can see how that equally Instagrammable azure slush would appeal, and you can bet we'll be first in line when it drops from the slushie machine.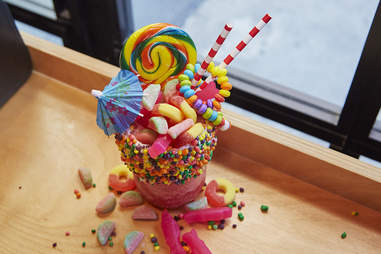 Matthew Kelly / Supercall