13 Best Gifts for Bloody Mary Lovers
There are people who enjoy the occasional Bloody Mary at brunch when they're feeling adventurous (or if the Mimosas aren't bottomless), and then there are the true Bloody Mary enthusiasts. The people who will talk your ear off about the secrets to making the perfect one. The people who have their own particular opinions on salt rims and hot sauces. The people who will plan an entire road trip for the sole purpose of Instagramming that insane, over-the-top garnished Bloody. If you know someone who's truly Bloody Mary obsessed (raise your hand if that person is you), these are the best Bloody Mary gifts you can get them.
Wear your love for Bloody Marys on your sleeve, literally, with this long-sleeved Bloody Mary T-shirt. Just be warned, you're going to get U2 stuck in everyone's heads all day when you wear it.
If brunch is your way of life and Bloody Marys are (obviously) your poison of choice, you need this shirt to wear while posing with your pint glass and plate of Eggs Benedict. No one will be able to top your #SundayBrunch game.
Subtly adorn your ears with miniature Bloody Mary studs to low-key represent your favorite brunch beverage on the daily. They also make an excellent addition to a booze-themed jewelry collection, which, if you haven't started already, you should.
A real Bloody Mary fan will make their passion known to all who brunch with them. This retro Bloody Mary art print makes a great decoration in any room, especially if said room is being used to host a Bloody Mary bar party.
Not only does this candle look like a Bloody Mary, but it also smells like one. The fragrance is a "sweet orange chili pepper scent" with a "sassy, saucy combination of Valencia orange, sparkling bergamot, tangerine zest, orange juice, ground pepper and fiery chili pepper." If only it also smelled like bacon.
These pint glasses creatively detail the ingredients of the cocktail in a hand-painted style, showing the proportions for tomato, lemon, vodka, hot sauce, black pepper, horseradish, celery salt and Worcestershire sauce like a diagram. They also act as a cheat sheet, just in case you forget what's supposed to go in the mix.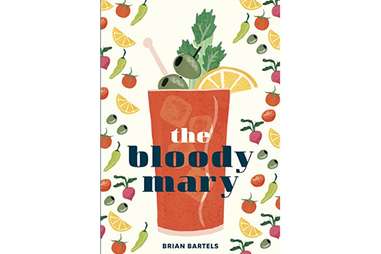 For the discerning cocktailian who wants to learn a little bit more about their favorite beverage, look to this Bloody Mary tome. The Bloody Mary: The Lore and Legend of a Classic Cocktail by Brian Bartels delves deep into the drink's history and how it became a phenomenon. Break out those facts at brunch to ensure everyone knows you are the reigning Bloody champ.
If you're less into reading than you are into drinking, opt for The Bloody Mary Book: Reinventing a Classic Cocktail by Ellen Brown instead. This book has dozens of recipes that are variations on the original, like a Gazpacho Mary, as well as food recipes for garnishes like celery stuffed with pimento cheese.
This TSA-friendly Bloody Mary kit is miniature enough to bring in a carry-on and comes complete with a jigger, bar spoon, linen coaster, Bloody Mary mix, rimming salt and adorable miniature pickles for garnish. All you need to do is ask the flight attendant for a small bottle of vodka or tequila for mile-high Bloody bliss.
Combine two hobbies with this Grow Your Own Bloody Mary kit. Designed to create a cilantro-flavored Bloody, this kit includes a packet of organic cilantro seeds and a bag of soil, along with a Mason jar shaker, a wooden muddler and a strainer—perfect for anybody with a green thumb and lots of patience.
This Bloody Mary kit is all about the garnishes. In addition to a small-batch Bloody Mary mix, this kit comes with jars of Bushel & Peck's pickled cherry tomatoes, hot cherry bombs and dill pickles, along with a bottle of bright yellow, Belizean habanero hot sauce. It'll yield one of the most flavor-packed, briny Bloody Marys you'll ever have.
If you like it hot (like really hot) this Bloody Mary kit is for you. In addition to a Bloody Mary mix and four types of salt and spices, this kit comes with four hot sauces: garlic, chipotle, whiskey habanero and craziest of all, ghost pepper. Experiment with your own concoctions, or follow one of their included recipe cards.
Meat lovers rejoice: This Bloody Mary kit will give carnivores their meaty fix with pepperoni straws and a bacon rimming salt. If you can manage to stop yourself from just eating these garnishes straight away, you can enjoy them with three different Bloody Mary mixes (classic, horseradish, and chilis and peppers), along with six cans of Clamato, for the Bloody Caesar fans.