"On the twelfth day of Christmas my true love gave to me…" If you didn't finish that lyric with "booze," we're sorry to inform you this person is not your true love. This holiday season, give someone you care about (TIP: that person can be yourself) the ultimate gift that keeps on giving with a boozy advent calendar. These packages are inspired by the old school chocolate-filled variety, but instead of stale treats, they're filled with miniature bottles of liquor, beer or wine for 24 days of festive imbibing. Here are the seven best boozy advent calendars you should buy this season.
Created by Washington-based Heritage Distilling Co., this advent calendar includes 24 mini bottles filled with 12 of the distillery's own spirits (so you'll get two of each). Bottles include their brown sugar bourbon, rye whiskey, crisp gin, and flavored vodkas like coffee, lavender and blood orange. With it's extensive selection and affordable price point, this is the perfect advent calendar for people with diverse tastes who don't want to stick to just one spirit this season.
Drinks by the Dram is the king of boozy advent calendars; they dominate the U.S. market selling over two dozen different advent calendars with everything from absinthe to Cognac. But perhaps the most enticing is their tequila-stocked advent calendar—if for no other reason than the idea of mixing up 24 Margaritas this December sounds like the best way to get through the holidays.
If you're looking to splurge this Christmas, opt for Drinks by the Dram's Premium Whisky advent calendar, which includes expensive whiskies from around the world, like a 50-year-old scotch and a rare barrel-proof bourbon. If that doesn't seem luxe enough, they also sell a Very Old and Rare Whisky advent calendar, packaged in glossy hardwood, for the low-low price of 10,000 pounds.
This whimsically packaged calendar is a partnership between Drinks by the Dram and Gin Foundry (a review site for gin), and would make any gin lover's Christmas—especially if you gift it with a large bottle of tonic. The box includes a wide variety of gin styles, from traditional London Dry, to rhubarb-and-ginger-flavored gin, to potent Old Tom bottles.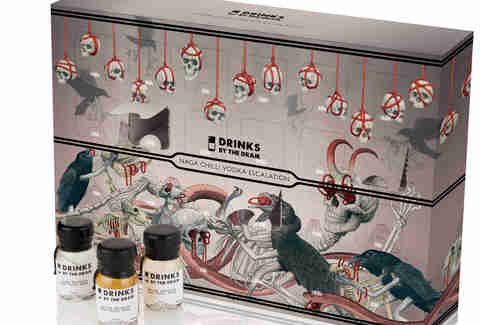 If you're a hothead in need of a challenge, look no further than this chili vodka calendar from the Hot Enough Vodka Company (in partnership with Drinks by the Dram). Behind each window is a bottle of the same Naga Chilli Vodka, which ramps up in spiciness as the month goes on. The vodkas range from 10,000 scovilles (comparable to a jalapeño) to a whopping 240,000 scovilles (like a bird's eye chili). This is not an advent calendar for the faint of heart; as Master of Malt puts it, "The horror. The horror."
You won't get a full 24 days of sipping with this advent calendar, but you will get 12 stylish vials of delicious wine from around the world. The curated wine collection—which includes both reds and whites—comes from various countries like Italy, France and Spain, and each glass vial holds enough for one glass.
This British beer delivery service may have sold out their beer bottles advent calendar for the 2017 season, but you can still order their "can'endar," filled with 24 cans of craft beer, from IPAs to saisons. If you don't think you can drink a whole beer a day, Ales by the Mail recommends having a tasting session with friends, or leaving your last beer out for Santa on Christmas Eve.