If you're anything like us, vacation is all about eating and drinking—entire days are planned around restaurant reservations and bar hours. So we were beyond elated to find out that Airbnb hosts a number of overnight stays for total boozehounds like us. From a cottage just a short walk away from multiple Scottish distilleries to a cabin surrounded by stunning views in wine country, there are a number of distilleries, wineries and breweries that allow guests to not only indulge at the tasting room, but to spend the night too. Here, seven spots around the world that give B&B a new meaning.
Urbanites looking to get out of the city for a few days will be able to eat and drink their fill at Olde York Farm Distillery and Cooperage based in Hudson, NY, just two and a half hours outside of NYC. A rustic, two bedroom suite situated on the distillery costs a modest $130 per night and is just a hop, skip and a jump to the tasting room, which is set to open in late summer 2017.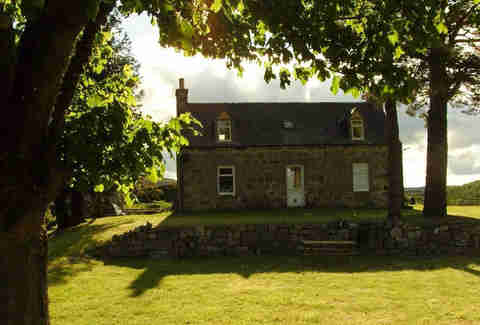 Though not technically in a distillery, this secluded Scottish cottage is located right along The Malt Whisky Trail, the Castle Trail and the Speyside Way walking trails in the Highlands. So just a quick jaunt down the path will take you to four well-known distilleries: The Macallan, The Glenlivet, Glenfarclas and Glenfiddich. The cottage itself is part of the Ballindalloch Estate and includes a fire pit along with a private patio, featuring a 360-degree view of the countryside.
If you sometimes have a hard time deciding between a glass of whiskey and a glass of something a little less stiff, we feel you—and so does this Airbnb. It's just next door to Ragged Branch Distillery, which makes a wheated bourbon and a rye, and only a few minutes walk to Pippin Hill winery and Albemarle Cider Works. The four-bedroom and five-bathroom property not only has an enviable interior, but also a gorgeous porch just overlooking woods and fields.
Sometimes you just need to disappear for a few days with no kids in sight. When that feeling hits, book yourself a stay at this private, four-bedroom mountain top house. Just an hour and a half outside of San Francisco, the home gives guests a glimpse of life on a small working farm and vineyard—all while sipping vino on an expansive porch or in the equally impressive pool.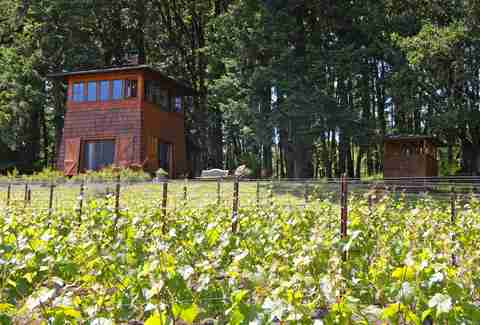 The Pacific Northwest is chock full of fantastic wineries and gorgeous scenery, so why not stay in a cabin that's smack dab in the middle of it all? This two story cabin comes equipped with a single bedroom, a wrap-around deck and a view overlooking a 40-acre vineyard. When you're not enjoying just hanging out in this Yamhill-Carlton cabin sipping on a glass of your favorite red, visit the winery's tasting room to appease your inner oenophile.
Sometimes staying just a short walk away from a winery's tasting room is just, well, too far. Luckily, this Pennsylvania apartment is situated just above Wayvine Winery & Vineyard's patio and tasting room, so all you've got to do is walk down a flight of stairs to be right in the middle of the action. The ultra-affordable rental is relatively small with just a single bedroom, but we imagine you'll be spending most of your time downstairs anyway.
Not many working breweries have space to rent out to beer lovers, but this stunning rental at Oxbow in Maine makes up for it. Not only does it feature insanely stunning views from the property, but it's a short walk to the tasting room and there are another 18 acres of land for visitors to explore at their leisure. The best part is, you can sip yourself to sleep each night with one of their tasty brews, from sours to IPAs to the aptly named Oxtoberfest.