5 Boozy Ways to Travel by Train in the United States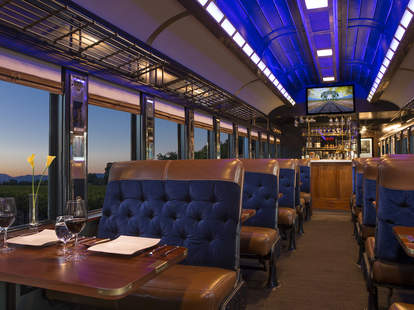 Courtesy of Napa Valley Wine Train
Air travel is a drag. With all the delays, baggage limits and overpriced in-flight drinks, it definitely takes a toll as you reach your final destination. Which is why we're so excited that train travel has been making a comeback. With trains featuring plush sleeper cars, gorgeous bar cars and chef-created menus, there's no reason to step foot in an airport ever again. Even if you're not traveling far, hop on board one of these booze-filled trains for a scenic day trip in America the beautiful. From Napa wine tours to bourbon country dinners, these five trains do drinking right.
Courtesy of Napa Valley Wine Train
This gorgeous train is a must for any California wine enthusiast. Jump on board for a three-hour tour that takes you on a 36-mile round trip journey from Napa to St. Helena and back. The majority of the cars on the Napa Valley Wine Train were built in 1915 by the Pullman Standard Company as first class coaches, so every rider experiences the luxury locomotive design while on board. There are grape varietal themed cars like the Cabernet Sauvignon Lounge and Chardonnay Lounge, as well as two main dining cars where you can get your fix of fresh California cuisine.
Located in the picturesque Great Smoky Mountains of Western North Carolina, this recreational railroad line offers two boozy rides for imbibing adults to enjoy. First is Uncorked, a first-class wine-tasting experience that features plush seating, a private attendant and three-course meal (think local cheeses and surf & turf) with wine pairings. The second is the Carolina Shine Moonshine Experience where you can "shine and dine" in a renovated first class car. On the booze-filled journey, passengers will experience samples of Midnight Moon along with a barbecue lunch to soak it all up.
Just like not all bars are fancy cocktail bars, not all boozy trains are fancy boozy trains. This Lebanon, Oregon-based train is far from lavish, but they know how to have a good time. The bar car, aka the "Ranch Car," was built in 1951 by American Railcar & Foundry and is one of only six originally in operation. The dive bar-like design boasts neon signs, yellow leather studded stools, and a laid-back vibe that really lets you relax and unwind. Hop aboard for themed rides like a St. Patty's Party Train and Growler N Grub, which hosts local distilleries and breweries for the duration of the trip.
Whether you're a Kentucky Bourbon Trail veteran or still have yet to experience the network of whiskey distilleries, My Old Kentucky Dinner Train has one of the best ways to taste the region's bounty. Book one of their Bourbon Excursions, and embark on a 2.5-hour journey through the Central Kentucky countryside. On board, you'll indulge in a gourmet four-course meal and bourbon tasting hosted by a master distiller, and you'll even get a souvenir rocks glass to take home. If murder mystery parties are more your thing, My Old Kentucky hosts a slew of those too.
Alaska Railroad offers all kinds of gorgeous excursions for nature lovers up north. But we're partial to one journey in particular, one that serves scenes of snow-capped mountains and glittering lakes with a side of sweet booze. The Great Alaska Beer Train is a round trip journey from Anchorage to Portage that features local microbrews and seasonal fare from Glacier BrewHouse. Six half pints of Glacier BrewHouse beers and a six-course meal are included in the fare, and additional beer is available for purchase aboard the train.