What to Drink, According to Your Favorite '90s Boy Band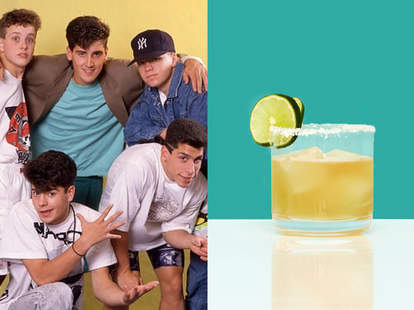 Instagram / @nkotb + Matthew Kelly / Supercall
The '90s gave us a treasure trove of culture gems, and for that, we'll forever be grateful to the decade. Though a ton of great music came out of those 10 years, there's no genre that we look back on with more nostalgia than the boy band. Armed with an artillery of pop hits and swoon-worthy looks, these young men caused teens everywhere to fall head over heels—playing their songs on repeat, plastering their photos across bedroom walls and dutifully stocking up on fan club merch year after year. But as much as we appreciated each and every one for their bold (and so, so strange) red carpet looks and canned interview skills, we all had our one true favorite. Reminisce as you read about your chosen boy band with one of these stiff libations in hand.
Instagram / @nsync + Matthew Kelly / Supercall
The *NSYNC boys have always been on fire. Not only did they produce hit after hit and three really great albums (eight if you count the greatest hits and Christmas albums), but they were also nominated for eight Grammys, performed at the World Series, Super Bowl and Olympic Games, and collaborated with everyone from Elton John and Aerosmith to Michael Jackson and Stevie Wonder. The members of *NSYNC are boy band gods. No one can forget singles like "Bye Bye Bye," "Girlfriend," and "Drive Myself Crazy," which made them radio favorites and Total Request Live legends. But even with years of successful albums and songs, "Tearin' Up My Heart" is still the hit that everyone remembers best. "Let it go, if you want me girl, let me know, I am down, on my knees, I can't take it anymore." The pain and suffering is rife in Justin Timberlake's voice when he croons those lines, making teenage hearts melt as they played the song on repeat while staring dreamily at his photo plastered across the pages of Teen Beat magazine. There's only one drink that can dull the agony of knowing that your celebrity crush will never love you back: the Painkiller. The tropical drink is smooth and sweet but packs a punch from a heavy pour of dark rum, which makes it easy drinking even if you're heartbroken. Listen to "Girlfriend" and sip this tropical libation on an imaginary island where everyone looks good with cornrows.
Instagram / @backstreetboys + Matthew Kelly / Supercall
The Backstreet Boys are an international success story. The band popped off in Europe—Germany specifically—before earning a loyal fanbase stateside. With their slightly bad boy image and name, the Orlando, Florida, quintet quickly wove their way into the hearts and CD players of millions when they released their debut, self-titled album in the United States in 1997. Their popularity skyrocketed in 1999 with the release of "Millennium," which sold more than a million copies in the first week and gave us singles like "I Want It That Way," and "Larger Than Life." But perhaps their greatest artistic achievement was the video for "Everybody," a TRL chart-topper that has stood the test of time. Choreographed by the legendary Fatima Robinson, the video is set in a creepy old house with the boys characterized as mummies, vampires and other classic monsters. For this reason, there's no better drink with which to toast them than the Corpse Reviver #2, a sophisticated mix of gin, Cointreau, Lillet Blanc, lemon juice and absinthe that wouldn't be out of place at the phantom's table. It also nods to the Backstreet Boys' notably long career, which they picked up again in 2013 after a brief hiatus in the mid-aughts.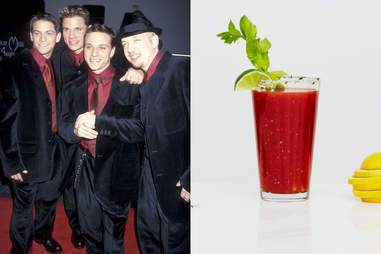 Ron Galella / Getty + Matthew Kelly / Supercall
Often clad in leather, usually with no shirts in sight, 98 Degrees is the sultriest boy band on this list. Made up of brothers Nick and Drew Lachey, along with Jeff Timmons and Justin Jeffre, the Ohio natives rose to fame with singles like "The Hardest Thing," "Give Me Just One Night (Una Noche)" and "Thank God I Found You," a collaboration with Mariah Carey and Joe. The brawny, bare-chested boys sported 98 Degrees bicep tattoos, which landed them on the weekly covers of teenie bopper mags like Tiger Beat. Only a thick and spicy cocktail like the Bloody Mary could stand up to the band's fiery name and heartthrob image. Add garnishes like bacon, sliders and even whole chickens, and you have a meaty drink that's almost as beefy as the 98 Degrees boys themselves.
Instagram / @boyziimen + Matthew Kelly / Supercall
Any Boyz II Men fan knows that they repped Philly hard. They even dedicated a song to their beloved city. And while there aren't a ton of cocktails that pay respect to the City of Brotherly love quite as much as the '90s R&B quartet, there's one standout drink that's almost as legendary: Fish House Punch. This super boozy tipple is sweet but powerful, and its mix of dark rum, Cognac, peach brandy, lemon juice, black tea and simple syrup is almost as smooth as Boyz II Men's a cappella harmonies. It's the kind of cocktail that'll have you singing "I'll Make Love to You" at the top of your lungs during a karaoke sesh or sharing a good cry with a pal as "End of the Road" softly plays in the background.
Instagram / @nkotb + Matthew Kelly / Instagram
New Kids on the Block: Margarita
New Kids on the Block can be held responsible for starting the '90s boy band craze. The Boston pop quintet got their start in the mid-1980s, but their first record was a flop. It wasn't until "Hangin Tough" dropped in 1988 that they started to become popular. When the band released "Step by Step" in 1990, they skyrocketed to fame. That same year, their Magic Summer Tour grossed $74 million and the NKOTB pay-per-view special shattered cable TV records. The band was everywhere—you couldn't walk into a store without seeing their faces on lunchboxes, trading cards, comic books, dolls and t-shirts. They even had a Saturday morning cartoon. By 1991, their official fan club hotline was getting more than 100,000 calls per week. That same year, they topped the Forbes list of the highest paid entertainers, beating artists like Madonna, Michael Jackson and Prince. The only cocktail worthy of such pop royalty is the Margarita, the most popular drink in the world. Sweet and tangy, it's a true crowd pleaser that has stood the test of time, just like the boy band that started it all.
Kevin Kane / Getty + Matthew Kelly / Supercall
"I like girls that wear Abercrombie and Fitch, I'd take her if I had one wish, but she's been gone since that summer, since that summer." Everyone remembers where they were when this song dropped in '99 (this writer, funnily enough, was on her way to a Blink-182 concert). Who could forget those lyrics, which made you ache for warm June days as the '90s came to a close and the millennium approached. LFO, short for Lyte Funkie Ones, will forever be associated with spiking the popularity of mall favorite A&F and the perils of eating one too many cartons of takeout lo mein. The summer girl that the late Rich Cronin crooned about in "Summer Girls" liked Fun Dip and Cherry Coke, both nostalgic sweet treats that we all once loved but have maybe grown out of in adulthood. The Dr. Funk is the type of drink that's serious in its composition (rum and absinthe are no joke) but light and fun in image. With its sweet grenadine and soda water topper, the effervescent favorite is just the type of cocktail we can see LFO's summer girl sipping by the pool as she listens to her song waft from the airwaves.
NBC / Getty + Matthew Kelly / Supercall
When 112 released their first self-titled record in 1996, the R&B quartet experienced immediate success. The album went double platinum, and singles like "Only You" and "Cupid" peaked in the top five of R&B charts. They even won a Grammy for Best Rap Performance by a Duo or Group for their contribution to "I'll Be Missing You," a song dedicated to the late Notorious B.I.G. When their third album dropped in 2001, the Grammy-nominated single "Peaches & Cream" propelled them to mainstream radio popularity. "I need it cause you know that I'm a fiend, gettin' freaky in my Bentley limousine, it's even better when it's with ice cream, know what I mean, peaches and cream." The 112 guys aren't shy. Their lyrics are so blatantly sexual, they deserve a drink that's just as open and uninhibited as them. The Sex on the Beach was named for spring break antics, and its sweet mix of vodka, orange and cranberry juices, Chambord, and—naturally—peach schnapps is just the kind of drink to ease you into a sunny day the morning after.
Frank Trapper / Getty + Patrick Spears / Supercall
Hanson is a boy band anomaly. Most of the people who criticized the genre had one main gripe—the members didn't play their own instruments. Then Hanson came onto the scene and changed boy bands as we knew them forever. The Tulsa, Oklahoma, trio of brothers put out two independent records before they were discovered at Austin, Texas music conference SXSW. They were signed and dropped their first major label album "Middle of Nowhere" in 1997. For better or worse, the hit single "MMMBop" was the kind of song that would get stuck in your head for days, and the three brothers became a household name. Their wholesome image and flowing blond locks made them crushworthy for teens and parents alike, who appreciated their positive influence and saw them as an antidote to the era's popular bad boy image. Like the Hanson boys, the Jerez Cocktail is proper and sophisticated, a low-ABV tipple that requires only three ingredients to make it great, kind of like the band itself. The combination of dry sherry, peach brandy and triple sec drinks like a lighter take on a Martini or Negroni. Both the drink and the band are refined gateways into harder sounds and more robust flavors.
Frank Micelotta Archive / Getty + Matthew Kelly / Supercall
Late '90s kids will definitely remember 2gether, the MTV-created fictional boy band that spoofed pretty much every group on this list. The thing is, they were actually good. With hits like "U + Me = Us (Calculus)" and "Say It (Don't Spray It)," 2gether's music was fun and catchy with a slightly naughty edge to the lyrics ("But I need a young thang, to keep up with my pace, to hold me in her arms, and take me straight to second base"). The Dirty Banana is a silly cocktail. It has a funny name and is basically a liquified banana split. But the Dirty Banana—made with things like dark rum, Kahlúa and banana liqueur—also tastes really good. It just goes to show you that even something that's meant to be a joke can be seriously awesome sometimes.