Smirnoff
Sponsored by

7 Legendary Bars That Should Be on Your Bucket List
Sponsored by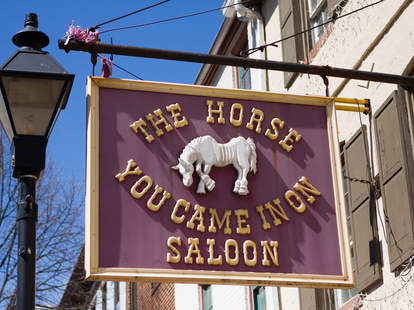 It's often said that the more things change, the more they stay the same. While evidence out in the real world under the big yellow sun would suggest that's a dubious sentiment at best, inside the cozy confines of the venerated drinking establishments on Supercall's national list of bars that have stood the test of time, that old saw is as undeniable as the nights are long... though often, not long enough. These great temples of tippling are places of poetry and adventure, of welcome ingenuousness and low-life majesty. Above all, they're a sure thing, even in the most uncertain of times.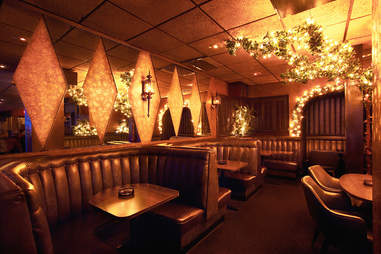 Courtesy of Dan Bishop
Milwaukee, WI
Milwaukee's oldest and most outstanding palliative parlor has been at the general public's service since the FDR administration. It may well be, as Brandon Lieb, co-founder of a premium rum label, puts it, "the most unpretentious cocktail bar in the country." The dimly lit room is a Rat Pack-era jewel box of preserved Middle American cocktail history. From the vast fish tank behind the bar to the killer throwback McIntosh sound system, a night at Bryant's is akin to being transported to another, way cooler era. "I could happily die here," says renowned bartender and booze brand ambassador Jim Ryan. "Stepping into this place reveals a time warp of the first caliber."
New York, NY
Little has changed inside this revered watering hole since they started slinging drinks for Lower Manhattan's working stiffs back in 1967. "There is no more real-deal, ragged, good-time neighborhood booze joint in the Big Apple than the Nancy," says Ian O'Malley, a longtime DJ at Q104.3 FM in New York. The NWP is beloved for a host of reasons, not least among them cheap drinks, no-nonsense bartenders, and a wildly popular bank shot shuffleboard table where there is always someone posted up who could have gone pro. Adds O'Malley: "It's the kind of place you go to for a couple of pops after work, and then find yourself wandering out of at 4 a.m. with a shit-eating grin." In other words, a genuine NYC pub.
Courtesy of Woody Creek Tavern
Woody Creek, CO
With all due respect to the Polo Lounge in Beverly Hills and essentially every casino bar in Vegas, no drinking establishment on earth is more closely associated with the late, great reprobate Hunter S. Thompson than the Woody Creek Tavern outside of Aspen. The Good Doctor lived just up the road a stretch, and frequented the place from the day it opened in 1980 'til his death in 2005. Don't let the bar's proximity to America's chichi-est ski resort fool you—it's as down-home a place to drink as drinking places come. "Sure, Aspen is nearby, but the Tavern is literally right next door to a trailer park," says Thompson crony Curtis Robinson, former editor-in-chief of the Aspen Daily News. "Hunter definitely preferred the trailer park vibe."
Tucson, AZ
As Henry Barajas observed in the Tucson Weekly, the Buffet Bar "smells like hot dogs and day-old whiskey breath." Of course, not every review of the place is as glowing, which is surely just fine by the regulars at this 82-year-old Arizona landmark. Little has changed at the Buffet over the years, because nobody wants it to. There are hot dogs in the crock pot every day, a day that begins when the door opens at 6 a.m. The crowd is made up of recent college grads, old cranks, bikers, and assorted misfits. It's a place that has inspired many a heartwarming tale such as this one, courtesy of University of Arizona alum and Emmy-award–winning investigative reporter Jason Auslander: "I was in there one night and a friend handed me a shot of what he said was a kamikaze. So I drank it down. Immediately I knew it wasn't a kamikaze. Turns out it was the Buffet's signature shot called Buffalo Sweat, which they make by mopping up the bar and squeezing the rag into a shot glass. They top it off with hot dog juice and serve it to unsuspecting suckers like me. God, I love that place!"
Jan Schneckenhaus / Shutterstock.com
Key West, FL
Let's get this out of the way up front—Hemingway drank here. For real. Indeed, Papa was a regular at this national treasure back when it was called Sloppy Joe's Bar. It's still pretty sloppy. Adorably so. Money and undergarments are tacked to the walls and ceiling. There's a tree in the middle of the place from which pirates were purportedly hanged. It's the kind of place where you're definitely going to hear some Jimmy Buffett music, like "The Last Mango in Paris," a track about a dude by the name of Anthony Tarracino, better known as Captain Tony. "It has all the atmosphere you'd expect of a quintessential dive bar," says Bill York, founder of a craft bitters company. "And, you know, a hanging tree."
Yountville, CA
Securing a reservation at the Michelin three-star restaurant French Laundry can be a challenge, to say the least, but not to worry: There's always room for you down the street at Pancha's. The food's not as good, and neither are the drinks, the wine, the beer or the service. But, boy, is it ever a hell of a lot cheaper. And the ambience is a whole different kind of fun. "A word of warning though," says Isaac Shumway, former beverage director at Tosca Cafe in San Francisco. "Do not piss off Rose the bartender." She's known for having a counterintuitive approach to bartender hospitality, one that's roughly summed up by the framed sign in the bar reading, 'Zero Tolerance for Idiots.'
Baltimore, MD
"The Horse," as it's known roundabout Fell's Point, was established in 1775. It's purported to be the last place Edgar Allen Poe visited before his mysterious death on October 7th, 1849, and the locals say Poe's ghost still haunts the place. "The Horse ticks all the boxes you love about a great old dive," says Tobin Ellis, one of the country's leading hospitality consultants. "Genuinely friendly bartenders, a ton of whiskey, a worn-in feel with horse saddle bar stools, and live music seven nights a week." And this being Maryland and all, let it be noted that the crab cake is legit.