Bucket List Dive Bars Across the Country, According to Bartenders
Dive bars are everywhere. But a great dive bar? That is difficult to find. It needs to be equally parts shady and welcoming, employ bartenders that deliver strong pours, and host regulars that spend more time on their dedicated stool than at home. When you find a dive bar that you love, you're a loyal customer for life. To see where the pros go to unwind, we asked 14 bartenders about their favorite dive bars in the United States. Hit one up the next time you're in the mood for a good beverage in a no-frills joint.
"Chez Jay in Santa Monica—it's ideal for beachside drinking and cool, steakhouse vibes. It's an institution there, having opened back in 1959 and a great spot to add to your bucket list." - Caio Maggi, Brigitte
"Mickey's Tavern in Nashville, TN. They are our next door neighbors at Walden, and the staff is also super sweet. They've got a great selection behind the bar, but our favorite part is how easy it is to meet new people there. They are everything dive bar—no DJ's, no bands, no karaoke, no trivia nights. It's the most popular dive bar in East Nashville right now." - Robyn Donnelly, Walden
"Kibitz Room in LA. It's connected to Canter's, a Jewish deli. You get some decent bands playing, and usually Sunday nights are open mic nights where all the weirdos come to sing." - Stacie Stewart, MilkWood and Whiskey Dry
"As soon as you walk into Milano's [in NYC], all of your worries instantly melt away. This tiny bar has a great jukebox along with a cast of regulars that always brings a smile to your face. It can get crowded, but anyone who is in there drinking at any time of day is someone of strong character. What to drink? Wild Turkey or a similar vein of American whiskey." - Eduardo Porto Carreiro, Ford Fry Restaurants
"I used to live a block away from Grumpy's [in Minneapolis] when I first started bartending. I spent more time there than I did at home for the better part of two years. It's perfect. They have darts and a fire pit and meat raffles and some of the friendliest faces you'll ever see. It's the coziest place you can be in the winter with a group of friends, or by yourself." - Robb Jones, Spoon and Stable and Bellecour
"There are several dive bars on my bucket list, and I've actually crossed off a few here in Charleston. But given the fact that the Super Bowl was in Minneapolis, I'm going with Matt's Bar. The Juicy Lucy Burger has long been a 'must do,' and by most accounts, Matt's has the best." - Allen Lancaster, The Bar at The Spectator Hotel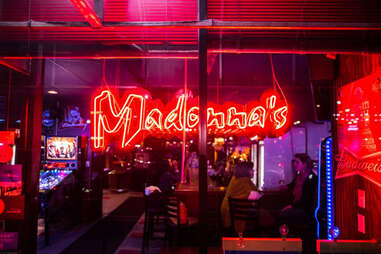 "The first place that comes to mind is Madonna's in Cincinnati. It's a quintessential dive bar in so many ways. It's the haunt for a lot of local service industry people, and it's the type of dim, dark bar that serves a beer and a shot for cheap. But there's one thing that makes this place stand out above all others in the area—Scotty Brown. He's that kind of old school bartender that can be all things to all people, the definition of a Renaissance man. He's a writer (he's written a children's book), a poet (ask him, he'll recite you something), and a boxer, and he has a story for every occasion and will keep the bar enthralled the entire time. All the while, he handles a packed bar like the pro he is, slinging drinks, popping open beers and opening tabs like the best of us. He's one of the most charismatic members of our community you'll ever meet. Any time I meet out-of-towners looking for a good dive bar to finish their night, this is the man (and the bar) I send them to see." - Chris Brown, Metropole
"I've always wanted to go to the Chart Room in New Orleans! The New Orleans food and beverage scene is great and runs the gamut. That being said, it can be overwhelming, and the Chart Room sounds like the perfect local dive to get away from it all while having a fun time with great music. And it has a reputation for great Bloody Marys." - Barbara Sibley, Holiday Cocktail Lounge
"All-time favorite [dive bar]: Tattooed Mom on South Street in Philadelphia. Best jukebox in the city. No nonsense shot and beer joint. Back in the day, the Sunday bartender would bring in arts and crafts and put them out on the tables so you could get drunk and have all the things you want to make a fun sock puppet or whatever she decided to bring in that day." - Charlie Cronin, Lockbox
"Dive 75 on W. 75th Street in Manhattan. They have a wall of old board games like Monopoly and Clue! Although my shot days are mostly over, you can always enjoy a good Jameson there." – Kevin Flannery, Ocean Prime New York
"My favorite hole-in-the-wall bar is Delilah's in Chicago. It is the one hell-of-a place that brings together the travelling businessman, bikers, lawyers, local artists, students, industry people and everyone else in-between. It has by far the best whiskey selection in town and Mike, the owner, always has the full backstory about them and fun facts along the way. The bartenders also have great information about the different whiskeys and other liquors severed—overall, it's the most knowledgeable group of bar staff in the Midwest. Pro Tip: Make sure to check out the bathrooms and the awesome artwork all around the place." - Aga Wright, The Living Room at W Chicago - City Center
"Part specialty grocer, part gas station and part bar make Bodega [in Jackson Hole] an easy and relaxed place to stop for a Roadhouse beer on tap or grab a six pack to go." - Colby Cox, Roadhouse Brewing Co.
"The holy trinity for dive bars for me is A) a killer Jukebox, B) bartenders with character and C) that 'Je ne sais quoi' that makes them unique. The Turf Club has all three, plus a giant grill in the middle of the bar for patrons to grill their own dinner. Something like this could NEVER happen today, but through some blessed miracle, this gem near the beach in San Diego allows grilled meat dreams to become reality. The back bar is as impressive as the song selection of R&B jams on the jukebox." - Kevin Denton, Pernod Ricard
"If I could pick one dive bar to visit anywhere across the country, it would have to be Koz's Mini Bowl in Milwaukee. Who doesn't want to drink surrounded by incredible taxidermy and play duckpin bowling while tipsy? They're super old-school and even have real people setting the pins for you! They also showcase all of the checks that have been bounced from those who tried to skip out on their bar tabs—karma!" - Cody Goldstein, The Flying Cock and The Horny Ram