We Went to the IRL Bumble Bar, Here's What Happened
It's 7 p.m. and I'm standing in a line that stretches down an entire New York City street, waiting to be granted entry into The Hive, a pop-up bar from the dating app, Bumble. That's right, a brick-and-mortar Bumble bar, where singles go to meet people without the hassle of swiping left and right, but all the hassle of having to talk to people in real life.
The Hive is the first physical space designed by the app, open for one month only, with the possibility of expanding to other cities. By day, it's a lecture space and networking hub, but by night, it's a nightclub for matches to meet in person and for singles to mingle.
When I first heard about The Hive, I wondered how it would play out. The app's entire business model is based on "female empowerment," allowing only ladies to send the first message. It's known for being slightly classier than some other apps, often being described as "Tinder, but with jobs." But in my experience, it's filled with just as many sketchy pick-up lines, commitment-phobes and date plans that disappear into the ether.
At Bumble IRL, would I be expected to make the first move, just like in the app? Would I still have to ask people about their favorite thing to do in the city in order to immediately weed out anyone who says, "Go to jazz clubs?" On this miserably sticky Friday night in June, I was about to find out.
And just when I think I'd rather be anywhere else, it starts to rain.
No one in line is dissuaded by the weather, including the umbrella-less man next to me. I invite him to come share mine and he introduces himself as Dev. He's there solo, hoping to meet someone and, more truthfully, pregaming for the rest of his night.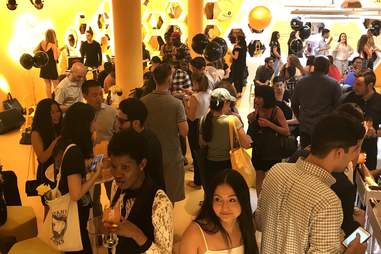 Laura Reilly/Supercall
Nearly an hour later, I show the person at the door my Bumble profile to gain entry, and get my first impression of the bar. It is shockingly yellow, from the walls to the chairs to the Champagne flutes to women scantily clad in bright yellow bumble bee costumes. The yellow and white couches are shaped like hexagonal hives, as are the illuminated yellow mirrors on the walls.
Maybe it's the bright lighting, or the unremixed Top 40 music, or the groups of girls taking tongues-out selfies, but the whole thing feels more like a high school dance than a nightclub. Thankfully, there's booze.
Entrants generously received three free drink tickets, and I planned to use every last one. In the spirit of the app, I confidently introduce myself to the man next to me in the very long line for the bar. Unsure on what to say next, I fallback on my go-to: "So, what's your favorite thing to do in the city?"
"Wow, right away with the tough questions. I'd have to say either drinking whiskey neat on a rooftop or going to a live jazz show."
Laura Reilly/Supercall
The signature cocktail on tap is made with blood orange juice, lemon, and of course, honey, with a choice of vodka stirred in or a topping of Prosecco. I opt for the bubbly, and it's surprisingly delicious—tart without being too sweet. Most others have gone with the classic Vodka Soda or straight vodka.
Since everyone here is single, the men have a distinctly predatory vibe, even more so than at a regular bar. Women are the majority, but men are combing the floor, sizing up their options and approaching their choices with an assurance that she'll be game. If this is a high school dance, it's certainly not a Sadie Hawkins.
Feeling uneasy, I spot Dev in the crowd, a comforting familiar face even though I just met him an hour ago. He's with two Irish guys who seem to be as overly cocky as the many European men on the app who think the promise of an accent is enough to warrant using a flag emoji as their entire bio.
"What do you do?" I ask one of them.
"Oh, I'm Irish."
I turn back to Dev and begin to talk about all the usual Bumble fodder: What do you do for fun? Where in the city do you live? Where did you go to school? And yet it doesn't feel empty, like it does on a screen.
We're actually bantering, laughing, flirting and, dare I say it, having a good time. He brags about his wide-spanning knowledge of New York's speakeasies. I brag about knowing more about Game of Thrones than anyone. He's someone I would have swiped left on Bumble just because of his height, proving how shallow the app has turned me. The Irish guys, clearly infringing on our connection at this point, excuse themselves to mingle.
Laura Reilly/Supercall

An hour and three drinks later, Dev and I decide to walk around and survey the crowd. "That's my realtor," he says, pointing at the oldest man in the room hitting on girls easily 20 years his junior.
Elsewhere, would-be couples are sitting at tables across from each other, and I see at least two men holding their phones under the table, swiping left and right on Bumble, even though there are real live women engaging them. In the corner of the room, there's a group of women just swiping without even bothering to talk to anyone.
Some people are dancing, everyone is selfie-ing, a few are making out on the couches. I assertively pull Dev into the photo booth to take some half-candid photos; they look as if we've been dating for ages. He keeps moving closer to me, but the bar is 30 minutes away from closing, and so I make my way towards the exit. Dev follows.
Laura Reilly/Supercall
Outside, it's still lightly raining, still over 80 degrees with unthinkable humidity, and there's still a line stretching down the block of single New Yorkers hoping to get a glimpse inside the Hive in its final half-hour stretch.
Dev and I make vague plans to go out again, perhaps to one of those speakeasies he's so fond of. We go in for the hug and linger awkwardly. I see my Uber pull up over his shoulder and decide there's no way I'm kissing anybody outside of the Bumble bar and pull away. We nervously laugh and wave goodbye. As I open my car door, I cringe at the possibility of having actually met someone at a dating app-themed bar.
But then I look out the window of my car at the line of sweaty singles, their dead-eyed faces illuminated by their phone screens, mindlessly swiping left and right, and I think in a very Carrie Bradshaw-esque way, is that not the point of all of this nonsense—to meet someone? I smile and wonder if, thanks to the unlikeliest of places, I'll soon be able to delete that app once and for all.
Nope. He ghosted me a week later. Romance is dead.