Canada's Craziest Caesars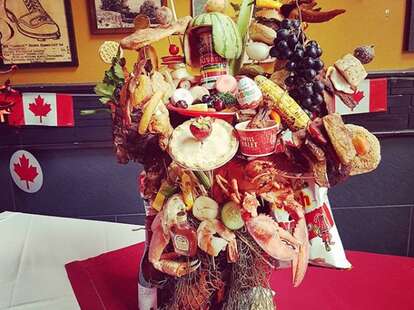 Michelle Lessard / Yeg Caesars
Michelle Lessard / Yeg Caesars
The Bloody Mary in America has become a blank canvas for a 3D garnish collage. Bartenders have created edible statues that are exercises in both balance and excess atop these brunch cocktails. But the practice isn't limited to the States. Up north in Canada, bartenders are giving their savory brunch drink, the Caesar, the same treatment. These Clamato-based cocktails are giving Bloodies a run for their money with their insane, over-the-top garnishes:
All part of this complete(ly fried) breakfast
Who needs bacon when you have BBQ ribs?
Lobster + pizza = our kind of surf n' turf
Why don't all breakfast drinks come with dessert?
Can't forget that side of fries
Well this is just excessive...even for us