Forget splitting a bottle of cat wine with Fluffy or chatting up a tabby at your nearest cat cafe; the best way to bond with a feline is with yoga—and beer. Sanctuary Brewing in Hendersonville, North Carolina offers weekly Yoga with Cats.
The feline-friendly yoga began in August of 2015, not long after the brewery opened, when founder Lisa McDonald decided it would be the perfect way to combine beer and animal advocacy. "Since there was already a trend in brewery taprooms hosting yoga, this seemed like the perfect fit," she says. For just $5, you can stop by Saturday mornings at 10 a.m. for a yoga workout amongst a clowder of cats (that's actually what a group of cats is called, look it up). And, best yet, should you and your downward dog vibe with one of the felines, they're all up for adoption. If you do decide to take one home, Sanctuary will cover half of the adoption fee (and give you a bonus tote bag).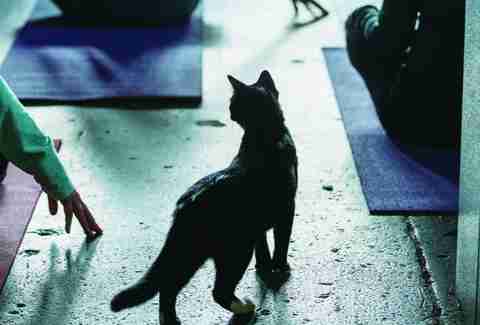 Thanks to Sanctuary Brewing's Cat Yoga, 25 cats have been adopted so far. "The best thing about these events is that the money participants spend on the class goes directly to animal advocacy, and the cats get socialized and out of the shelter in the process," McDonald says. The brewery has also hosted yoga with puppies and, this past Mother's Day, they offered a special yoga with bunnies class. The cuteness is almost unbearable, and only made better by a post-class brew like Sanctuary's lemon saison or the Hop Pig, a grapefruity take on their flagship IPA, which McDonald deems "perfect for a post-workout thirst quencher."
The brewery's animal advocacy efforts don't stop at yoga. Sanctuary also operates a mini animal sanctuary a couple of miles away from the brewery, where there are currently five cats, two dogs (Harry and T-Bone), five chickens, and a pig named Oliver. Recently, they also hosted a two-legged lamb named Duck, who dropped by the brewery for a meet and greet. "We have fostered literally hundreds of animals here on the farm, all funded through the brewery," McDonald says. "In our first two years of business, we have made thousands of dollars (close to 10k) for animal rescue groups." The brewery also hosts Adoption Wednesdays, during which people can hang out and drink beer while meeting adorable dogs and puppies, and a monthly Pup Crawl in partnership with Southern Appalachian Brewery (dogs from Blue Ridge Humane parade down Main Street, visiting potential puppy parents at the breweries).
If you can't make it out to the brewery but still want to donate to Sanctuary's efforts, visit their crowdfunding site.