The Cavalier Hotel Is America's First Real Distillery Hotel
We've lusted after London's gin hotel, The Distillery, for over a year now. But now, finally, there's a true hotel for spirit lovers in the U.S. After an $85-million renovation, the Cavalier Hotel in Virginia reopened in March 2018, unveiling the independent Tarnished Truth Distillery, making the establishment the first distillery in North America to be fully integrated into a hotel.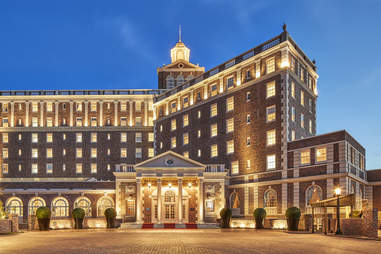 Robert Benson
Born and bred in Virginia Beach, creators Andrew Yancey and Josh Canada were inspired by the golden era of the roaring '20s and wanted to pay homage to America's whiskey roots by creating a distillery in this oceanside hotspot. Virginia Beach is known for its tasty seafood offerings, like Chesapeake Bay blue crab, oysters and clams; the area's 200 miles of cycling trails; and over 230 parks and natural areas. But what about the booze? Virginians have been distilling whiskey since the 17th century, and Tarnished Truth Distillery allows you to gulp down this centuries-old tradition with their Tarnished Truth Bourbon, Tarnished Truth Rye and Old Cavalier Bourbon—as well as AVA Vodka and an upcoming gin (projected to launch in October).
Ashley Lester
The 3 Year High Rye Bourbon bursts with flavors of toasted oak, honey, vanilla, clove, cinnamon and hints of ripe figs. The 9 Year Old Cavalier Single Barrel Bourbon has a buttery toffee flavor that coats the mouth, with hints of black pepper, cinnamon and dried spices. And the straightforward AVA Vodka has a slight burn and a hint of sweetness.
There are several ways you can partake in Truth's liquor varieties: Of course, the duo offers their bottled craft spirits for sale, so you can drink them in the privacy of your home, but it's better if you make a night of it. Book a room at the hotel and go on a private tour, visit the tasting room or settle in at the attached restaurant and bar, The Hunt Room, which offers signature drinks and cocktail classes. Every class focuses on how to make a single featured cocktail (made with a Tarnished Truth spirit, of course) and the only cost is the menu price of the drink. Once you've mastered the art of mixology, belly up to the bar for a few more rounds. The bar uses Truth's whiskey and vodka in a number of drinks like the Smoked Old Fashioned, made with the Old Cavalier Bourbon, or the Float Like A Butterfly, made with the AVA Vodka along with cucumber, mint, lemon juice and chamomile bitters.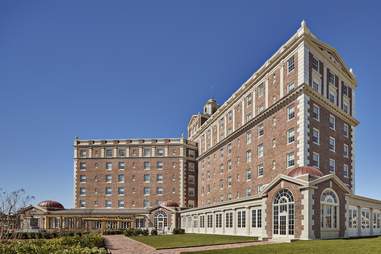 Robert Benson
If you have a bit of coin to spend ($25,000, to be precise), the distillery lays out the red carpet with their Presidents Club, which earns you your own personalized whiskey barrel for aging. Members of this rarified club are invited to the distillery to pick the mash bill, help cook and ferment the spirit, distill the bourbon, and put it in the barrel. After completing the process, members can return once a year to stay at the hotel and taste their bourbon. "Once you have determined that the bourbon is aged to your liking, we work with you to design a custom label for the bottles and invite you back for a bottle release party with your friends in our tasting room," says Yancey. If you don't have that kind of cash, though, don't worry. Rooms, which come decked out in luxe fabrics and cutting edge art, run for $249 a night.