22 Celebrities Reveal Their Favorite Drinks
When you see celebrities walking the red carpet or on the big screen, it's easy to forget that they live ordinary lives, hang out with ordinary friends and even drink ordinary drinks. They're just like you, a regular, everyday fan: They add their ingredients to their shakers one jigger at a time. Don't believe us? Here are some of your favorite stars' drinks of choice.
Sit us next to JLaw. After revealing to David Letterman back in 2013 that she would down the tropical slushie in her trailer, Lawrence discussed the plan she concocted with Brie Larson and Amy Schumer to install a Piña Colada tap at their Golden Globes table.
Aniston prefers her Margs on the drier side, nixing sweetener altogether. When she gets her hubby Justin Theroux to mix one up, she sticks to a basic rendition: tequila, lime and a "squinch of Cointreau."
Scarlett Johansson — Champagne
ScarJo probably has plenty of reasons to celebrate by popping some bubbly, like being a straight up big screen goddess, or being a brand rep for Moët & Chandon with a constant supply.
Sofía Vergara — Wine
Vergara might be worried that her choice of wine makes her boring, but we can't imagine anything more exciting than sharing a bottle with our favorite Colombian star.
We shouldn't be surprised that the ecstatic singer goes all the way with his drink of choice. He says he likes to catch up with friends over a LIIT—sounds like a bit more than just catching up.
OK, we're not sure we can endorse Oprah's method of using her mouth as a lime juicer, but she did prove herself resourceful at making Moscow Mules in the great outdoors. But when she's got access to all her tools in her studio, she prefers to whip up her "Legends" Lemon Drop instead.
Jay Z – Champagne
Jay drops a lot of references to different kinds of booze in his lyrics, but his own Armand de Brignac brand of Champagne—aka, Ace of Spades, as it's known to hip-hop fans—sits atop the king's boozy list. Sure you don't have an agenda there, Hova?
Ditch the space age cocktails and intergalactic blue drinks. Takei don't play that way. His preferred tipple is the classic Martini.
The Pom-tini might not be popular anymore, but it's certainly still in vogue with Madonna.
Kaling explains that the mix of ginger beer and rum is perfect for a refreshing summer sipper. We agree, but would add "winter, fall and spring" as well.
Taylor Swift — Diet Coke and Vodka
During her 73 Questions with Vogue, Taytay admitted her favorite drink is a simple Diet Coke spiked with vodka. We're really hoping the rapid-fire nature got to her and her taste in cocktails is a little more inspired than that.
She might not drink often, but when she does, Kim certainly proves her chill by opting for a White Russian. We're sure her sister Khloé can handle mixing one of those, given her next-level bar.
We know, Harry Potter fans. We too are bummed Rowling's favorite drink isn't Butterbeer. (She clearly hasn't tried our version.) But a Briton does as a Briton will do: G&Ts forever.
Depp should probably cut back on the wine if bourbon is truly his drink of choice. It would save him some debt and the rest of us from seeing yet another Pirates of the Caribbean movie.
Perched on her throne as queen homemaker, Martha can pull from the arsenal of her perfectly curated bar and drink her cocktails from stylish glassware, so it makes sense she'd choose a stylish, colorful, fruity libation perfect for summer entertaining.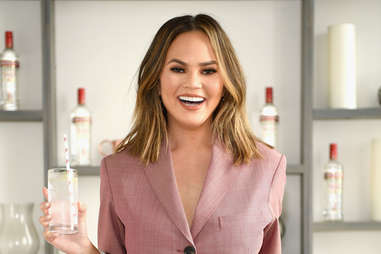 Instagram's favorite star may cook up a lot of different foods to satisfy her many salty cravings, but when it comes to booze, she sticks to her old faithful Vodka Soda.
Justin Timberlake — Pepino
JT is wise to drink seasonally, but when in doubt, the pop star of stars whips up a Pepino, a mixture of tequila, cucumber, pineapple juice and Grand Marnier.
Angelina Jolie — Tequila
We wouldn't argue with Jolie over anything, so it's good her spirit of choice is pretty much unimpeachable anyway.
Cheech Marin — Tequila and Tonic
Marin might be an expert these days on Mexican spirits given he has his own mezcal brand, but it was Timothy Leary who taught the comedian to drink his tequila with tonic and a twist of lemon.
When you invent a bottle as cool as Aykroyd's own Crystal Skull brand, you drink out of it every chance you get.
Cumberbund usually keeps it classy with an Aperol Spritz, but occasionally accepts a Pisco Sour from an admiring bartender.
Lady Gaga — Jameson
Gaga loves the Irish whiskey so much that she's requested it in her tour contract rider, along with a smoothie station. We can only hope she has the good sense to combine them.