We may be proud of our own home bars stocked with handy tools, cool glassware and bottle collections. But we have nothing on the Glitterati, who can afford to dedicate entire rooms in their sprawling homes to epic booze collections. Here, seven legendary celebrity home bars that make us insanely jealous we're not invited to their next dinner party.
Recommended Video
Thrillist's Best (and the Rest): What You Actually Need to Know About Natural Wine
Jason Derulo
There are multiple bars throughout Jason Derulo's Tarzana, California, complex, but the most over-the-top is his bathroom bar. As he told People, "It would suck to come all the way downstairs if I wanted a Mojito. So I could have my Mojito upstairs if I want, or I could have some wine. It's just about convenience." Considering he also has a gold-accented shower and jacuzzi surrounded by lion statues, it's safe to say Derulo has taken shower beers to a whole new level.
George Clooney
Of course George Clooney, creator of the acclaimed Casamigos tequila, would have an awesome bar in his Los Angeles home. It's decorated with pictures of both his and Frank Sinatra's versions of Ocean's Eleven and a model of his Fantastic Mr. Fox character. In addition to his own tequila, his spirits collection is especially on point; Clooney showed CBS News his personalized bourbon bottle from Maker's Mark that's custom etched with his own likeness.
Khloé Kardashian
It's safe to say that Khloé Kardashian has the world's most organized bar. The notoriously OCD celeb gave us a tour of her home bar via a video on her app entitled "How I Keep My Home Bar Organized AF." She showed off her spirits collection—organized by type, size and color—mixer cabinets, cocktail umbrella drawers, shot tray, "very bar-y mixed nut bowls," and a dedicated Cîroc vodka fridge that's personally stocked by Diddy.
Tamar Braxton
R&B singer and reality television personality Tamar Braxton loves her bubbly so much, she had a Champagne bar built in her Calabasas, California, estate. Decked out in dark wood with animal-print bar stools, the lounge is fully stocked with sparkling wines, elegant flutes and a simple "Champagne" sign that she bought at HomeGoods. Stars, they're just like us!
Neil Patrick Harris and David Burtka
The ever-charismatic Neil Patrick Harris welcomed the internet into his New York town house for Vogue's "73 Questions" video series. While we loved his movie theater, magic trick props and Broadway paraphernalia, we couldn't stop looking at his fully-stocked vintage bar, where NPH whipped up an extremely potent cocktail he calls a New Fashioned.
Paris Hilton
The hotel heiress doesn't just have a home bar, she has an entire nightclub—or as she calls it, the "ultimate adult playroom." Her Beverly Hills home has a black and gold room with a bar, Bose sound system, dance pole, DJ booth (remember, Paris Hilton is a DJ now), and a laser, light and smoke system. She told the Wall Street Journal that she loves to be in control of who comes to "Club Paris," which she said attracts celebs like Snoop Dogg for its privacy.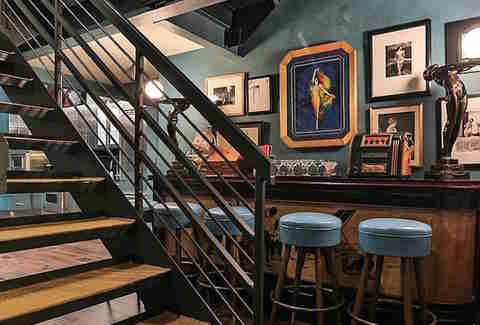 Johnny Depp
Though he recently put it on the market, Johnny Depp's five penthouses (all in the same building) come complete with a pretty amazing bar setup. The art-covered, downtown L.A. home has a retro, art deco-inspired bar. Knowing Depp's ridiculous monthly spending habits on wine, we're sure his booze collection is just as grand.