If need to outfit your bar on a budget, don't settle for dirt-cheap bar tools that will break instantly or plastic cups that won't wow anyone. This higher-end gear looks insanely stylish but is still incredibly affordable, coming in at or under $20. These 10 bar tools and pieces of glassware are perfect for the bartender beginner who wants to look like a pro.
This cocktail shaker from Crate & Barrel functions like a cobbler shaker, with a built in strainer, but looks far sleeker thanks to the French-inspired design. The smooth, bell-shaped shaker with a tapered tip appears to be almost seamless.
Fashion designer Kate Spade sells this cheeky jigger, with a golden 1-oz side reading "less," and a clear, steel-rimmed, 2-oz side reading "more." When it comes to filling it with booze, we'll have "more," thank you very much.
The key to a perfectly stirred cocktail is a lengthy, spiraled bar spoon, which allows for fluid mixing. This ergonomically designed, stainless steel barspoon from bartending veteran Charles Joly is sure to get the job done.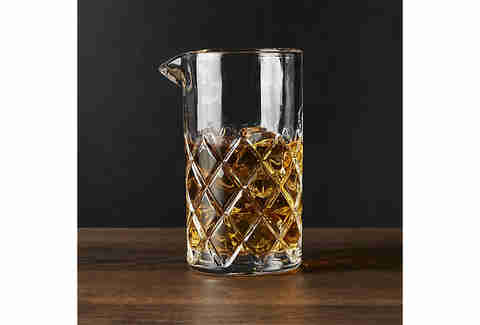 Our go-to budget mixing glass, the Hatch Mixing Glass from Crate & Barrel proves to be a reliable tool for stirring up a batch of Manhattans. The faux cut-crystal, heirloom-like design isn't too shabby either.
How do you dress up a basic Hawthorne strainer? Easy! Add a hammered copper handle, which makes this simple strainer from Bed Bath & Beyond look extra fancy.
Those plastic juicers may be more practical for keeping your hands clean, but nothing beats the manpower of pressing juice from citrus with your own force. This sculpted wooden juicer with a curved wooden handle fits comfortably in the hand, and the sharp tip will crush all the juice out of your fruit with ease.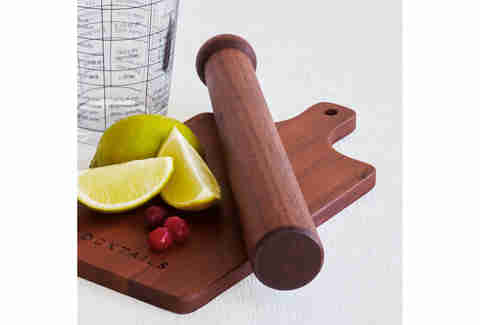 We're partial to flat, wooden muddlers over the toothed metal kind; they're like grandma's wooden spoon, imbued with memories and flavors of Mojitos past. Sur La Table's walnut muddler fits the bill, whilst looking downright sexy.
A straightforward, classic set of Old Fashioned glasses they may be, but it's rare to find a full set of four for this cheap that also looks elegant, and is made of actual glass. They're a steal.
Ignore the cheesy name of these coupe glasses, especially because it's so misleading (coupes are not designed well to hold Champagne's bubbles); these vintage-style coupe glasses are perfect for holding a wide assortment of cocktails, from Martinis to Daiquiris, better than any V-shaped cocktail glass could.
Ensure that you're able to keep bottles of wine nice and chilled, and that guests can top off their own drinks with fresh ice, by owning a proper ice bucket. This slick copper-colored, stainless steel bucket from cb2 is ideal for small bar carts.