Best Looking Bottles Under $30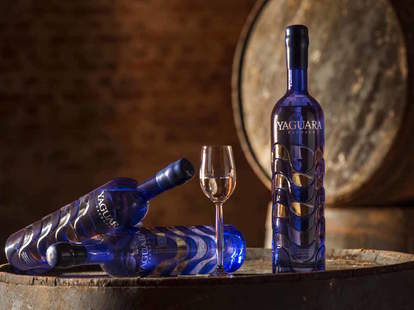 When it comes to liquor bottles, it's not just what's on the inside that counts. You want your bar cart to look as good as the bottles on it taste. If you're the kind of drinker who wants their liquor bottle stock to turn heads, these seven bottles will strike your fancy. Best of all, each of these beauties costs less than $30.
Strong, rich and spicy, the Kraken rum is the perfect ingredient for layered, multi-rum tiki cocktails like the Zombie and Mai Tai. The beautiful, almost woodcut-esque label—which features the titular sea beast and enough nautical trappings to please even the most surly sea captain—is a handsome addition to any home bar. It also doesn't hurt that this spiced rum is housed in one of the most elegantly shaped—and ergonomical—bottles on the market. Rinse out this bottle, and use it to lug your favorite rum punches to the beach for your own sea-inspired adventures this summer.
This bottle of rich dessert liqueur sports contours that are as smooth and sultry as its contents. Its rounded, cascading lines are the liquor bottle equivalent of the Guggenheim Museum's interior. The taste of the supple liqueur inside can only be described as an amalgam of melted Cadbury chocolate, Luxardo brandied cherries and a shot of espresso chased with vodka. Enjoy this boozy, chocolaty dram on the rocks for a decadent after-dinner sipper, or make the ultimate nitecap, a Chocolate Martini.
Inspired by Roberto Burle Marx's wavy, blue and white promenade in Copacabana, Brazil, the Yaguara Cachaça bottle is one of the most beautiful liquor bottles around. The company's Branca bottling is a small-batch, unaged, raw, white cachaça crafted specifically for Brazil's signature cocktail, the Caipirinha. On the palate, the spirit is vibrantly funky and fresh. We'd recommend this bottle for its aesthetics alone, but the juice inside happens to be just as captivating.
Ford's Gin is as functional as it is elegant. A collaboration between Master Distiller Charles Maxwell and bartender Simon Ford, Ford's Gin is crafted to be the world's most versatile gin, equally perfect for Martinis and Gin & Tonics. The spirit is as fresh and vibrantly floral as it is herbaceous, with a hint of lemon and bergamot. Designed with a long, slender neck for an easy grip, this bottle is as pleasing in hand as the gin is in the glass.
Folks who catch a glimpse of this bottle don't know what to focus on first: the label that looks like an antique botanical engraving, the elegant curve of the bottle, the glossy red wax cap, or the decadent nectar inside. All of the above, perhaps? If you don't have a bottle of Carpano Antica vermouth in your fridge at this very moment—or have never had the pleasure of trying this top-tier Italian aperitif—stop what you're doing, and go to the nearest liquor store for a bottle. It's that good. And your Manhattan demands it.
With a flavor that's as unique and iconic as its potbellied bottle, Amaro Montenegró is one of the quintessential Italian amari available on American liquor store shelves. Just like the spirit captured inside, this bottle's design is timeless. The amaro, with a bitter bite and bright orange tang, works just as well on its own as it does in cocktails. Italian poet Gabriele D'Annunzio described the spirit as the "liqueur of virtues." If that's not a solid review or reason enough to drink it, nothing is.