The Cheapest Caribbean Destinations With the Best Drinks
If you're looking to get away but don't want to spend too much, don't worry: there are plenty of affordable vacations out there that even folks on a serious budget can swing. If you love tropical vacations and can't think of anything better than lounging on a beach with a Mai Tai in hand, then check out these five Caribbean islands where you can enjoy yourself on the cheap. If you go during the week in the off season, you'll probably spend less on your trip than you do on rent.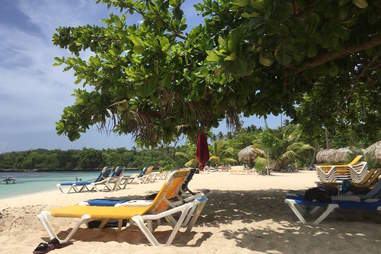 Amanda Gabriele / Supercall
Dominican Republic
Thanks to resort towns like Punta Cana and Puerto Plata, the DR is one of the best places to snag an all-inclusive vacation on the cheap. It's close to the east coast of the United States, so the three-hour plane ride will only cost you between $300 - $400, on average. Accommodations are cheap, too. Take the
Iberostar Punta Cana
, for example, an all-inclusive resort that costs less than $100 per night. The property features seven bars where you can enjoy tasty tipples like
Frozen Margaritas
all day long. Or, if you want to get away from the tourist scene, consider Samaná, which is located a three hour drive from Santo Domingo on the DR's northeastern shore. There, the friendly staff at
Las Galeras Village
(about $120 per night for a private villa) will cook you fresh langoustines and mix you a delicious house
Rum Punch
for a mere few dollars.
Curaçao
This under-the-radar Dutch-Caribbean island has some of the best snorkeling and diving in the area, and it's much less expensive than its popular neighbor Aruba. Even though it was left unscathed by the hurricanes last fall, hotel prices have fallen this year, and a round trip plane ticket from NYC only costs about $323. The island's colorful architecture is one of its biggest assets, which
Scuba Lodge & Suites
(from $131 a night) takes full advantage of—its 28 rooms and 11 apartments are housed in rainbow-hued historic buildings. After a day of diving with their team of expert instructors, retreat to the Scuba Lounge for a pitcher of
Watermelon Mojitos
. If you're looking for something a little more budget-friendly that is still located in the bustling Pietermaai District—an area known for its boutique hotels, sidewalk cafes and shopping—book at room at
Boutique Hotel 't Klooster
for $73 a night. All of the lovely rooms are centered around a courtyard, complete with lots of greenery and a turquoise plunge pool. While there is no on-site bar, the hotel is within walking distance to plenty of terrific watering hotels.
Guadeloupe Islands
As Guadeloupe is an official part of France, sometimes it's actually one of the few Caribbean destinations that's cheaper to reach from Europe than it is from North America. But thanks to direct Norwegian Air flights from four major U.S. cities (round trip costs about $218 from NYC and $250 from Boston), the five-island archipelago is becoming more popular—but it's still under the radar enough for the adventurous, off-the-beaten-path traveler. If you go during summer and early fall's low season, a standard studio at the stunning
Canella Beach Hotel
will run you about $87 a night. That leaves plenty of cash leftover to go jet skiing, windsurfing and sip
Piña Coladas
from the property's Le Beach Bar. If you'd rather go all-inclusive,
Club Med La Caravelle
starts at $116 per night and offers all the amenities to relax and adventure, even if you don't want to leave the resort. Check out The Colibri bar to sip blenderfuls of frozen drinks seaside.
Grenada
While Grenada may not be the cheapest Caribbean destination on this list, it's the perfect place for English-speaking folks to get away if they don't want to fight throngs of tourists. Round trip airfare from NYC will run you about $350, but Grenada's comfortable, mid-level accommodations and stunning rainforest landscape more than make up for the extra cash spent. A standard room the
Mermaid Hotel
costs about $107 a night and comes with all the modern amenities of a comfy stay, plus a beach chair on their gorgeous strip of sand. The onsite bar and restaurant is ready to serve you island-y delights, like their
Rum Punch
that's not to be missed. If you're looking to get more off the beaten path, Carriacou, a small island just north of Grenada proper that is still part of the country, is the place to go.
Carriacou Grand View Hotel
is a best bet with rates starting at $65 per night. While it's easy to find something you like at the well-stocked bar, don't leave without trying their rummy signature drink the JCB (aka Just Come Back).
Jamaica
Getting to Montego Bay from the East Coast of the United States will only take you a few hours and cost around $300, but we suggest making the 90 minute drive to less touristy and incredibly beautiful Negril. There, you'll find both big resorts and boutique accommodations, and you're sure to see the country itself and not just the grounds of your hotel. During the fall season (August 15 to December 20) at Negril's award-winning
Rockhouse
, a standard room runs about $95 a night, and you can splurge on a private villa for about $200 less than the usual high season rate. The onsite Rockhouse Restaurant is one of the best in the area, Pushcart rum bar serves strong tropical drinks alongside traditional Jamaican jerk fare, and the Pool Bar & Grill has a 2-for-1 cocktail happy hour daily from 5 pm to sunset.
Home Sweet Home Resort
is another great option and costs less than $100 a night for a room with a private balcony in the off season. Set on a cliff overlooking the ocean, take a dip in the crystal blue pool while sipping a cocktail from the restaurant's full bar.