This Punch Bowl Is Full of Actual Lightning and Booze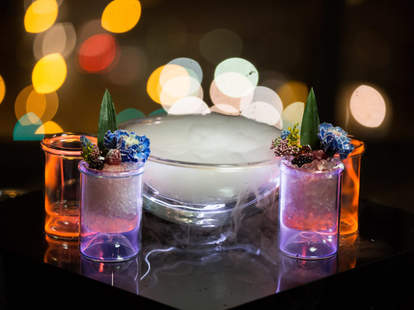 Courtesy of Apogee Lounge
Perched atop the ritzy Dana Hotel in Chicago, Apogee Lounge is perfectly positioned to capture lightning strikes from storms blowing in off Lake Michigan. But even if a storm isn't brewing, you can still experience the drama with The Oracle punch, which arrives in a bowl teaming with dancing spears of electricity. It's not just flashing lights; the electric energy inside the punch bowl is a true plasma discharge, like a scaled down, much tastier lightning strike that will get you buzzed.
The light show comes compliments of Ignite Glass Studios and Absolut Vodka, which cosponsored the drink to (literally) highlight Absolut Elyx. Don't worry about zapping off your tastebuds; the lights flicker within the hollow bowl, not the booze. Like those plasma globes you saw as a kid at the science museum, the cavity within the bowl's walls is filled with neon gas, which "sparks" plasma filaments (sudden electrical currents passing through the low-pressure gas) when provided power from an electric field.
According to Apogee beverage director Benjamin Schiller, every aspect of the cocktail is designed to wow a crowd. The bowl sits on a pedestal that provides the electric field, but the bowl can be charged ahead of time for slightly more mobile entertainment. The accompanying punch cups are scaled down versions of the bowl filled with their own neon gas, so when drinkers bring them together in a toast over the bowl, the electric field activates the plasma in them as well. The plasma even comes in several colors like blue, orange and green.
The cocktail itself emulates the electric presentation with spicy notes of its own, combining the Absolut Elyx with bird's eye chile, ginger, pear, Thai basil and aromatic bitters. The Oracle also comes with a pricetag to match: $400 for a 6-person serving. While that may seem like a high price, Schiller says that groups often order one in lieu of bottle service, and the bar has moved a few punches every weekend since debuting the drink. As soon as one passes through the bar, you can bet anybody nearby starts weighing rent money against the electrifying cocktail of a lifetime.
The drink isn't the only attention grabbing cocktail at Apogee to come in Ignite Glass custom glassware—the 1-Up also features Elyx with white sage, pineapple and dehydrated blackberry all in an ornate glass mushroom any pixelated Italian plumber would appreciate—but The Oracle draws the most oohs and aahs. It's all the thrills of storm chasing without the risk of a cow crashing through your windshield.