What to Drink Based on Your Favorite Childhood Cereal
Keith Homan/Shutterstock + Matthew Kelly/Supercall
Keith Homan/Shutterstock + Matthew Kelly/Supercall
As an adult trying to live a fairly healthy life, your morning bowl of cereal probably has lots of fiber and decidedly unappealing ingredients like flax and oat flour. That's all well and good for the long term, but you have to admit they have nothing on those sugary, brightly colored bowls of cereal from your youth. You can relive the nostalgia of those cereals by drinking cocktails that either pair with, or taste just like, your favorite bowlfuls—some of them even use the actual cereal in the recipe. From Reese's Puffs to Lucky Charms, here are 12 cocktails you should drink based on your favorite childhood cereal.
This brunch-ready tiki cocktail may call for an unusual ingredient, but we promise the end result tastes exactly like Corn Flakes—it's actually kind of freaky. Add dried cornsilk (the frayed bit you typically throw away when husking corn) to a simmering saucepan of coconut milk, sugar and salt to create a corn-flavored coconut milk. Once cooled, that cornsilk milk mixes with rum and banana liqueur. The result is liquid Corn Flakes. If you prefer sugary Frosted Flakes instead, feel free to add a little bit more sugar when making the cornsilk milk.
Lucky Charms may be magically delicious, but this sparkly cocktail is literally magic. A whimsical take on a Champagne Cocktail, this drink is made by putting a handful of cotton candy into a coupe, topping it with edible glitter as colorful as those Lucky Charms marshmallows (the only reason to eat Lucky Charms), and pouring Champagne over the top. The sparkling wine will instantly make the cotton candy vanish and disperse the glitter throughout the drink—a dazzling trick that would even impress leprechauns.
If you were deceived as a child into believing that eating an entire bowl of chocolate cereal constituted a balanced breakfast, than you probably are the type of adult that wants to drink a whole glass of liquid chocolate at happy hour. The unapologetic Chocolate Martini—made with chocolate liqueur, vodka, and half and half—is just as decadent as that bowl of Cocoa Pebbles.
Since Apple Jacks taste very little of apples and more of warming cinnamon, you'd probably enjoy a drink that has much subtler apple flavor than say, an Apple-tini. The classic Jack Rose ironically uses applejack, which is made from apples but tastes more like a spicy, cinnamony whiskey with subtle hints of apple. Sweet grenadine and tart lime juice add some fruitiness and brightness to the rosy cocktail.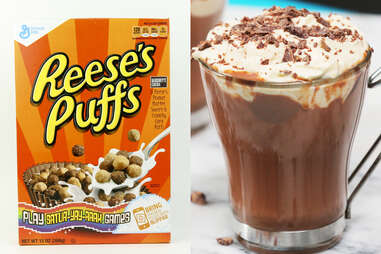 Chocolate and peanut butter taste just as good in cereal form as they do in Reese's candy. Turns out they're equally delicious in cocktail form, especially in this spiked hot chocolate. Originally inspired by the Tagalong Girl Scout cookie (another childhood favorite), hot chocolate gets spiked with nutty Frangelico liqueur, and topped with a peanut butter-infused whipped cream and chocolate shavings. It is super indulgent and perfect for chocoholics and peanut butter fiends to enjoy on a cold winter day.
In honor of your favorite cartoon naval captain, Cap'N Crunch lovers should definitely try a Navy Grog. More than just a fitting name, the rummy Navy Grog has a honeyed flavor (from honey syrup) that tastes like the plain version of the cereal. And for Cap'N Crunch Berries (and Oops! All Berries) fans, there's also a nice fruitiness to this drink, thanks to grapefruit juice. The Cap'N would be proud.
This cocktail uses real Honey Nut Cheerios right in the drink. Honey Nut Cheerios infuse inside a bottle of dark rum for a few days, imparting their flavor into the rum before getting strained out (because no one likes soggy Cheerios). The Cheerio-infused rum mixes with honey syrup, milk and holiday pie bitters, and the glass is rimmed with honey and cinnamon sugar. To take the drink over the top, garnish with a skewer of Honey Nut Cheerios to nibble on.
Colorful Fruit Loops have a subtle lemon flavor, which makes them the perfect match for a citrusy, ultra colorful Pimm's Cup. The classic drink mixes fruity Pimm's liqueur with fizzy lemonade, fresh lemon juice and a veritable fruit salad of garnishes. Lemons, oranges, strawberries, you name it—it all tastes amazing in the rainbow-hued cocktail. The end result is as vibrant and fun as a bowl of Fruit Loops.
Rice Krispies aren't just for children who press their ears to the surface of the cereal bowl to hear that snap, crackle and pop; they're actually used to top the traditional Filipino dessert Halo Halo, which is made from bright purple ube ice cream. This boozy milkshake was inspired by that dessert, and incorporates ube ice cream with milk, rum, ube jam and of course, Rice Krispies. Sprinkle them on top of the milkshake for texture, and if you listen closely enough, you may still hear that familiar trio of noises.
Trix cereal came under fire recently for their well-intentioned attempt to remove the artificial flavoring and coloring from their recipe. The public revolted, demanding the new natural cereal go back to its shamelessly neon roots. Trix obliged, having learned their own lesson that Trix are, in fact, for kids (and adult kids who don't like change). The Melon Ball is one drink that's never shied away from its insanely artificial neon color and fruity flavor. Midori makes the cocktail green like nuclear waste, and orange juice gives it further sweetness. Garnish with balls of colorful melon as an homage to the OG bright balls of artificial Trix.
If Raisin Bran was your favorite cereal as a child, we're sorry you didn't grow up with friends. Just kidding—but you definitely were an old soul. Enjoy an equally old school cocktail (like, the 1800s old) by whipping up a batch of Glögg. The Swedish holiday favorite features red wine heated with port, aquavit, citrus, ginger, loads of baking spices like cinnamon, clove and cardamom, and even raisins. That's right, weird raisin loving child. You can drink wrinkly raisins as an adult too.
College kids were way ahead of the boozy childhood cereal game when they invented the Cinnamon Toast Crunch shot, a mix of spicy cinnamon-flavored Fireball and creamy RumChata. We adulted things up a little bit more by turning the shot into a cocktail, adding Káluha into the mix for a touch of much-needed bitterness. We also rimmed the glass with cinnamon syrup and crushed up Cinnamon Toast Crunch cereal, because we haven't actually grown up that much.