Chrissy Teigen Reveals Her Favorite Drinks and Late Night Eats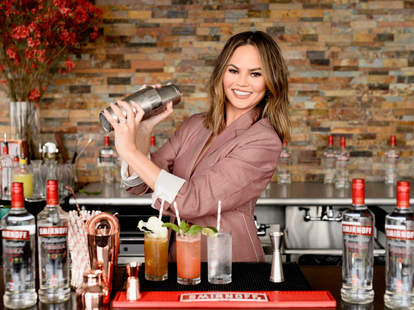 Dave Kotinsky / Getty Images
Chrissy Teigen leads an enviable life. (Just scroll through her Instagram to see what we mean.) She jet-sets around the globe in luxury with husband John Legend, shows off her supermodel body while simultaneously publishing a food porn-packed cookbook, and generally enjoys second-degree Illuminati status.
But despite all her fame and fortune, Teigen is paradoxically down to earth—especially when it comes to her drinking habits—which explains her partnership with Smirnoff vodka. Teigan joined up with the affordable, everyday brand to convince the world that sometimes, all you need is a Vodka Soda.
We recently had a chance to sit down with Teigen and talk about her new brand ambassadorship, as well as other crucial drinking matters, like drinking games, the best late night eats and what it's like to drink with your mom while watching scary Thai movies.
Supercall: In the Smirnoff commercials, you take your vodka on the rocks and in a Martini, but what's your favorite way to drink vodka in real life?
Chrissy Teigen: I've been a vodka gal since the beginning of time, but [I drink] Vodka Sodas these days because I can't handle anything much stronger, honestly.
SC: Well, you've found your spirit animal. You've got to stick with it.
CT: Yes! I've found my spirit animal!
SC: What's your go-to snack after having a few drinks?
CT: Fried foods: KFC, Popeye's, Taco Bell. It's always something salty and fried. Pizza, of course. I don't want a salad normally so why would I want one [late at night]?
SC: You worked with your mom in one of the Smirnoff commercials. What do the two of you get up to when you drink together at home?
CT: Oh my god. Snapchat, basically. We watch a lot of scary Thai movies. She just discovered Netflix and Apple TV, just discovered how to use the search button, so a couple days ago we watched Ghost in the Air Conditioning Vent. Thai movies are very oddly literal. It's always the most ridiculous story, like Baby in the Egg, always ridiculous.
SC: That's fantastic. Does she stick to Vodka Sodas as well?
CT: She loves her Vodka Sodas. She loves her Smirnoff 21, especially because she's in the commercial. She's always trying to put it in the background of her Snaps and everything. She's very proud to have her very first endorsement.
Dave Kotinsky / Getty Images
SC: In the commercials, you opt for a red Solo cup, which instantly brings drinking games to my mind. What's your go-to game?
CT: I've never once played a drinking game, ever. I've definitely encountered beer pong before. But when I drink I like to relax and sit and talk. I don't want to get competitive. I've definitely played games, but I'm not a…
SC: Competitive flip cupper?
CT: No, no. I would suck. At least I have the balls to say I would suck.
SC: So if you're not going to be partaking of any drinking games this summer, what are some of your and John's favorite warm weather drinking activities?
CT: We're going on tour, actually, in mid-May, leaving until July. Of course we're going to have a Fourth of July party that's going to be pretty big.
SC: Do you have any idea what you'll serve at the party?
CT: I actually have no idea. Crazy barbecue, I imagine. I have to cook for it, so it'll be potato salad, ribs—it'll be our first backyard barbecue in our new house in L.A. We like to keep things very casual for our parties. We don't have the bartender area set up. We put out all the alcohol. Everything's in buckets. Everything's on the tables. Everyone helps themselves. Because all the parties we go to feel very fancy, and that's just not our style.