The 10 Best Bars in NYC to Celebrate Cinco de Mayo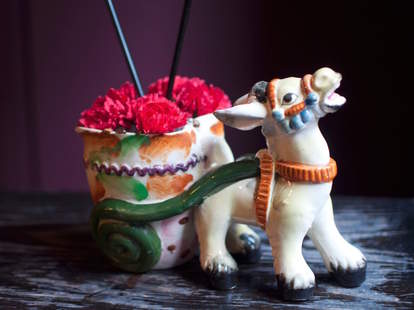 Cinco de Mayo isn't Mexico's Independence Day (September 16), nor is it National Margarita Day (February 22). Cinco de Mayo commemorates the Mexican army's unlikely victory over the French in 1862, but if you didn't know that, don't feel too bad. The important thing to know is come May 5, it's time to break out the mezcal and let the fiesta begin.
The beauty of Cinco de Mayo is, unlike most commercial holidays, you aren't expected to spend the day with your family. Instead, you're expected to spend 24 straight hours gorging on Mexican cuisine and washing it all down with tequila, mezcal, Margaritas, Palomas, raicilla—pretty much anything made from agave, with maybe a few Tecates thrown in for good measure. And there's no place better to celebrate Cinco de Mayo (outside of Mexico, of course) than the ultimate party city: good ol' New York. To celebrate this year's Cinco in proper fashion, we charted a map of the best festive Mexican bars and restaurants in and around the Big Apple. From mezcalerias to cocktail lounges, here are the nine best spots to celebrate Cinco in New York City.
Prospect Heights, Brooklyn
This Prospect Heights restaurant not only has life-changingly delicious nachos, they also have some of the best mole poblano and pipian verde you'll ever taste. If that's not enough reason to visit, El Atoradero recently opened a mezcaleria next door, featuring fresh ceviche and over 75 different mezcals behind the bar. With flights available and an educational menu, Madre Mezcalería is the perfect place for mezcal beginners to fully explore the smoky agave spirit. Expect there to be some awesome Cinco de Mayo drink and food specials—not to mention a crowd of thirsty agave lovers.
NoHo, Manhattan
This NoHo mezcaleria is equal parts Mexican dive bar and cocktail mecca. From the brilliant cocktailian minds of Nacho Jimenez (of The Daily) and Eben Freeman (of Genuine Liquorette), the cocktail menu at Ghost Donkey goes way beyond your basic Margarita. The expansive menu includes a Horchata-ice cream cocktail, a spin on the classic Diablo with homemade ginger beer, and a signature mezcal Negroni, all of which are some of the best new Mexican-inspired libations we've ever tried. If Margaritas are your game, they have a funky huitlacoche-infused variation (it's savory and mind-blowingly delicious) and a frozen treat called the Stealth Margarita that's made with tequila, St-Germain, cucumber, lime and chili. Throw in a giant bowl of fresh guacamole and their famous truffle-laden nachos, and there's truly no better way to spend the red, white and green holiday.
Taqueria Downtown
Jersey City, NJ
OK, we know this isn't technically New York, but as far as we're concerned, if it's a short underground train ride from Manhattan, it counts. This "California via Mexico" inspired bar and restaurant is one of the Garden State's best kept secrets. With grub as authentic as any Jersey Mexican restaurant and fresh-tasting Margaritas, this kitsch little spot is a blast on the Mexican holiday. We recommend a classic round of Margaritas, switching to beer with your meal, then back to Margaritas for dessert. Order your tacos with barbacoa (spicy barbequed lamb) and cabeza (slow-stewed beef head and cheek). However, be prepared to wait in line or get there early; this place is crowded on an ordinary day, let alone on Cinco de Mayo. But we promise it'll be worth your while.
Tribeca, Manhattan
Cinco de Mayo is meant to be celebrated with gusto, and this lunchtime pregame hang is chock full of it. While the Mexican cocktail standards are all here, including a refreshingly potent pineapple Mojito, their catalog of unusual, we-don't-know-how-it-works-but-it-does concoctions are a must-have, including the Humo Verde, a blended drink with mezcal, avocado, pineapple, lime, crushed ice and Yerba Matè, and their Mexican coffee cocktail spiked with Xtabentún, a honey-anise liqueur from the Yucatán. Our go-to order for food—guaranteed to haunt your dreams and keep you coming back—is their chile rellenos platter, which includes two perfectly fried and golden cheese-filled chilies, one drenched in their smoky rich red sauce and the other in bright and tangy green sauce.
Williamsburg, Brooklyn
While this Williamsburg taco hut is a blast any time of year, it's an absolute standout for your Cinco de Mayo celebrations. La Superior's cocktails are refreshingly delicious, fresh and downright chuggable, especially their Tamarind Margarita. The food always delivers, with menu standouts including their rajas con crema, which is a taco laden with roasted poblano, sauteed onion and Mexican cream; the cochinita pibil, a taco with shredded spicy pork cooked in banana leaves; and the Pavo Escabeche, a slow-roasted turkey taco spiced with traditional Spanish pickling brine, which is served with their extra spicy homemade salsa. For drinks, start by ordering a Tamarind Margarita (or three), then have a mid-course mezcal and hibiscus tea cocktail, and finish with their house horchata, which is spiked with tequila, Kahlua and freshly grated cinnamon, for dessert.
Chinatown, Manhattan
Is it Spanish? Is it Mexican? Is it New American cuisine with a California edge? The new restaurant from Gerardo Gonzalez—the L.A.-born chef formerly at the beloved cafe El Rey—cannot be pigeonholed or categorized into a single genre. Unlike the other restaurants and bars on this list, this hidden gem won't be overbooked or crowded on Cinco de Mayo. Cocktail must-tries include the Sumac Sour, a simple, refreshing take on the traditional sour with sumac-infused gin, lemon and aqua faba, and the summer-ready Wilde Spritz with rum, grapefruit liqueur (pamplemousse), fennel, lime and cava. For food, do yourself a favor and get the Boquerones Tostadas (yes there are anchovies, but they're not like any anchovy that you've tasted before), the Ceasar salad and the Cumin Chili Lamb dish. A big plus for all you veggie lovers out there: Gonzalez is famous for his vegan and veggie takes on classic dishes, and his menu at Lalito reflects his love for all things green and fresh.
Chelsea, Manhattan
Helmed by Serge Becker of La Esquina fame, this upscale Mexican hotspot is the first, stateside sequel to an ultra-trendy London restaurant. While their modern takes on the classics might not be for some traditionalists, we find dishes like their Peking duck tacos and roasted chili rellenos with crispy pork belly to be refreshingly new and delectable. As for drinks, the Singani Sour with Bolivian-made, pisco-esque Singani 63, lemon and muddled grapes is a tart, lip-smackingly delicious concoction. On Cinco de Mayo the bar will be mixing up a large format House Margarita that serves five and offering Margarita flights to sample their array of takes on the sour agave classic.
East Village, Manhattan
Squeamishly fickle eaters be advised: The Black Ant is for adventurous eaters and Mexican food connoisseurs tired of the same dry tacos, gargantuan, child-sized burritos and sizzling fajitas. With dishes as insanely brilliant and noveau as they are delicious, The Black Ant is an absolute must for Cinco de Mayo (or any day). For food, get the tacos de lengua, the crispy duck dumplings with mole, and lechon, a Spanish-Filipino style suckling pig. Instead of overindulging on dessert, get the rum Old-Fashioned with banana liqueur and mole bitters. Make sure to come early on Cinco de Mayo, this place will surely fill up quick.
Established by celebrity chef Alex Stupak, Empellón is one of New York's best Mexican restaurants. Featuring modern takes on Mexican favorites, Empellón's Midtown location is the chef's most flashy iteration in his cluster of New York restaurants (there are two others in the West Village and the East Village). While the crab nachos with sea urchin queso and corn ice cream tacos are a must, the Midtown location will be hosting their first annual Cinco de Mayo party on Saturday, May 5th from 8 pm to 12 am. Stupak and his team will be transforming the bi-level restaurant into a must-visit party destination. Tickets are $95 each and the price includes access to a raw bar, tacos, open bar, DJ Rick Wonder and "entertainment."  
Toro Loco is a new Mexican restaurant and bar in Manhattan's Financial District that will specialize in large format cocktails along with tequilas and mezcals. While their official opening date is Thursday, May 3rd, the bar will be hosting their first-ever Mezcal Party Brunch on Cinco de Mayo, which will be a regular party every Saturday going forward. If you're a fan of wild brunches, day drinking and tasty Mexican food, this bash is for you. It will include costumed servers and bartenders, burlesque-style dancers, and music from an in-house DJ. There will also be a pre fixe menu—$40 dollars per person—that includes five drinks (within a 2 hour window) and unlimited food.