The Next Drink You Should Try, Based on Your Favorite Classic Cocktail
Matthew Kelly / Supercall

Many classic cocktails are timeless. You can revisit a Manhattan or Martini as many times as you like and the drink will never get old, or disappoint you, or run out on you with another drinker. But there's room in life for more than one cocktail. If you're shopping around, use your favorite drink as a jumping off point to discover your next love. We promise your old standby will still be there when you get back.
Matthew Kelly / PATRICK SPEARS / SUPERCALL
There are a lot of variations on the Manhattan out there—the Rob Roy (and its own variation, the Bobby Burns), the Red Hook, the Bensonhurst, etc—but the Prospector is one of the more unique. Vermouth is swapped for Averna (just like in a Black Manhattan), and gets one further tweak with a half ounce of sweet Pedro Ximénez sherry. Depending on your PX of choice, the fortified wine can infuse the drink with an intense velvety texture and add all sorts of dried fruity flavors like dates and figs, as well as chocolate, coffee or licorice.
Matthew Kelly / Supercall
Even James Bond sometimes gets bored of his usual Martini, which is why he invented this artful twist on the classic. In Casino Royale, he split the gin base with vodka, added Kina Lillet (you can swap in something more accessible like Cocchi Americano) and garnished it with a lemon twist. The final product is more debonair than the super spy himself, and will instantly draw you deeper down the rabbit hole of Martini variations.
Matthew Kelly / Supercall
The Daiquiri (and other Sours) rely on the fundamental harmony between sweet and sour within a drink. While it's not quite as well known as other Sours—it briefly disappeared from the drinking world altogether (thanks, Prohibition)—the Southside augments the typical formula with a few new variables. Gin's playful herbs, along with fresh mint, add serious intrigue to the bright lime flavor. Don't let Prohibition win after all these years. Discover your new favorite Sour.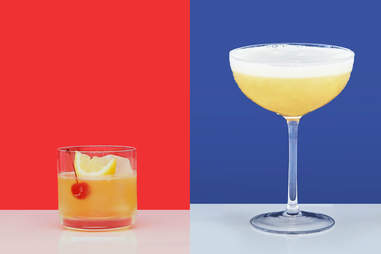 Matthew Kelly / Supercall
Many bartenders already make their Whiskey Sours a bit like a Rattlesnake by adding egg whites, doctoring Professor Jerry Thomas' original Sour recipe without shame. We like our Whiskey Sours dry with plenty of tart lemon. When we do feel like a fluffier concoction, though, the Rattlesnake steps in with its foamy egg white head. A dash of absinthe balances the supple, mouth-coating effect and adds a bit of character to boot.
Matthew Kelly / Supercall
Some actually argue that a Boulevardier—that's a Negroni with rye instead of gin—is actually more balanced than its more famous gin-based cousin. While the Negroni can sometimes carry an aggressively dry bite depending on the gin you use, the Boulevardier's vigor is more rounded, with cereal spice matching Campari's bitter bent.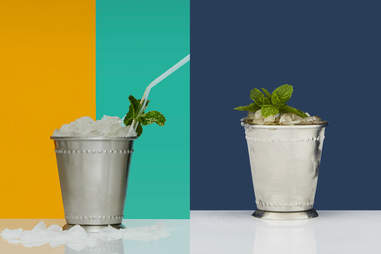 Matthew Kelly / Supercall
This variation on the Kentucky classic was invented way back in 1857; even then they knew that splitting the base of the Mint Julep with Cognac adds intense sweet depth to the cocktail. A bit heavier than the original version made entirely with bourbon, the brandy lets the mint shine in a completely new light and makes the drink even cooler and more refreshing on a hot Southern day.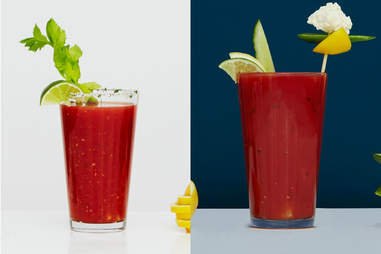 Matthew Kelly / Supercall
Neutral vodka is a great canvas on which you can paint all of your brunch dreams, but opting for a more flavorful spirit can yield fantastic results as well. Vegetal, grassy blanco tequila ups the savory flavors and spice, giving you a picante tack on the brunch classic. Pair it with some chilaquiles or huevos divorciados (or even just a bacon, egg and cheese) and enjoy your new day drink of choice.