The Best Boozy Christmas Tree Ornaments
While you can spread plenty of holiday cheer with Eggnog and stockings hung by the fire, true Yuletide champions know that no holiday house is complete without a perfectly decorated Christmas tree. Make your holiday extra holly jolly by trimming your tannenbaum with a few of these liquor-themed ornaments as decorations. Here, the best boozy Christmas tree ornaments.
Gin-Filled Baubles
While there are plenty of quirky, booze-themed decorations that will bring joy to any bartender's holiday gathering (like all the fantastic options below), our favorite ornaments have to be these gin-filled baubles (six-pack for $37) from Pickering's Gin in Edinburgh. Their subtle style won't stand out against more ostentatious trinkets, but as soon as people learn they're filled with booze, these ornaments will become the most popular attraction of your holiday season.
Mini Bottle Ornaments
Like any decent home bar, a Christmas tree ought to be well stocked with a variety of liquor bottle ornaments to satisfy a variety of drinkers. Whether you're a gin-thusiast or a bourbon obsessive, there's a mini bottle ornament out there for you. For example, there are these polished glass gin ($17), tequila ($17), vodka ($17) and single malt ($15) bottles. Or, for a cheaper option, opt for this plastic bourbon ($6) or wine ($5) bottle. If those dangling vessels won't wow your Christmas Eve guests, go for broke with this mini bottle of popped Champagne ($8) or this wine-toting elf ($5).
String Lights
If you've recently ransacked a mini bar or airplane bar cart, you have a perfectly good stock of mini bottles at your disposal. There are many ways to put mini booze bottles to good use, but the most festive way to recycle them is as a string of Christmas lights. Simply drill small holes in the caps, screw in the lights, screw the caps back on the bottles, and light up the room with this brilliant boozy decoration.
Mini drinks
No cocktail Christmas tree would be complete without a few mixed drinks hanging about the bows. Bedeck your tree with these ornamental salt-rimmed Margaritas ($16), well-garnished Mai Tais ($10) and blown glass Martinis ($10), then serve up the realversions. If anyone asks where you got these tiny drinks, just point to this cocktail shaker ornament ($15).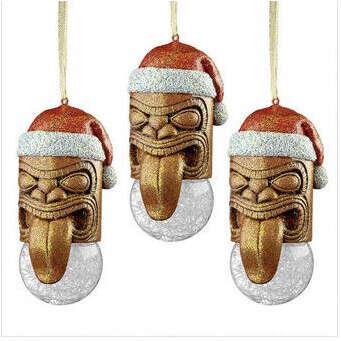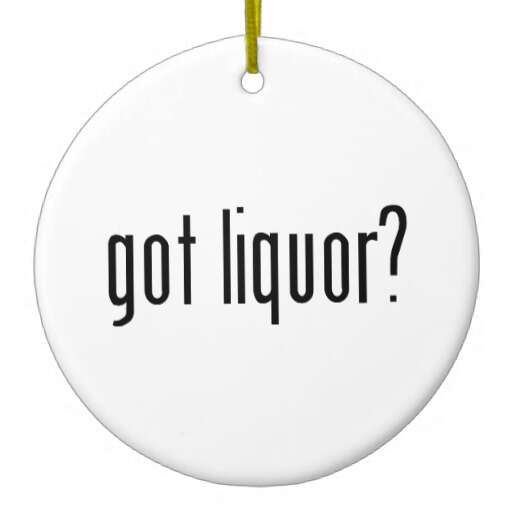 Taglines
Like bumper stickers, tree ornaments are a great opportunity to boldly proclaim your opinion to a captive holiday party audience. Just choose your favorite booze themed tagline: Got Liquor? ($15), Go Greek ($17), or Keep Bourbon Close ($8).