The Cocktail You Should Drink in Every State Before You Die
When Americans crave a change of scenery, they typically set their sights on a tropical island or foreign country. But why bother booking a cross-ocean flight when you can find that perfect change of scenery (and the perfect cocktail) right here in the U. S. of A? So skip the Caribbean getaway and find your dream escapist tipple in one of these states at one of these bars. Here are the 50 essential cocktails to drink across these 50 states.
Alabama lives for one thing and one thing only: college football. The Alabama Slammer is the perfect embodiment of that, and there's no better place to order one and watch the Crimson Tide tear through the Southeastern Conference than at The Houndstooth in Tuscaloosa.
Dating back to 1897 and having previously served as the town's first post office, a railroad station, a grocery store and a coal mining service, the Salty Dawg Saloon now slings delicious cocktails deep in Alaska's beautiful wilderness. After trying a swig of the state's signature smoked salmon vodka, cleanse your palate with a Salty Dawg Martini, a shaken vodka cocktail with grapefruit juice, rimmed with Margarita salt.
You've heard of building a drink in the glass, but you probably haven't heard of building a drink in a can. That's exactly what goes down in Bitter and Twisted's Long Island Iced Tea variation, the L.I.T. Up. Order one of these and their famous ramen burgers. You can't go wrong.
One bartender at 109 & Co, who goes by the name of Frank, doesn't drink. Instead, he balances his customers drinks by sense of smell and has been known to whip up a mean Dark 'N' Stormy. Pick one up next time you're in Little Rock.
The world famous Smuggler's Cove is a no-brainer for drinks in The Golden State. You've whipped up enough recipes from their book Smuggler's Cove: Exotic Cocktails, Rum, and the Cult of Tiki, now try the real deal starting with the Ocean Shore, an airy, laid-back blend of Plymouth sloe gin, standard gin, lemon, orgeat and frothy egg whites. It embodies the easy, not-a-care-in-the-world nature of California.
Cocktails might not be at the top of your list of feel-good priorities on your trip to Colorado, but do your best to carve some time in between munchies and dispensaries for a Los Mojos at Occidental, a brilliant combo of mezcal, Campari, lemon and honey.
Connecticut: Espresso Martini at Vasi's
With beautiful patio views, delicious Italian food and great cocktails, Vasi's is the place for foodies and cocktail-lovers alike. Their Martinis, particularly their Espresso Martinis, are among the best around and will set the course for a solid night.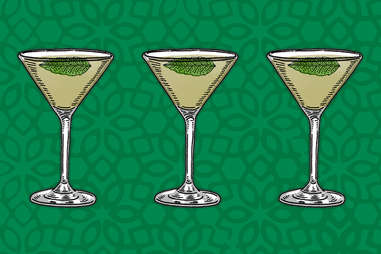 Made with bourbon, St-Germain, fresh lemon juice and a splash of Prosecco, the Devereaux at Domaine Hudson is a hidden gem at this restaurant owned by two former veterinarians who loved the place so much, they bought it. Though Domaine Hudson is better known for its wine list, have no fear diving into this flavorful bourbon signature while everyone's swirling around their wine comparing earthy tasting notes.
Florida: Beet Mojito at Sugarcane Raw Bar & Grill
Miami is rich with Cuban culture, and you'd be remiss to indulge in a drink that doesn't represent that. The Beet Mojito at Sugarcane Raw Bar & Grill, owned by executive chef and Florida native Timon Balloo, is made with Bacardi Superior—a white rum brought to the states from Cuba by Facundo Bacardí himself in 1862—Florida-grown mango, passionfruit purée and fresh jalapeño. It's a perfect distillation of Cuban-American culture.
The Iberian Pig in Atlanta has been touted far and wide for their amazing tapas, but their Sangria, which features apples, raspberries and, of course, those famous Georgia peaches, is deserving of just as much praise. Lucky for you, the two go hand in hand.
Owned by Christian Self, the Iron Bartender finalist and award-winning mixologist who helped spearhead the cocktail movement in Kaka'ako for over 16 years, Bevy is the new face of Hawaiian cocktailing. A take on the Mai Tai, that classic tiki tipple, the bar's Mai Thai is mixed with Bacardi 8, curaçao, falernum, lemongrass, lime and a housemade candied ginger foam.
When you think of Idaho, there's one thing that comes to mind: potatoes. Idaho's signature tubers are so good, you won't just want to eat them, but drink them, which is exactly what Elevation 486 allows you to do with its Idaho Lemonade. Made with 44 North Idaho Huckleberry Vodka distilled from Idaho-grown potatoes, homemade lemonade and a splash of Sprite, it's served over ice in a Mason jar.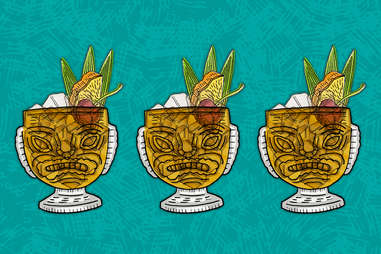 Tucked away in the busy streets of River North in Chicago, Three Dots and a Dash single-handedly keeps tiki alive in the Windy City (and helped kick off the rebirth throughout the rest of the country). Start with their namesake cocktail, the Three Dots and a Dash, a recipe from Don the Beachcomber that consists of all things tiki: aged Martinique rhum agricole, aged demerara rum, falernum, allspice, honey, orange, and lime.
The bartenders at the Libertine Liquor Bar encourage you to vocalize what you want as creatively as possible―in some cases, forcing you to confine your order to two adjectives. Fortunately, that's just about enough lingual real estate to order an Anti-Social Extrovert, an unlikely gin and mezcal combo that will take your tastebuds on an adventure.
With a cocktail menu filled with classics, house drinks, and high-end $20-plus options entitled "High Hats & Fat Cats," the Clinton Street Social Club has a cocktail for all tax brackets. The Havana Slinger, made with rum, a pineapple cordial, ginger beer, fernet, candied ginger and molasses, is a perfect middle-of-the-road option that both fat cats and cocktail plebeians will love.
Name a more iconic duo than coffee and booze. We'll wait. PT's Coffee Roasting Co. is part cafe, part cocktail bar; and their Chilled Brasileiro is the boozy cold brew combo of your dreams. Made with Cold Front coffee, crème de Cacao, Copa de Oro, chocolate and cream, this cocktail is perfect for kicking off your wild Kansas night or ending your agonizing hangover from the night before.
If you can't make it in time to enjoy a Mint Julep at the Kentucky Derby, ordering one at the Silver Dollar is the next best thing. Served in a classic julep cup and made with 100-proof Four Roses Single Barrel Bourbon and a globe of crushed ice, the Mint Julep at the Silver Dollar is possibly the purest incarnation of the classic you can find.
Speaking of state classics, leaving New Orleans's infamous Bourbon Street without ordering a Hurricane at Pat O'Briens might be one of the state's few punishable drinking laws. As fruity as the classic may be in its birthplace, you have to enjoy the Hurricane from whence it came―especially given how beautiful their courtyard is on a hot NOLA day.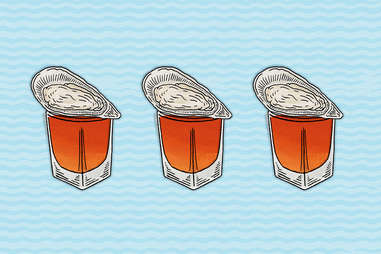 Maine is all about its oysters—especially when they come with a slug of booze. Eventide lets you choose between vodka, gin or tequila as your base spirit, then shakes it with either a classic Bloody Mary mixture or something a little more bracing like fresh celery juice. Served with a just-shucked oyster, these shooters are the best way to kick off any meal (and they'll help warm you up, should you be visiting Portland, ME in any month but August).
Every now and then, someone asks, "What is a dive bar exactly?" All you need to do is walk into the Mt. Royal Tavern to know. Despite being a dive, Mt. Royal Tavern has an air of greatness about it. Order a Whiskey Ginger and admire the works of art painted on the ceiling a la Michelangelo, bob your head to the tunes of the (actual) jukebox, and hang with some Maryland locals.
South Boston native Barbara Lynch sparked something of a cocktail renaissance in Boston when she opened Drink, allowing for new craft bars like Pammy's and The Automatic to prosper. Given Drink's undeniably vast contribution to the city of Boston, you need to order a Ward 8, named after and inspired by the district in Boston that clinched a win for beloved Boston politician Martin M. Lomasney in 1898.
Nothing is premade at The Sugar House—not the mixes and not even the bitters—which makes this Michigan bar the unlikely go-to for a tiki cocktail like the Painkiller. And if that's not enough, the bar hosts mixology classes on Saturday afternoons for cocktail lovers, in case you want to learn to make one yourself.
If the directions to Marvel Bar lead you to a strange door in a boiler room, you're going the right way. The bar is a sleek, modern speakeasy with an awesome courtyard, a rainbow of brightly colored furnishings, and a workbench-looking bar where bar spoons and shakers hang like your dad's power tools. The menu features a variety of avant-garde cocktails, the standout being the Oliveto, made with olive oil, egg whites, lemon, Licor 43, and Gordon's gin.
Located in downtown Jackson, Underground 119 hosts some of Mississippi's best live blues performances. And there's no better way to listen to the music that defines Mississippi than with a Fleur de Lis, mixed with heady yet subtle elderflower liqueur, gin, fresh lime juice, simple syrup and ginger ale. The perfect harmony of ingredients will cure any case of the blues.
Watch the Kansas City Royal's Game and live your most American life with a Bomb Pop Martini at Harry's Country Club. The visual marvel of Bacardi Razz, Dekuyper Island Blue Pucker, grenadine and Sprite joins any red, white and blue cocktail as being good for at least 100 likes on the Gram.
You've heard of green beer flooding Irish pubs on St. Patrick's Day; now try Red Beer. A sort of hybrid between a Michelada and a Bloody Mary, Red Beer at this Montana establishment means a simple-yet-savory combo of Kokanee beer topped with tomato juice. It's as fancy a drink as a Montana dive will allow you to order.
About as true a speakeasy as one could find in the post-Prohibition era, The Other Room not only prohibits phone usage, they also heavily discourage any conversation above a whisper. Some might think the quiet energy of the bar would be awkward, but regulars insist it adds to the atmosphere. So order your 6-Cylinder, a full-throttle, equal-parts cocktail comprised of gin, cherry brandy, Campari, sweet vermouth, dry vermouth and Dubonnet, and please keep it down.
Planning your next trip to Vegas? Frankie's Tiki Room is a must. Frankie's boasts a cocktail menu full of dangerously boozy rum cocktails, each more delicious and visually stunning than the last. Order a Bearded Clam—a Mojito variation that swaps the lime with passion fruit juice—and stay as long as you want. No really, the bar is open 24 hours a day. Gotta love Vegas.
The Red Door is proof that New Hampshire is more than just an election-determining swing state—it actually does have a night life. And while most clubs usually serve weak, overpriced drinks, The Red Door believes a good time shouldn't be watered down. Their menu is full of craft cocktails and fancy Martinis, and their Thai Martini with Buddha's Hand Vodka, lemon and ginger makes for the perfect dance partner.
A lot of people like to say Jersey City is up and coming, but anyone who's been there knows the city is already up and here; bars like dullboy are living proof. Every one of dullboy's next-level cocktails comes a splash of signature Jersey personality. You can't go wrong with any of their drinks, but since classics are cheap on weekdays, go with the Paper Plane, one of the few takes on the classic you'll find garnished with an actual paper plane.
SIlva's Saloon along Route 66 is one of the oldest bars in the country, "legally" operating since 1933. Previously the site of bootlegging and moonshining, Silva's has become a favorite for locals and tourists alike. Order an Old Fashioned, and experience the most authentically classic take on the cocktail you're likely to have ever tasted.
No, NYC's must-have cocktail can't be found in a rooftop bar in Midtown or a Michelin-starred restaurant on the Upper West Side. Brooklyn is where you need to be. Leyenda has been hailed as one of the best cocktail bars in Brooklyn on many occasions, and their top mixologist Ivy Mix has received individual accolades including Wine Enthusiast's Mixologist of the year. If you're lucky enough to catch Ivy on a shift, have her whip you up a Pan-Am Sour, a mix of cachaça, bourbon, lemon and orange with a Malbec float, for a drink that's as 'grammable as it is delicious.
Raleigh, North Carolina might not be the first city that comes to mind when you're trying to find the country's best Margarita, but Calavera Empanadas and Tequila is making a name for itself with its selection of 70 plus tequilas and mezcals, along with exotic bottles that come (and go) weekly and a menu of $5 empanadas. Enhance the spice of your chicken tinga empanada with the Spicy Pineapple Margarita and experience this tasty Mexican gem where you would least expect to.
North Dakota is practically Canada, so it only makes sense to enjoy the unofficial official Canadian cocktail the Bloody Caesar, aka the "Clamdigger." Located in the Patterson Hotel in Bismarck, Peacock Alley offers up a savory Clamdigger, complete with Smirnoff, shrimp cocktail, olives, pickled egg, cheese curds, celery, lime, banana peppers and a secret recipe, to go along with award-winning cuts of prime beef that you can only find up North.
Japp's–Since 1879 is a "Jekyll and Hyde bar." One side features a dance floor, where music bumps and silent, old timey movies screen, while the other side is a chill, dimly lit lounge. It is currently owned by Molly Wellmann, who David Wondrich dubbed the "bar queen of Cincinnati," in honor of her dedication to keeping the bar true to its 1879 roots. Do right by those roots and order a Sazerac, one of the few classics that dates further back than the bar itself.
This whiskey bar might be too cool for the "H" and "I" in "whiskey," but it's not too cool to make you a classic cocktail with whichever bottle of their 350-plus whiskies and scotches you choose. To prove to the scotch purist in your life (or yourself) that the nectar of the gods can work wonders in a cocktail, order a Blood and Sand with a bottle of the bartender's choosing. And while you're at it, order a cigar from Omerta Cigar Co. (available for sale inside) and have a smoke on their cigar-friendly patio for a true Don Draper experience.
Voted "best bar" on countless occasions, the Teardrop Lounge is a must-visit PDX destination. The only difficult decision is deciding what to order. For a cocktail as cool as Portland itself, opt for the Slippery Slope, an herbal tipple with your choice of vodka or gin, watermelon, lemon, green Chartreuse and brut sparkling wine. It's sweet enough for the casual cocktail-drinker, yet packs plenty of the complexity to satisfy a seasoned professional.
Philly gangster Max "Boo Boo" Hoff ran the largest bootlegging operation―bigger than Al Capone's in Chicago―using The Franklin Mortgage & Investment Company as a front. Today, the drinks are still flowing under the same name, but the place is a bit more welcoming to unannounced guests. The Kensington, named after a neighborhood in Philly, pays homage to the bar's bootlegging roots with bourbon, sweet vermouth, dry vermouth, bitters and orange marmalade.
Irish pubs are a dime a dozen, so when one gets touted as one of the best bars in America, like the Wild Colonial Tavern in Providence, that bar is very much worth your time. And since it's an Irish bar, we'll give you two options: a Boilermaker with a pint of Guinness (the bar offers its very own monthly Guinness Perfect Pint Award) or a shot with Rhode Island's very own neighborhood brew Narragansett. Either way, get ready to have a big night in America's smallest state.
Complete with an extensive selection of house-made infusions and rare liquors, The Cocktail Club showcases South Carolina's delicious produce with a cocktail menu of farm-to-shaker beverages. The Double Standard is made with house-infused serrano gin and cucumber vodka, along with ginger, cilantro, lime juice and celery bitters.
The cocktails must be pretty darn good if patrons are willing to seek out, time-after-time, a constantly changing password to get inside the speakeasy's sealed vault door. Turns out, the cocktails are that good. Lay into the low-key speakeasy vibe and order up an Absinthe Drip, the perfect sipper to accompany the bar's live acoustic performances and old-school vibe.
Not just a complement to Bloody Marys, bacon turns your Old Fashioned into a semi-savory treat you never know you needed. Once you have it, you won't be able to help yourself from ordering another. Infused with Madisonville's own Benton's bacon, The Patterson House's Bacon Old Fashioned should be deemed the unofficial official cocktail of Music City.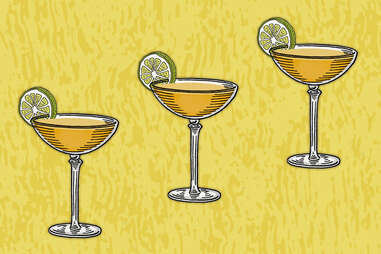 No one respects the classics quite like Anvil Bar and Refuge. The Texas bar features 100 classic cocktails on its menu, divided into sections that range from "herbal and spirituous" to "boozy and alluring." Anvil Bar not only wants you to have a good cocktail, it wants to improve your knowledge and introduce you to the drink you'll order long after you've left the building. Their proper Daiquiri is made with Panamanian white rum, Jamaican overproof rums, lime and sugar—perfect for novices and pros alike.
You can't possibly miss this lively cocktail bar in Salt Lake City; the giant "Bar X" sign almost singlehandedly lights up the ever-lively 200 South Street. The bar's Pimm's Cup is equally as eye-catching, and the perfect spritzy way to encapsulate Utah's gorgeous outdoorsy sights—unless you're there during winter, when a day on the soft powdery ski slopes calls for something warmer.
Known as the craft beer capital of the U.S., Vermont's cocktailing prowess is constantly overshadowed by its sought after hoppy beer—but don't tell Mad River Distillers that. They specialize in handcrafted rum, whiskey and brandy, and showcase their wares in a cocktail flight—perfect for indecisive cocktailers or those looking for a quick and efficient break from brewery tours.
The official drink of Richmond's most popular 19th century social club, Quoit Club Punch is one of the most authentically Virginian staples you can experience. And there's no better place to order it up than The Roosevelt, located in Church Hill, Richmond's oldest neighborhood. Made with Jamaican rum, American brandy, Rainwater Madeira, lemon and sugar, the Quoit Club Punch will have you feeling like a colonial American.
The eight-time winners of the International Martini Classic challenge, Oliver's Lounge is one of the best Martini bars in America. Located in the beautiful Mayflower Park Hotel, Oliver's Lounge lets the olives do the talking in their Martini, a massive mix of five parts Bombay Sapphire gin and one part Martini & Rossi Dry Vermouth, served with two large Italian olives that have been marinated in vermouth.
Tin 202 in Morgantown features no shortage of West Virginia pride. The bar is a frequent site for performances by the West Virginia University Quartet and is constantly giving back to the state. Tin 202's big heart is not absent from its cocktail-making, and the Government Mule in particular flexes all of the bar's muscles. The rye variation on the Moscow Mule features rhubarb bitters, ginger beer, basil and torched orange oil.
Sobelman's Pub & Grill takes its Bloody Marys seriously. Like, really seriously. This Wisconsin bar has an entire menu of over-the-top Bloodies including the Crown Mary (a Bulldog-style Bloody with a Coronita), the Cheesehead (featuring classic Wisconsin cheese wrapped in balls of bacon), and, of course, the Bloody Beast, a $50 Bloody garnished with celery, bacon-wrapped cheese balls, sliders and an entire fried chicken. No need to see a dessert menu.
Cocktails aren't really the cowboy style, but Million Dollar Cowboy Bar found a compromise between drinking a bottle of Jack Daniels straight from the handle and mixing a bottle of whiskey into a delicate cocktail: the Sleeping Indian. Made with Jack Daniels Single Barrel, ginger ale and Angostura bitters, the Sleeping Indian is as fancy as any true Wyoming cowboy should be willin' to git.