7 Gifts for the Cocktail Nerd Who Has Everything
When shopping for the cocktail obsessed, the perfect holiday gift can be hard to pin down. They have plenty of fancy shakers, strainers, bar spoons and rocks glasses, and so many recipe books you're almost sure to purchase a repeat. So how do you find a gift for the drinks nerd who has everything they need? Skip the practical and take a page out of the more eccentric side of cocktailing. Whether you go tiki-inspired with funky stirrers or opt for vibrant wall decor to liven up the home bar nook, these gifts will have you and your cocktail-loving pals geeking out.
Silly, Vintage Swizzles
When making drinks, little is as satisfying as placing that final finishing touch, whether it be a garnish or an eye-catching swizzle stick. Luckily, there are plenty of fanciful, colorful swizzles to choose from that will punch up all the hits, from Mai Tais to Rickeys to Bloody Marys. Better yet is a set that does double duty for someone whose hobbies include golfing, fishing, bird watching or beaching. Even your bowling team can swizzle in style.
A beloved personality in the bartending industry, Gary "Gaz" Regan is known for his eccentric style and unique way of doing things. One of his most notable and endearing habits: finger-stirring Negronis. Regan teamed up with Cocktail Kingdom to create a "life-size cast" of his very own index finger so anyone can make their very own finger-stirred Negroni—it's the ultimate in nerdy cocktail barware.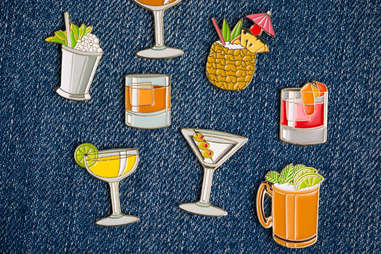 Enamel Pins ($6 to $12)
Your gift recipient might figuratively wear their love of cocktails on their sleeve, but with these trendy enamel pins, they can literally display their boozy passion on any bag or ensemble. You can't go wrong with one of these classic cocktail pins or this wearable Michelada. Or, if you don't want to be quite so obvious, this cocktail sword olive garnish or these vintage-style shaker pins are even more subtle ways to show affinity for fine drinks.
Does your cocktailian friend live by the motto "more is more" and/or have an unhealthy obsession with the movie Cocktail? Look no further than one of these only slightly over-the-top neon bar signs. Go for a rosy hued "Cocktails & Dreams" or a beachy Daiquiri-sipping parrot. Either way, this colorful signage will have any bar nook looking delightfully lit (pun absolutely intended).
Mini Martini Glasses
It's not long before an obsession with cocktails leads to an overabundance of glassware. But no matter how many rocks glasses, coupes and highballs your resident cocktailian has managed to hoard, it's unlikely they have a set of miniature Martini glasses to round out their collection. Take a look in vintage shops and on eBay, and you won't have any trouble finding a set. Then all you have to do is extol the virtues of a teensy 'tini.
If you're tasked with finding the ideal gift for a cocktail enthusiast who's always on the road, you can capitalize on their globe trotting ways. Released in October, this handy book by Kara Newman includes a wide variety of tips, tricks and first-hand expertise for drinking well on the go (including minibar tips, in-flight cocktail hacks and flaskable drinks), whether you're taking a trip to another continent or spending a weekend camping in the boonies.