Ketel One
Sponsored By

17 Amazing All-Natural Ingredients to Use in Your Cocktails this Summer
Sponsored By

Wouldn't it be great if you could enjoy a handcrafted vodka cocktail that doesn't stint on flavor, but also avoids stealth calories and added sugars? We're talking about a proper drink, full of character and real ingredients, that won't force you to spend a "cheat" day. It sounds like the impossible dream, right? But it doesn't have to be. Here are 17 all-natural ingredients, from fruits to organic syrups to savory herbal garnishes—all available at places like Trader Joe's and Whole Foods—that can help you make it a reality.
Lemon
Buy plenty of these vibrant yellow gems: They're not only great for squeezing into your cocktails and for multiple culinary purposes, but also for garnishing drinks in wedge, slice, wheel, and twist form. Additionally, there's lemon zest and, perhaps most important, expressing the oils of a lemon twist over your drink for maximum piquancy. No bar is complete without them.
Pandan syrup
Pandan is a tropical plant (with leaves not unlike palm leaves) native to Southeast Asia. Highly fragrant and aromatic, it's used in everything from perfumed rice to candies and dessert. Infused into syrup for use in cocktails, it lends a green tint and a subtle nutty flavor. The leaves can make a pretty garnish, and Pandan syrup is also a great addition to fruit salads. Though you can find premade pandan syrup—if you want the all-natural stuff, the best way to go is to make your own. Pandan leaves can be found at most Asian (especially Thai) grocery stores, or online. You can also grow pandan plants at home—in front of a sunny, south-facing window—and trim your own leaves to use.
Pineapple
From French Martinis to Bay Breezes and any number of tropical-tinged tipples, pineapples are one of summer's best cocktail ingredients. Use them as a garnish, juice, or hunt down some organic pineapple shrub, a next-level cocktail component.
Hibiscus
Hibiscus-infused vodka is a great summer drink, and hibiscus also adds a pretty color to any spread (including salad and desserts). You can make hibiscus syrup at home and use it in drinks, and the flower itself makes a delightful garnish.
Sarah Robbins
Peach
It's great as an attractive, tasty garnish, or you can purée it for certain cocktails—such as the Bellini, or this signature Ginger Peach vodka concoction—and make syrup out of it for others. It also makes a fantastically winning pair with mint.
Lime
Another star cocktail ingredient that shines in the summertime, the lime is an essential component of Moscow Mules, Vodka Gimlets, and Spritzers, to name just three.
Shrubs are a plant/fruit-based way to amp up flavor in your cocktails without artificial flavoring. You can find a versatile range of flavors at Whole Foods or most specialty markets.
Edible essential oils
Essential oils are liquid extracts of aromatic compounds (the "essence" of the plant's fragrance) created through distillation or the use of powerful solvents. Initially used for medicinal purposes (the first mention of distilling plants to extract their essential oils dates to 13th Century Moorish Spain), essential oils have recently become a popular ingredient for craft cocktail recipes. They're highly concentrated, so it's best to dilute the oil (and use sparingly). When consuming essential oils, it's important to make certain that you've purchased edible essential oils, as not all essential oils are safe for consumption. DoTERRA is a good place to start.
Elderflower liqueur
A natural, sweet, and floral drink enhancer and especially terrific to pair with vodka.
Advertisement
Courtesy of Ketel One Botanical
Forget pre-made mixes or processed anything: Fresh, quality ingredients are the key to great cocktails. And they don't have to bring a lot of calories with them, either. That's why Ketel One Botanical, a first-of-its-kind vodka distilled with real botanicals, is such an exciting option. It contains only 73 calories per serving, no added sugar, no artificial sweeteners or flavors, and comes in three subtly delicious varieties—Peach & Orange Blossom, Cucumber & Mint, and Grapefruit & Rose. It'll deepen the flavor—but not the calorie count—of your summer drinks.
Blood orange
Used as a mesmerizing garnish or a delicious fresh juice, blood orange adds a nice sunset tint to any cocktail.
Mint
Mint is available all summer long, and has an almost endless array of cocktailing uses—it can be muddled, slapped to release essential oils, and deployed as a solo garnish or in tandem (or trio) with other trimmings. And of course, it's fantastic for sauces and salads in your kitchen.
Rosemary
An elegant cocktail garnish, rosemary can also be muddled, infused into vodka, or even frozen into cubes to add to your drinks.
Sage
Sage plays very well with ginger, honey, and lemongrass, to name three cocktail ingredients. You can also give it a light char to create a sweet, smoky aroma for your garnish.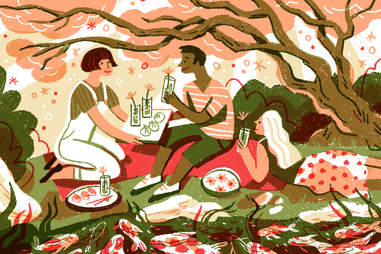 Sarah Robbins
Matcha powder
Derived from green tea leaves, matcha powder is packed with a creamy, umami flavor balanced by a hint of sweetness, making it a terrific natural flavoring agent not just in tea but also in desserts and cocktails. Try it in variations on classic cocktails, like the Matcha Moscow Mule or a Matcha Martini; you can easily find matcha powder on the shelves of most grocery stores these days.
Cucumber
A refreshing and welcome addition to drinks (and salads, and sandwiches), cucumbers can be muddled, sliced, or shaved into great-looking ribbons that add a nice touch to your glass.
Wakame/Seaweed
Seaweed adds a delicious umami flavor to cocktails like a Vodka Martini. To get the absolute most out of seaweed, infuse it into your vodka or gin.
Coconut oil
In addition to its many other drinks-related uses, coconut oil, is a natural/vegan alternative if you're into "fat washing" your cocktails, but don't want to add any, you know, actual fat. It pairs extremely well with citrus notes in cocktails, can be infused, to great effect, into vodka, and it also works magic in scrambled eggs. Really. Pick some up; it's a highly versatile, go-to summer cocktail ingredient.