In October of 2017, I visited Denver for the first time. I was there to cover the madness that is the Great American Beer Festival, the standard bearer for U.S. beer festivals featuring 800 breweries from across the country. There were more than 3,900 beers available for the 60,000 attendees to sample, but outside of the convention center was where I really found what I was looking for. Because, as it turns out, you don't need to sample 1,000 beers over the course of a weekend to experience what's on the cutting edge of the industry. You just need to taste what's being made in Colorado.
I made a return trip to Denver eight months later, this time for Stranahan's Cask Thief whiskey festival. It was there that I met Rob Dietrich, Stranahan's rebellious master distiller, who quickly reinforced the notion that Colorado was a hub for alcohol innovation right down to the taxonomy of its whiskey.
"Whether they like it or not, we're going to keep calling it American single malt," Dietrich says while we sip on the original Stranahan's single malt in the distillery's barrel room. American single malt isn't a government-recognized category, but Stranahan's, the first legal distillery in Colorado since Prohibition, labels it as such nonetheless. That flies in the face of bourbon as the American spirit and anyone who creates guidelines for what American whiskey should be. "We're a little outlaw out here in Colorado."
It's a phrase Dietrich would repeat a number of times over the weekend. Initially, the insistence on using the term "outlaw" seemed like a Hollywood Wild West cliche at best, prepared marketing at worst. But after taking a wider look at Colorado's distilling scene—and the state's embrace of recreational inebriants as a whole—Dietrich's preferred phrase started to make sense.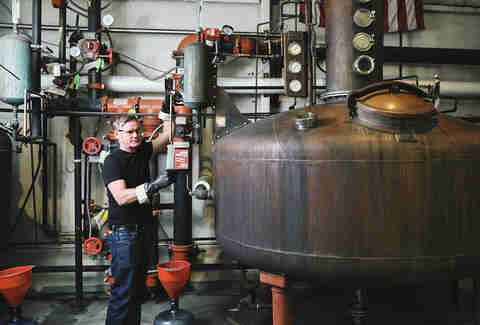 Stranahan's launched in 2004, kickstarting Colorado craft distilling. A little more than a decade later, there are over 70 distilleries across the state making whiskey, rum, brandy, vodka and everything in between. Colorado's distillers aren't desperados in cowboy boots, but they are pushing boundaries.
I've been to other locations known for alcohol—Scotland; Portland, Maine; Yakima, Washington; etc.—but I've never been to a place that venerates it quite like the Centennial State. Colorado is so up on its alcohol that the highest offices of government are held by people formerly in the industry. John Hickenlooper, who started as a brewer in Denver in the late 1980s, became mayor of the Mile High City in 2006 and then the governor of Colorado in 2011. Under Hickenlooper, breweries flourished, as did distilleries and, of course, legal recreational marijuana. Hickenlooper led the state through a number of pro-alcohol policies that made Colorado the home of the Craft Brewers Association, a center for craft beer in general and paved the way for Colorado's inebriation industry generally.
On the wall behind the bar in Stranahan's tasting room is a large, faded photo of two men, each with a hand on a barrel that says "Stranahan's 1,000"—the 1000th barrel filled by the company. The men are Jess Graber, founder of Stranahan's, and then-mayor Hickenlooper, who filled the barrel and sealed it. It's fitting that Hickenlooper's relationship with Graber is on full view in the tasting room. He's as much a champion of distillers as he is of brewers. From the start, Colorado distilleries have been able to sell samples of their own spirits in tasting rooms, something that multiple distillery owners I spoke with partially credit with their success. Hickenlooper took it a step further in 2016 when he signed HB15-1204. The bill created a Distillery Pub license that allows distilleries to operate in a similar way to brew pubs: they can have two tasting rooms, the ability to sell cocktails and the option to sell samples and bottles straight from the tasting room.
Even the laws that weren't designed to directly benefit producers can work to their advantage because of the atmosphere in Colorado. State law prohibits grocery stores from selling anything above 3.2 percent ABV, but the flip side of that is that small distilleries are in direct contact with liquor stores that sell their products. That, in turn, creates more personal relationships between distiller and seller, helping small companies get shelf space alongside big companies with big marketing budgets.
"People are looking at Colorado as a foundation," Dietrich says. "They're looking at how Colorado did it to loosen up their own laws and allow for craft distilling in their states."
It's not an old foundation in the grand scheme of American distilling. Although Stranahan's is considered old guard in Colorado, the state's oldest distillery is still new compared to those in places like Kentucky, where they date back centuries. And that age gap leads to major differences in the spirits coming from the two states. Kentucky has a long distilling history—one they pay homage to and abide by. There's nothing wrong with that, but when a company has been doing something for such a long time, they're not likely to break from tradition aside from the occasional new finish on an established whiskey. The strict laws regulating bourbon—that it must be at least 51 percent corn, for example—keep things from getting too funky in the Bluegrass State. Distilling culture in Colorado is a little more freeform.
Even back in 2011, publications like the New York Times started paying attention to the state's rule-breaking spirit production. The paper of record noted the pioneering style of Colorado's early distillers, citing the first ever "potato whiskey" at Boulder Distillery and the still plates made of photogravure at Distillery 291.
"While Colorado might not have much of a distilling history, we have a craft alcohol history," Kate Douglas, who runs communications for the Colorado Distillers Guild, says. "The craft brewing scene in Colorado has paved the way for the craft distilling industry. Watching each other be successful has inspired us to step out of the norm and try new things."
It's a sentiment you'll hear a lot if you start asking distillers about the early days of Colorado distilling. Crystal Barrios, the tasting room manager at Laws Whiskey House, and Jay Johnson, co-owner of Bear Creek Distilling, both reference brewers as the people who helped distilleries break into the industry. Laws governing breweries were the templates for legislation regarding distilleries, and brewers convinced Coloradans to drink local. Johnson and his partners even considered starting a brewery when they began, but changed their mind when they looked around and realized "you can swing a dead cat in Denver and you hit a brewery."
"I think what kind of set the tone for all of the distilleries is all the craft breweries pushing their boundaries," Barrios says. Breweries found success with limited and special releases and distilleries did the same as they came up, using that inspiration to be like, "let's do our own thing," she says.
Their own thing is working. In 2017, one of Laws Whiskey House's whiskeys won Best American Rye at the World Whiskies Awards, and in 2018 Distillery 291 in Colorado Springs won the same award with a rye aged on Aspen staves. These freethinking distilleries are inspiring others across the state.
But all of this—all of the industry-friendly laws and creative distillers, everything that makes Colorado an exciting place to make alcohol—would mean nothing if Coloradans weren't such fervent supporters of anything and everything local.
"Local begets local," Barrios says, holding a glass of Laws Whiskey House Farmers Select, a whiskey pulled from a single barrel picked by the grain farmers. "'Colorado Proud' was such a big theme, and that kind of spilled over into the spirits world, into the beer world. People here are very proud of this state and anything you're going to make here. As long as you're in line with the ethos of the state, people are going to support you."
Think of the craft spirits industry as a farmers market. If there aren't people walking through the market, interested in buying local, the farmers will go out of business. The more people that come through and buy things, the more farmers can bring in potentially obscure, heirloom fruits and vegetables, because they know have a ready audience. Colorado distillers can take risks with their spirits because they have that ready audience.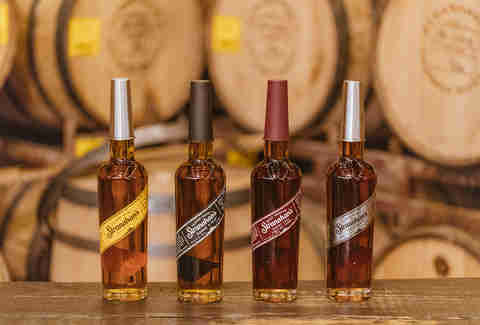 What's next for Colorado distillers may be influenced by the state's broadly permissive stances. "I think at some point the legalization of marijuana in alcohol will happen," Dietrich says. "And that'll be something that will drastically set Colorado apart." But traditional distillers will continue to push boundaries as well. When Johnson started, he looked to companies like FEW in Chicago and Privateer Rum. Now, the owners of those brands are keeping an eye on what is happening in Colorado.
"It'd be hard to ignore some of the brands that are here," Johnson says, citing Leopold Brothers, Stranahan's and Peach Street. "They were the ones that were able to plow the road. It'd be hard to ignore those brands, and I'm sure people are looking to us as a state and thinking, 'Man those guys are badass,' just like we did with Koval and Privateer and FEW and Corsair...We've respected them and now we're on the flip side of it, which is great that we're getting that respect."
As Cask Thief was wrapping up, I was sitting across from a Coloradan named Joey Seed while eating some local barbecued whole hog. I asked him what he thought about Colorado spirits and the influence they have on the rest of the country. He summed it up nicely: "I'm not sure what it is, but ideas flow downhill from the Rockies."