The Best "Game of Thrones" Glassware for Die-Hard Fans
Rally the realm because we've found the perfect drinking accessories to outfit your Game of Thrones premiere party this summer. Ultimate fans will need this themed drinkware to show off their house pride and pay tribute to their favorite characters. So for everyone who knows that everything's better with some wine in the belly—and, of course, knows more than Jon Snow—this is the best Game of Thrones glassware to buy right now.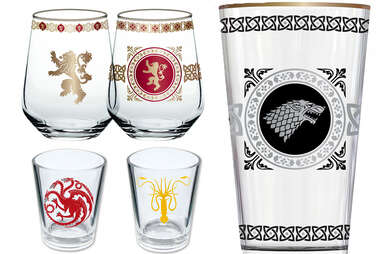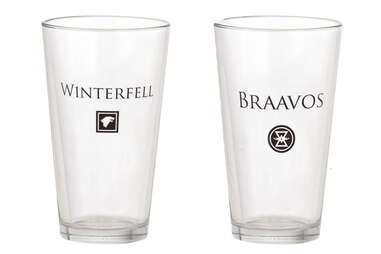 If you'd rather rep one of the Seven Kingdoms or cities across the Narrow Sea, these pint glasses pay homage to places like Winterfell, Sunspear, Bravos and Meereen.
New York-based Ommegang is the official brewer for Game of Thrones-themed beers such as Take the Black Stout and Fire and Blood red ale. Whether you're imbibing an official Thrones brew or whatever you have in the back of the fridge, drink it from this Ommegang "Valar Morghulis" glass. Because all men must drink.
At room temperature, this black mug simply reads "Mother of Dragons." Pour in a hot beverage, and the mug changes color to white, revealing the proper title for Daenerys Stormborn of House Targaryen, Queen of the Andals and the First Men, Khaleesi of the Great Grass Sea, Breaker of Chains, Mother of Dragons.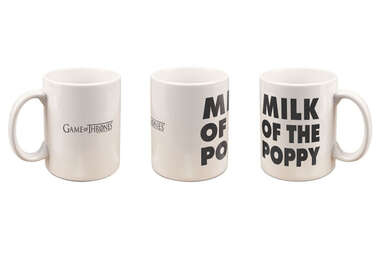 Milk of the Poppy is the calming painkiller of choice in Westeros, which makes this mug particularly pertinent if you're using it to drink an Irish coffee or spiked tea in the morning.
Mix up Moscow Mules with your partner and drink them from these Khal & Khaleesi copper mugs, which pay homage to the love story that no one's ready to let go of just yet. But try not to call each other "my sun and stars" and "moon of my life" in mixed company unless you want to be ridiculed for life.
We're riding this ship until it sinks, so we're glad to see HBO is canonizing it with these his and hers mugs, featuring the phrases "You're my Tormund" and "You're my Brienne." Considering Brienne's disgusted face on the mug, we're not positive what it says about your relationship, but it probably means that you're destined to be together.
If you like your drinks extra salty, this is the mug for you because you're going to fill it with tears every time you take it out of the cabinet.
Toast to the fallen House Baratheon—the most recent owners of this glass—or to the former residents of Dragonstone, House Targaryen. This collector's item has a resin stem shaped like a scaly dragon's claw and a gradual amber-tinted glass bowl, which is an exact replica of the one used by Maester Cressen in his failed attempt to poison Melisandre in the second season.
From a merchandising perspective, Tyrion's quote—"That's what I do. I drink and I know things."—was the smartest piece of dialogue in the entire show. You can get this quote branded on a shot glass, wine glass or coffee mug.
Although it isn't sold by an official Game of Thrones retailer, the design of this House Stark whiskey decanter and rocks glass set is too beautiful to overlook. While the laser-engraved, white direwolf looks gorgeous, we'll be needing more house options ASAP.