Sometimes a liquor bottle is so cool, we'll buy it for the design alone. And while many of them are handmade or simply look super luxe, there are tons of booze bottles out there that are straight up weird. From daggers to elephants, these are the most bizarre liquor bottles in the world.
Recommended Video
Thrillist's Best (and the Rest): What You Actually Need to Know About Natural Wine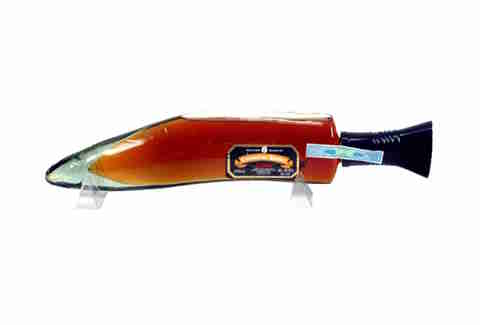 Khukri Coronation XXX Rum
This dagger-shaped vessel was launched to celebrate the 1974 coronation of Nepalese King Shri Birendra Bir Bikram Shah Dev, and Khukri Rum still produces the bottle to this day. It's a perfect gift for the chef, professional wood carver or any other blade-enthusiast in your life.
Alien Anejo Tequila
This far-out design is for all you sci-fi fans out there and makes for the perfect companion on a boozy trip to Roswell, New Mexico, and other sites of extraterrestrial activity. Pour yourself a glass, enjoy the spicy, butterscotch notes, and scan the sky for a rogue flying saucer.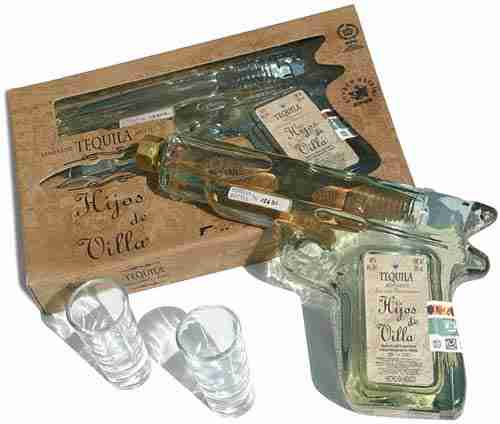 Hijos de Villa Reposado
This limited edition tequila is sold in a glass pistol that's meant to honor the courage, respect and pride of the Villanueva Barragan family, who owns the brand. Although it's a cool looking bottle, we think dropping $30 on only 200 milliliters of tequila kind of seems like a rip-off.
Absolut Vodka Rock Edition
This limited edition bottle was a collaboration between Absolut, rock and roll photographer Danny Clinch, and rock band Wolfmother. It features a zip-up studded leather sleeve. If you can find a bottle, it makes a perfect gift for the S&M enthusiast or leather daddy in your life.
Medea Vodka
This high-tech bottle lets the imbiber program personal messages right on the label, which makes Medea vodka a no-brainer for the dedicated Bloody Mary enthusiast who's searching for a way to send cryptic messages to fellow brunching brethren. Plus, now you can ditch the paper card if you give this vodka as a gift, so you're totally saving the environment, too.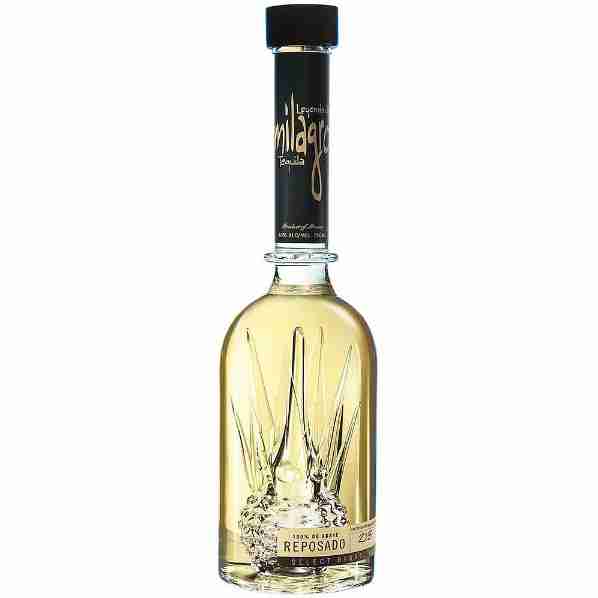 Leyenda del Milagro Reposado Tequila
We love taking shots of Milagro because it's a fantastic tequila, and if you buy this special bottle, you're also getting an education. The brand placed a clay model of the agave plant in each bottle so the drinker can get a better idea of how the spirit is made.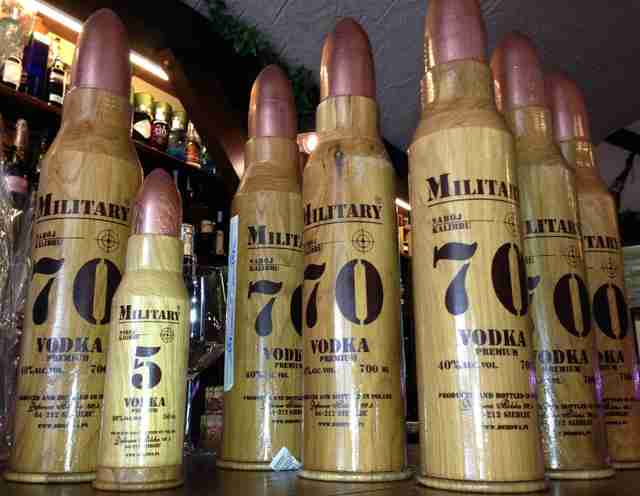 Military Vodka
If there's one thing we learned combing through the internet's endless abyss of weird liquor bottles, it's that the people who designed these things love their weapons. This Polish vodka comes in a bullet-shaped wooden canister and is sure to scare away guests who are overstaying their welcome if you bust it out after dessert.
Casta Pasion Extra Añejo Worm Bottle Tequila
This handmade bottle is crafted from 100 percent recycled glass by Mexican artisans and pays homage to the larvae that inhabit the agave plant. The bottle is so cute, it's almost worth the outrageous price tag.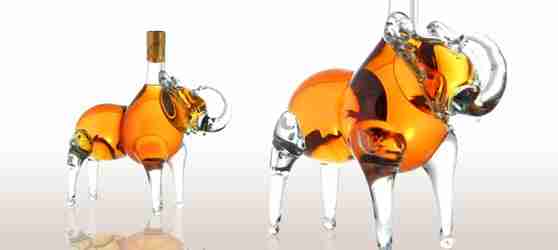 Armenian Brandy
Last but not least, this list wouldn't be complete without a shout out to Armenian brandy. They bottle their spirit in vessels shaped like everything from swords to shoes to anatomical features. We like this elephant best because it's the least creepy of them all.