It's a common scenario: Your ultimate dream is to be a chart-topping rapper, sought-after producer, or fashion designer—but until that happens, hey, you gotta pay the bills. While you're hustling to make your dream your life, you have to pick up a job to make ends meet—preferably something flexible. Why not bartending? It's a sociable job, you're practically on stage, and you can showcase your outgoing personality and charisma.
But before you stride into your nearest watering hole expecting to find the perfect side hustle just waiting for you to claim it, there are a few things you should keep in mind. We spoke to some people who've been down this road before you, and they told us the keys to making bartending work for you (and vice-versa) while you chase your dream.
Respect the craft—and craftspeople
Bartending has changed in the past 10 years or so. It's a legit profession now. "There are a couple things that will quickly drive a career bartender up a wall," says Joshua Brandenburg, bartender at New York City's Royalton Hotel. "The first is someone who comes in and doesn't give a crap about the product they're serving or about taking care of the customer. The second is someone who expects others to change schedules to cater to their needs. You can't be selfish about it just because this is your side hustle. It's someone else's career."
Manage your time, and your money
How much time do you need to pursue your true calling, and how much does that leave you to work your paying job? The answer depends, in part, on how much you're making from your dream job right now. Whatever that is, says Brandenburg, you have to ask yourself, "How much cash do I need on top of that to be financially stable?" Then set your schedule accordingly. Brandenburg should know: he balances mixing cocktails at the Royalton with Muay Thai fights in Brooklyn and photography—of street scenes, weddings, the occasional Muay Thai fight—all over.
Keep your focus
Valeria Kole tended bar in New York for four years before realizing her dream of becoming a full-time makeup artist. "Remember what your ultimate goal is," she says. "Once you start bartending, it's easy to be led astray: late nights, twisted schedules, and decent earnings." Kole says she battled all these distractions. "Fat tips can really lower your hunger for your true passion. You have to look past them."
Find the style of bar that fits your schedule best
"Not all bars are the same," says Brandenburg. "There are pubs, dives, hotels, craft cocktail places, restaurants, and clubs. It's important to know that they all run different hot hours. Does your dream job require you to have mornings, evenings, or nights free? Do you need weekdays or weekends free? If you're looking at a pub in a financial area, it'll have busy weekdays at lunch, after works, and late night. Is it a club in a party area? Late night nights, and nothing happening til after 11pm. Figure out what you need to really get after your dream, and then find the style of bar that fits into that."
Embrace the power of positive thinking. No, really
"I know it smells like New Age crap," says Kole, "but I owe a huge chunk of my success to my stubborn belief that I will do well." There's plenty that can get you down, from unpleasant customers to sleepless nights, but, Kole says, "You have to hold onto your belief that, no matter how hard it is today, eventually, you will be in the place you are dreaming of. You have to bring that power from within, that second wind to keep you going."  
Boost your knowledge
As we mentioned, the craft cocktail boom has changed the bartending game. You're not going to be spritzing a soda gun into a shot of vodka behind the bar these days. You'll need to know the basics—Manhattan, Martini—and you may have to know more. Brandenburg suggests going into a place you're thinking of applying and ordering a drink. "Look over the cocktail list. Watch what the other guests are ordering and listen to how the bartender talks about the drinks. These are all indicators of what that bar is expecting from their bartenders." You may have to do some homework via Google, or read some cocktail books. Kole suggests learning the history behind certain drinks and how they got their names. "Those stories can add a couple of bucks to your tips," she says.
Manage your time, Part II
Good news: it's not all on you to make the scheduling work. But beware of bars that can't get their ish together when it comes to assigning shifts. "I mistakenly dedicated a load of my time to a place where schedules changed every week, sometimes even twice a week, or right before the shift," Kole recalls. "I felt like a 911 operator waiting by my phone, not being able to step aside, let alone spare time for my career. Lesson learned. If you see this tendency, run!"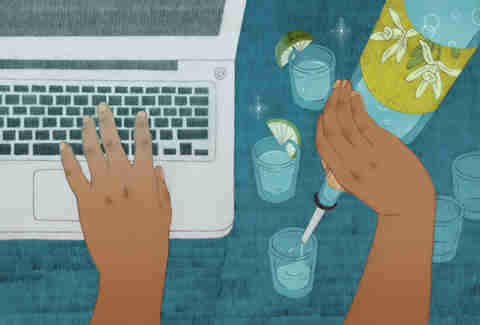 Don't talk about dreams when you're pouring drinks
Keep your main passion on the back burner while you're working your side hustle. If it happens naturally, then sure, go ahead and talk about the dope line of clothing you're designing. "But no insinuating," says Brandenburg. "No, 'Hey, you think that's crazy, I was in my acting class this morning—yeah, I'm an actor…'" You don't want to come off as needy or pushy. Let them ask you.
But if your true passion comes up naturally, be ready
"Have business cards and a website, or some evidence of your passion, easily at hand," says Kole. "Make it easy for people to get in touch with you."
Learn to anticipate your guests' needs before they ask
Maximizing your tips is the best way to get the most out of your bartending side hustle. And according to Kole, "The word 'tip' is an acronym that stands for 'to insure promptness.' I found that anticipating what customers wanted helped increase my tips."
Know that there will be sacrifices
Ladies and gentlemen, Josh Brandenburg: "As someone pursuing a dream while still working a money job, you're not going to get everything you want handed to you. You'll have to fight and claw and work for everything. You're not going to be swimming in extra money. You're either working one full-time job and one part-time job, or you're working two full-time jobs. That means you have to accept longer days, and less free time. But it's not all bad. You're doing this because it's what you love. No one is forcing you. To get what you love, you have to make sacrifices. Be happy you've found a passion to pursue, and then do everything you need to do to give yourself the best chance to succeed once the open door is in front of you."
That sound you just heard was Josh's mic hitting the floor.