These 5 Bars Have the Strangest Sh*t In Them
Bars are decorated in all sorts of stuff, from old photos of people laughing and clapping each other on the back, to vintage barware, to all manner of flotsam—sometimes you might even find a taxidermied animal or two for some added character. But some bars take interior design as seriously as the drinks they serve—sometimes even more. These five bars from around the world are worth a visit, if only for their seriously eccentric sense of style.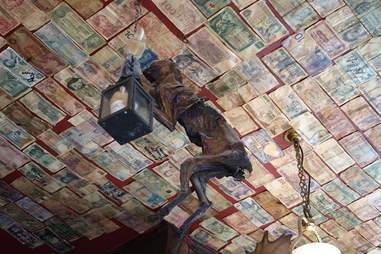 Courtesy of The Nutshell
Mummified Cat
The Nutshell, Suffolk, England
Not only is The Nutshell one of the world's smallest bars, but the tiny Suffolk pub also boasts one very unusual piece of bar decor: a mummified cat. The somewhat gruesome-looking, almost unrecognizable feline hangs just above the bar, so no matter where you stand in the 105 square-foot space, you'll have a prime view. Go for a pint, but stay for the mummified mouser.
Toilets  
Das Klo, Berlin
In recent years, themed bars have popped up in cities around the world, paying homage to everything from politics to TV shows. Das Klo in Berlin, however, has much more mundane theme: toilets. The bar's name translates to "loo" and it lives up to its moniker: It is covered in bathroom paraphernalia, with toilet bowl scrubbers adorning the ceiling, toilet paper rolls on hand in place of napkins and even toilets transformed into seating. The bar has been around since 1973 and the only requirement for visiting is a sense of humor.
A Zoo's Worth of Taxidermy
Home Sweet Home, New York, NY
If you like dance parties, booze and an abundance of taxidermy, take a trip to this New York City bar. The watering hole advertises itself as "taxidermy-friendly," but that's a bit of an understatement. Walking through the bar is like walking through a natural history museum, with creatures like peacocks, coyotes, ferrets and even a lion's head waiting to greet you. Each Monday through Saturday a rotating cast of DJs make sure these creatures are having as much fun in their afterlife as the bar's guests are having on the dancefloor.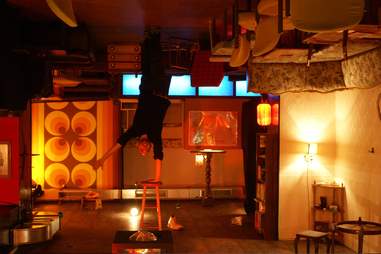 Courtesy of Madame Claude
Furniture on the Ceiling
Madame Claude, Berlin
Berlin has no shortage of kooky bars, but not all of them are decorated with latrines. This funky spot foregoes a bar-wide theme for something a bit more unusual: a fully furnished living room secured to its ceiling. Located in a former brothel, the clubby bar, which features live music and DJs every night of the week, seems to challenge the laws of physics. Just be careful that you don't have so many drinks that you don't know what's up or down—that's when things will get a little hairy.
Courtesy of Zetor
A Real Tractor
Zetor, Helsinki, Finland
City dwellers yearning for a taste of rural life may find solace within the walls of this Finnish bar and restaurant. Not only can you dine on hearty fare like creamy salmon soup and fried potatoes and sausages, but you can also enjoy a beer or cider at the bar set around a bona fide, old-fashioned tractor. The walls are covered in staples of the country life to boot, including cast iron skillets, animal hides and antlers. Spend a night here and you might just get your fill of rustic living for a night.