8 Crazy New Bloody Marys to Try Right Now
A classic Bloody Mary is perfect just the way it is, but that doesn't mean new and interesting variations aren't welcome—there's plenty of room behind the bar, after all. Looking to create the next Bloody Caesar or Bloody Maria, bars and restaurants across the country are coming up with weird and wonderful Bloodies. We're not talking about those over-garnished versions topped with sliders and whole chickens. These eight inventive Bloody Marys are at the top of our brunching bucket list.
Courtesy of Bar Melusine
House Bloody Mary
Bar Melusine, Seattle, WA
Chef Renee Erickson's Bar Melusine is a love letter to the French Atlantic, with a menu inspired by the flavors of Normandy and Brittany. If you're looking for the perfect drink to complement oysters and steak tartare, bar manager Jermaine Whitehead's House Bloody Mary is it. His spicy, briny house-made mix (think olive juice, horseradish, cayenne and smoked paprika) is shaken together with an unorthodox mix of highland scotch and dill aquavit for a smoky yet refreshing morning kicker.
Courtesy of Redbird
Modern Mary
Redbird, Los Angeles, CA
Brunch is a big deal at Chef Neal Fraser's L.A. restaurant, where you can expect sumptuous dishes like duck hash, and chipotle mole shrimp and grits. But we're here for Redbird's Modern Mary, made with a garden of ingredients like clarified tomato and lemon juices, white balsamic, fennel, basil and spicy pepper vodka. The fiery, herbal libation is enough to wake anyone from the deepest slumber.
Courtesy of Eden
The Yokohama
Eden, Chicago, IL
Eden's onsite garden means the restaurant always uses the freshest produce possible in everything from salads to entrees to cocktails. Sample the garden's bounty in their seasonal vegetable Gruyere omelet, and wash it down with their Japanese-inspired take on a Bloody Mary, The Yokohama. Made with tomato, shochu, sake, wasabi, miso, ginger and mirin, it packs an umami punch that's wildly addicting.
Courtesy of Lamano
Bloody Sherry
Lamano, New York, NY
This tapas spot offers traditional dishes alongside modern versions of the classics with a Spanish-inspired cocktail menu to match. A midday visit demands you pair your patatas bravas with a Bloody Sherry, a sweet-spicy-savory mix of fresh tomato, beets, lemon, spices and Amontillado sherry.
Courtesy of Elizabeth Street Cafe
ESC Bloody Mary
Elizabeth Street Cafe, Austin, TX
Not only does this Austin eatery have one of our favorite Instagram accounts—on which you'll find mouthwatering photos of dishes like the breakfast banh mi and pistachio eclairs—but their spice-filled Bloody Mary is one of the best in Texas. Made with sake, tomato, lemon, lime, fish sauce, sambal, hoisin, Sriracha, charred jalapeño and ginger, the spicy Lonestar State concoction has a clear Southeast Asian tang. Finished with house-pickled veggies and a sesame seaweed rim, it's an irresistible weekend treat.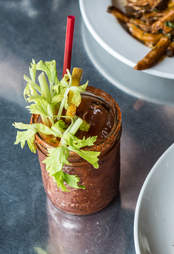 Courtesy of Skillet Diner
Bacon Jam Bloody Mary
Skillet Diner, Seattle, WA
There are lots of places that use crispy bacon as a Bloody garnish, but Skillet Diner in Seattle takes it one step further. They infuse vodka with their homemade bacon jam for two days, before straining and mixing the spirit into their signature Bloody. Finished with their savory house-made mix and bacon salt, it's a perfect fix for the bacon lover who doesn't need an over-the-top garnish.
Courtesy of Bread and Brine
Strawberry Fields
Bread and Brine, Hastings on Hudson, NY
This seafood-focused restaurant is inspired by summers in Maine and Northeast beaches. Their all-day menu boasts a fully-stocked raw bar, buttery lobster rolls and plenty of greens, which are best washed down with one of their signature Bloody Marys. You'll find us sipping on the Strawberry Fields, an oddball (in a good way) combo of their housemade Bloody mix, rosemary vodka, strawberry and basil.
Red Medicine
Cafe Henri, New Orleans, LA
This neighborhood New Orleans restaurant serves an elegant American menu in a laid-back, casual setting. It's the perfect place to roost early on a weekend day with a plate of shrimp and grits, or lox with all the fixins, as you take in the street scene with a cocktail in hand. Don't leave without sampling the Red Medicine made with a bright, refreshing mix of Pimm's No. 1, Tabasco shrub, lemon and soda water.