If you've already mastered expert-level cocktails at home and are looking for even more of a drinking adventure, then you have to try these weird and wacky libations. We're talking about drinks that are infused with insect venom, mixed with cough syrup and even garnished with frozen eyeballs. If you're looking to get weird at your next happy hour, visit one of these five bars to try some of the more bizarre drinks on Earth.
Bull's Eye Margarita
If the dissection experiment in middle school biology made you squeamish, then run in the other direction immediately. Faro Tapas, the restaurant in Australia's Museum of Old and New Art, serves a black Margarita that is literally eye-popping. The gothic libation is made with tequila, mezcal, lime and charcoal, which gives it its brooding color. The glass is rimmed with black salt and garnished with a frozen bull's eye. The staff at Faro Tapas instruct guests to sip the cocktail as fast as possible because they don't want the eye to start melting its eyeball flavors into the drink. How's that for an aperitif to whet your appetite?
Cough Syrup Old Fashioned
While we don't recommend slipping a pour of prescription cough syrup into a nightcap, we trust the bartending pros to create a perfectly balanced cocktail with the stuff. At Ding Dong in Singapore, you can order the Pipagao, which is an Old Fashioned variation made with whiskey, aged rum, calamansi, Angostura and Peychaud's bitters, and pei pa koa syrup. Pei pa koa is an herbal cough syrup with a minty finish that supposedly makes this crazy libation extra refreshing.
Tropical Tipple Topped With Foraged Ants
Singapore cocktail bars love to surprise and delight with their strange cocktail creations. At NATIVE Cocktail Bar, the signature tipple is topped with a local ingredient suitable for adventurous eaters only. Aptly names Antz, a tropical mix of homemade coconut yogurt, aged sugarcane juice and agricole-style Chalong Bay rum is topped with a frozen basil leaf that holds basil meringue and crunchy ants that were foraged from nearby Ann Siang Hill. At least you're getting some protein.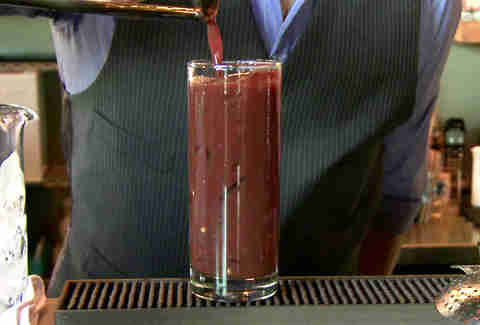 Pig Bloody Mary
Contigo in Austin, Texas, gives a whole new meaning to the Bloody Mary. The restaurant specializes in all things pork and other meaty delights, and those ingredients make their way into the cocktails as well. Their off-menu Pig Bloody Mary isn't for the faint of taste buds, as it includes real pig's blood in its mix of vodka and spices. Even Andrew Zimmern, the king of bizarre foods, says it tastes a little like an old Bandaid.
Tarantula Venom Cocktail
Romeo Palomares, a mixologist at Luciferina in Mexico City, looked to an unusually creepy ingredient for the unique Dia de los Muertos cocktail: tarantula venom. Supposedly, the venom has a briny flavor, and makes your tongue numb and tingly. The cocktail is already strong without the venom, as it contains a mix of cachaça, pisco, mango, pomegranate syrup, lemon and mezcal. Pay the restaurant a visit if you're trying to really get freaky with your cocktail adventures.