From speakeasies to neighborhood dives to swim-ups, every bar offers a different kind of drinking experience. But when it comes down to it, they're all basically the same: A dimly lit room, a row of barstools and an array of bottles lining the wall. But sometimes we want a little adventure with our booze. Luckily, whether you prefer to drink on a mountaintop, in the African bush or among Amazonian canopies, you can find a satisfactory watering hole just about anywhere you go—even in Antarctica. So the next time you get a hankering for adventure, consider one of these seven extreme destination bars around the world.
Recommended Video
Really Dough's Mark & Scott Take a Bunch of Shots, Do Blind Pizza Taste Test, Argue a Lot
There's nowhere in the world you can drink in nature quite like this lodge in northeastern South Africa. The Bush Bar's location was chosen for its proximity to the banks of a drainage line, which, the bar says, is where leopards tend to hang out. Have a sundowner or two—South Africa has an impressive wine and distilling scene, so you'll drink well—and try to catch a glimpse of a wild cat during golden hour.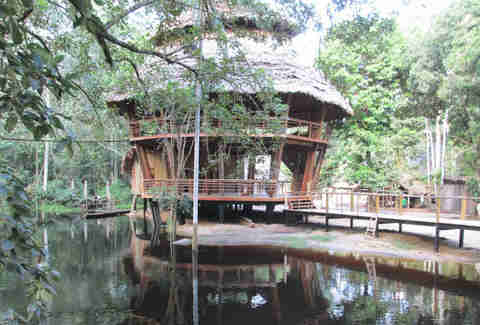 Situated in the rainforest outside Iquitos, Peru, the Treehouse Lodge is an adventurer's dream. You can stay in one of 10 hand-built bungalows that hang in the forest's canopy, accessible only by a narrow suspension bridge. After a day of piranha fishing (seriously), relax at the lodge's bar with a Pisco Sour—just be careful to not overindulge before returning to your room. Those bridges are no joke.
Faraday Bar, Antarctica
One of the southernmost bars in the world, the Faraday Bar in Antarctica is located at the Vernadsky Research Base. It was built in the 1940s when carpenters pilfered some of the lumber meant to build a new pier and constructed this tiny bar instead. Though first owned by the British, the bar and research base are now property of Ukraine, whose citizens have decorated the place with plenty of tchotchkes and photos of famed Antarctic explorers. The bar now also distills its own vodka, so get ready to throw back plenty of shots—you'll need the liquid blanket in those sub-zero temps.
If you prefer the sea to the land, this underwater drinking and dining experience will allow you to commune with the fish while you drink like one. Built in the style of a tunnel aquarium, Ithaa Undersea Restaurant has the advantage of actually being under the ocean. You'll see sharks and schools of fish pass by as you sip on the cocktail of your choice and nibble on seriously fresh seafood.
Iceland is becoming an increasingly popular vacation spot for Americans—and it's no wonder why. Aside from beautiful waterfalls, hot springs and icy vistas, there are also the mesmerizing Northern Lights. Luckily, you don't have to brave the cold to see them. Instead, you can visit this ultra modern bar to see the incredible natural light show. With a glass-walled lounge and restaurant, it's the perfect place to catch every last second of neon-hued sky.
Perhaps the most remote bar in the world, the Albatross Bar is not easy to get to. Located on Tristan da Cunha Island in the southern part of the Atlantic Ocean, the bar didn't open its doors to the public until the the 1980s. Now, if you can get there, you can hole up for a few pints of beer. Just be aware that everyone in the bar will know you're an outsider.
If you can't decide whether to spend your weekend climbing a mountain or kicking back at an epic pool party, you're in luck: This mountaintop resort has both. Located a cool 8,200 feet up, you can soak in views of the peaks after a long day on the slopes while sipping on a tropical cocktail in the hot tub—and who can argue with that?