The Most Extreme Happy Hours in America
You probably think your local dive has the best happy hour around, with its discount buffalo wings and cheap PBR. But that's just the tip of the happy hour iceberg. If you're a happy hour-hunter on a mission for the most wildest limited discounts, check out a few of these extreme options.
99-cent Martinis at Dante
New York, Weekdays 5-6 p.m.
McDonald's has nothing on this dollar menu. We've seen reduced prices on full cocktails elsewhere, but this mind-boggling combo of discount and quality is by far the best around. Mixed with your choice of Absolut vodka or Plymouth gin, the Martinis come garnished with a caperberry or lemon knot. Lucky for us, the bar is just a stone's throw away from the Supercall offices.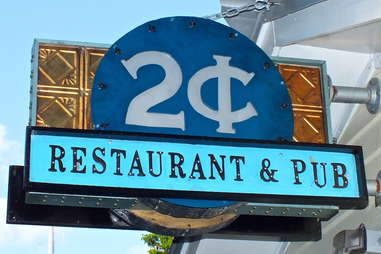 Key West, Nightly 4-6 p.m.
Happy hour drinks are accompanied by complimentary mini-buckets of bacon at this easygoing spot in sunny Key West—but that's not all. Along with free, crispy pork products, happy hour prices are left up to chance. Patrons roll dice to determine how much they'll pay for well cocktails, wine or beer—$1 for a 1, $2 for a 2, half-price for a 3, and regular price for anything higher. If Lady Luck abandons you on your first order, you're always just another roll of the die away from your next cheap drink.
Friday Happy Hour at Bar A
New Jersey, Fridays 4-9 p.m.
Bar Anticipation (known locally as Bar A) is always a rager. The beach bar goes beserk pretty much every night of the week, with a jam-packed schedule of unparalleled partying, but the Friday happy hour takes things to another level. Free admission until 9 p.m., $2 drinks and a ton of free giveaways add to the already ridiculous lineup of a free buffet, multiple live bands and DJs, and a beach volleyball court. Bar A has always been a rite of passage for Jersey Shore locals, but this is one happy hour party worth seeking out.
Los Angeles, Fridays 4-9 p.m.
Deep discounts meet deep tracks thanks to the eclectic music lovers at La Cita who host happy hours featuring different genres all week long, like Rockabilly Thursdays, Hip Hop Happy Hour Wednesdays and Afternoon Delight yacht rock Sundays. But the best of the bunch has to be the punk-centric Angry Hour every friday, which features $3 beers, $4 wells, free pizza and "bad vibes." Sounds like good vibes to us.
New Orleans, Monday through Saturday, 12-1 p.m. and 4-7 p.m.
Buy one, get one free drinks are a dime a dozen, but the classic discount format gets new life at New Orleans's Cajun Daiquiri Cafe, home of specialty Daiquiri flavors like King's Cake and Sex in a Jeep. Thanks to the bar's BOGO deal, you can go big (and easy) in true New Orleans spirit with two monster, high-octane slushies for just $10.
Multiple Locations, Monday through Friday 6-11 p.m. and weekends 3-11 p.m.
We've all wondered what to do with our free hand while holding a drink at a bar. Unless you've got your mitts around an oversized Moscow Mule, occupying your extra digits can be a perplexing issue. The Beauty Bar has solved that conundrum, putting a Martini in one hand while giving your other a manicure. For just a tenner, you can walk away from the bar with a fresh coat of paint and a cocktail in your belly.