This Company Is Making the Best Canned Cocktails Anywhere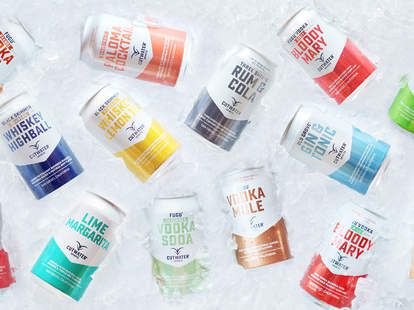 Courtesy of Cutwater Spirits
One of the undeniable outcomes of the cocktail renaissance that snowballed through the 2000s is that you can get a good cocktail almost anywhere in America. And they aren't limited to high quality, handmade Old Fashioneds and Negronis that proliferate everywhere from Manhattan's East Village to Manhattan, Kansas. The once niche trend of ready to drink cocktails, those that come in cans and bottles, has achieved escape velocity and you can now pop the top of a Gin and Tonic that is at least as good as the ones you order at your favorite cocktail bar.
Leading the way in the canned cocktail movement for the last half decade is Cutwater Spirits. The San Diego distillery just launched canned versions of the Margarita and the Paloma, bringing the total number of cocktails it cans up to 14—the widest range we've found anywhere. Cutwater has also managed to match its quantity with quality, producing refreshing G&Ts and Moscow Mules alongside tinglingly, spiced Bloody Marys, crisp Whiskey Lemon Teas and many more that can only be described as totally crushable drinks.
If the name Cutwater isn't familiar to you, you'll probably recognize its former title. The distillery launched in 2007 as the spirits arm of Ballast Point Brewing, which was one of the original beer makers that defined San Diego as a drinking destination. When Ballast Point was bought out in 2015 by Constellation Brands, the distillery was able to strike out on its own since it wasn't part of the sale. They had to rename and rebrand, though, so Cutwater Spirits was born.
Even before the name change, Cutwater nee Ballast Point had been canning cocktails—since 2013. "We noticed years ago that there were these pseudo canned cocktails out there made with fermented malt beverages," says founder and master distiller Yuseff Cherney. Those always sweet, usually fruit flavored drinks didn't taste like actual cocktails, Cherney suggests, for the simple reason that they weren't made with actual spirits. Here, Cutwater had an advantage. They already had a line of their own spirits ready to go—today that line boasts a whiskey, a bourbon, a vodka, a gin, two rums and an herbal liqueur. Sodas made at the distillery came not long after that. That gave Cutwater the control to tweak its recipes down to the most minor of details. Until this month's release of the Paloma and Margarita, which required importing tequila from Mexico, every drop of every Cutwater cocktail was produced inside the distillery's walls.
"The hardest thing," recalls Cherney, "was building a category that didn't exist." That's not to say there weren't any canned non-beer-or-wine alcoholic products before Cutwater came along, but, Cherney says, "There was a stigma around [them] and we had to convince people to try our products." And convince them they did. Today you can find Cutwater cocktails in baseball stadiums and hockey arenas, Las Vegas pools, and even at the San Diego and Chicago zoos.
The plan is to keep growing. Cherney says that they're going to continue to try to add to their lineup with new cocktails that will likely drop in the fall. Drinking through the other 14 is not a bad way to spend the summer, though.