Talking to a whisky blender is a bit like speaking with a rocket scientist: You may be familiar with the product they make, but hearing the specifics of their craft tends to show you just how much you don't know.
Take Aimée Gibson, a junior blender for Johnnie Walker. One recent morning she told me everything about her job, and now I… kind of know what she does? She has a master's in chemistry, frequently uses the phrase "innovation and experimentation" regarding her work, and—with the help of Diageo's team of 11 other blenders—catalogues the development of 10 million casks of whisky from all over Scotland.
The combined scientific knowledge that goes into a bottle of Johnnie Walker Black Label could probably power a lunar mission. Instead, it's been put to something useful.
But whisky is somewhat less predictable than Newtonian physics. Gibson tells me that while science guides most of the early processes of blending whisky, when they step to the blending table, chemistry gives way to alchemy. "It's strange sometimes," she says. "We come to combine different whiskies that we think we understand how they will combine, and the flavor and aromas that they will give. More often than not we get that right, but sometimes, we add whiskies together and they give you something quite unusual that we weren't really expecting. As much science as we know, sometimes things will happen on the blending table that you just don't expect. And that's where the art really comes through."
Any artist worth their whisky will tell you that success comes not from a lightning strike of inspiration, but from the unglamorous repetition of daily work. For a whisky blender, that work is done mostly with the nose. "If we take today as an example," Gibson says, "I arrived at work this morning, and the first thing I went to do was set out a panel of cask samples for analysis. I set out 25 different glasses of a particular distillery and reduced all of those down to 23 percent [alcohol by volume]. I would ask members of the team to come and assess those glasses, so that we can have a range of different results recorded."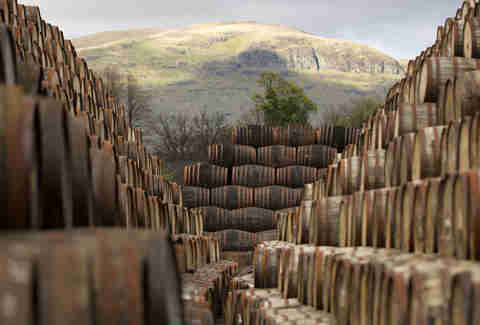 That takes care of 25 casks out of—again—10 million available to Johnnie Walker. "I think the number's actually more than that at the moment," she adds. "It's a huge number when you visualize it. I don't think you can really appreciate that until you see casks in a warehouse, to see the space that that takes up." (I personally can appreciate it because picturing row upon row of whisky casks, as far as the eye can see, is a recurring daydream of mine. But that's just me.)
With so much riding on the olfactory systems of a dozen whisky experts, rest and maintenance is essential. "Smell is a huge part of what we do," says Gibson. "Something you learn with experience is, when you're starting to get a little bit tired—for some people it can be ten glasses, for some people it can be a few more than that—we have a break, and we come back refreshed and take up where we left off."
Rest assured, though, there are substantial perks to the gig: "We do do tastings after work," Gibson says—but only occasionally. And if they're working on a new product, an innovation that will yield something brand new, "we very much have to nose and taste those. Because we need to make sure that the taste matches the nosing aromas."
It's a long, arduous process to develop prototypes and see one of them through to being a finished product that goes out to market. "Throughout that journey," Gibson says, "you would be doing tastings every now and again."
Sounds like another profession that makes a lot of prototypes and conducts a bunch of tests before seeing a final product take off. That's right, rocket scientists. But their tastings are nowhere near as good.
Please drink responsibly.                                             
JOHNNIE WALKER BLACK LABEL Blended Scotch Whisky. 40% Alc/Vol. Imported by Diageo, Norwalk, CT.