Disco Drinks Are the Next Big Trend of 2018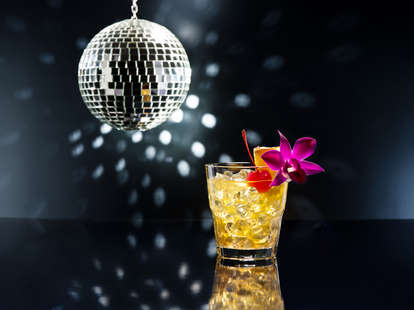 3523 Studio / Shutterstock
3523 Studio / Shutterstock
Since the beginning of civilization, the world has suffered through a series of devastating dark periods: Europe after the fall of Rome, Greece after the collapse of the Bronze Age, Ireland during the potato famine and, of course, bars across America during the Disco Era. During this long, dreadful time to be a drinker, bartenders relied heavily on artificial ingredients (no fresh juice here) and sickly sweet liqueurs like Galliano, amaretto, Drambuie and Midori.
While the '70s led into the equally bad '80s, which led into the slightly better but still artificially enhanced '90s, the early 2000s saw the revival of Prohibition cocktails and a preference for fresh, locally-sourced ingredients. With that seismic shift in the bar scene, the drinks that ruled the bar at Studio 54 were all but forgotten.
Then, in 2014, bartender and author Jeffrey Morgenthaler put a Grasshopper on the menu at Pépé le Moko in Portland, Oregon. People thought he was crazy. "The bar owners wanted to do Prohibition era, speakeasy drinks. I was like nope," Morgenthaler laughs. "We're doing '70s shitty drinks." Four years later, Morgenthaler's Grasshopper is still on the menu and one of the bar's best selling cocktails.
Around that same time, bartenders in New York were debuting their own versions of the creamy classic. At Bar Sardine, Brian Bartels created a Grasshopper with almond milk and black pepper. The Happiest Hour soon followed with a variation made with pandan, a Southeast Asian leaf traditionally used to flavor desserts and give them a natural, bright green hue. Jamie Boudreau at Canon, in Seattle, Washington, made his with Cognac and homemade Chartreuse ice cream (it's still on the menu sans the Chartreuse ice cream). America, it seemed, was primed and ready for a return of (improved) disco drinks.
Now in 2018, bartenders are following in Morgenthaler's footsteps and resurrecting a slew of "shitty '70s drinks." From once saccharine scotch-tails like the Godfather and the Rusty Nail, to the violently green Midori Sour, here are five cocktails you can expect to see more of in the next year. Because disco never died; it just needed some shaking up.
Essentially a variation on an Old Fashioned, the Godfather is made with equal parts Scotch whisky and amaretto liqueur. It enjoyed some fervent fandom in the '70s, when it rose to fame alongside its namesake movie, The Godfather. But, since falling out of favor a couple of decades ago, the classic cocktail has been largely shunned by the bartending community. It shouldn't be, though. Behind the nutty sweetness of the original, the Godfather reveals that smoky, briny scotch is the perfect foil for amaretto liqueur. The ratios of the original simply need tweaking—and maybe a few enhancements.
Two new variations on the Godfather—one from Nick Bennett, bar manager at Porchlight in New York, and one from fellow New York bartender Tyler Caffall, bar manager at Fort Defiance in Brooklyn—take the smoky sipper to new heights.
For his Godfather II, Caffall splits the traditional scotch base with overproof bourbon (he likes to use Medley Bros.102 proof bourbon). Not only does this add extra oomph to the drink, but it also softens the drink's sweetness. "The two spirits compliment each other," says Caffall. "The bourbon serves as the foundation with a high octane, big-boned body and baking spices, while the scotch brings a brawny atmosphere of peat smoke, sea salt and glue." While amaretto remains the sweetener, he reduces the measure to keep the drink from getting too "clingy or saccharine." To further dry out the drink and add even more depth, Caffall adds a few dashes of a sarsaparilla tincture that he makes in house. The tincture brings a twang of bitterness and smoky barbecue notes, and gives the drink an almost root beer-esque flavor.
Across the river in Manhattan, Bennett makes a variation called the Gaelic Godfather. Like Caffall's take on the classic, Bennett's Godfather has a split base, but he uses Irish whiskey (Knappogue Castle) instead of bourbon, along with scotch (Laphroaig 10 Year in this case). He also adds aquavit and maraschino to the drink. "Linie Aquavit pairs well with the salinity in the Laphroaig, while the maraschino adds a dry, juicy element to the cocktail," he says. "We use a blend of Luxardo Maraschino and kirschwasser (a cherry eau de vie) so the actual ingredient is a little drier than you might expect." Beautifully balanced—teetering between briny and fruity, smoky and malty—Bennett's Godfather proves that the cocktail has more potential than we ever gave it credit for.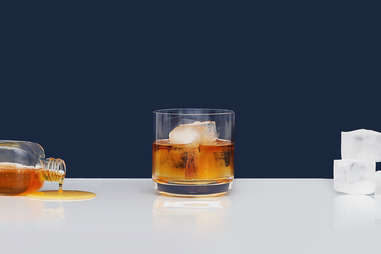 Similar in simplicity and flavor to the Godfather, the Rusty Nail mixes scotch with Drambuie—a honey flavored, scotch-based liqueur. Generally deemed to be too sweet and only acceptable served as a liquid dessert, the cocktail earned some recent attention thanks to the AMC show, Better Call Saul (it's Saul's favorite cocktail). But it has almost entirely fallen off bartenders' radars. In fact, the first and only Rusty Nail-inspired cocktail that we have ever seen on a menu is currently at Porchlight in New York, where Bennett is attempting to revive the golden elixir and prove its worth.
Like the Penicillin and the Brown Derby, the Rusty Nail highlights the crazy delicious combination of whiskey and honey. When mixed properly, the cocktail is a heady amalgamation of smoke, sea salt and boozy heat, with a sweet, silky, honeyed finish. At the base of his Rusty Nail (titled the Damn Fine Rusty Nail), Bennett uses Monkey Shoulder scotch, which has an earthy dryness and lingering peatiness. The scotch brings notes of "honey, vanilla, [baking] spices," and it's got enough body to stand up to the more syrupy components of the cocktail. In order to add more depth to the drink and lessen its notoriously saccharine flavor, Bennett splits the measure of Drambuie with Becherovka, an herbaceous Czech honey liqueur. With a few dashes of Black Hand Bitters (an in-house, proprietary recipe) and Bittermens Hopped Grapefruit Bitters, the cocktail gets an extra touch of smoke and the bright citrus tang of an IPA. "There are still quite a few people that shy away from [ordering these cocktails], but anyone that has been adventurous enough or nostalgic enough to try them has been very happy," Bennett says.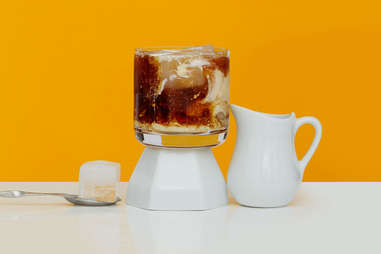 This creamy cocktail is beloved (to the point of obsession) by fans of the hit cult film The Big Lebowski. But in the bar world, the White Russian doesn't get the love it deserves. Most bartenders (and customers) deem it to be too sweet and heavy, or too tacky. We agree: If you make a White Russian with a dusty old bottle of Kahlua, bad, cheap vodka and expired cream, then yes, it's a bad drink. But, if you dedicate the same time, energy and care to making a White Russian as you would if you were making a Manhattan, the results can be astonishing. Two bartenders are doing exactly that and giving the cocktail the makeover it needs to please today's palate.
At Wallflower in New York, head bartender James Lombardino's take on the White Russian turns the cocktail on its head while maintaining the drink's three-ingredient structure. For the Eddy Teach, Lombardino swaps out vodka for Cruzan Black Strap rum, which adds "texture, deep notes of molasses and a hint of licorice." He also skips the cream and, instead, makes the cocktail vegan with coconut milk. "Drinks for the people," he says. Finally, instead of using a traditional coffee liqueur like Kahlua, Lombardino uses an Italian amaro he infuses with coffee beans. "There are plenty of great coffee liqueurs in the world, but they tend to bring only one note: coffee," he explains. "Cynar amaro is loaded with different herbs, roots and spices, making it much more complex. After we infuse the coffee into it, we have a liqueur that just explodes with flavor." And while the O.G. White Russian might be a terrific, sweet and creamy replacement for dessert, this version is even better. "This is fantastic as an after dinner drink," says Lombardino. "Not only because of the hint of coffee, but also the amaro is there to work as a digestif."
On the West Coast at Truss and Twine in Palm Springs, California, head bartender Dave Castillo is also breathing new life into the antiquated classic. Castillo's love for the White Russian stems from the fact that it was one of his favorite cocktails to order when he first started drinking—and in his words is "nearly impossible to f*ck up." For his twist, he uses gin as the base, which he infuses overnight with Vietnamese coffee. "It has that very distinct fudge-like flavor," he says. "I figured out this is due to the fact that the Vietnamese like to flavor their coffee with chicory and butter."
He then adds St. George Spirits NOLA Coffee Liqueur (which also has a touch of chicory) as a substitute for Kahlua. "It tastes more like actual coffee rather than coffee candy," he says. He tops everything off with cream, then shakes and strains it over ice, and garnishes the cocktail with grated coffee bean. "It ties everything together," he says—just like Lebowski's famous missing rug.
Unlike all the other drinks on this list, the Midori Sour's expulsion from cocktail menus and any serious mixologist's repertoire is completely understandable. If you've ever sipped on the melon-flavored liqueur straight, you know just how shockingly sugary it is and how difficult it can be to harness the liqueur's sweetness. There is currently no alternative to the neon-hued liqueur (although you can make your own Midori), putting any bartender hoping to give the Sour a makeover at a distinct disadvantage.
But Chaim Dauermann, bar manager at New York's Up & Up, believes the muskmelon-flavored liqueur has worth. "Midori has long held a reputation for being a low-quality ingredient best reserved for people who don't like to drink," he says. "But I don't think that reputation was fairly earned. I'm of the belief that there are no good drinks and no bad drinks, just ones that are made poorly or made well. So, I figured, why not highlight this great ingredient in a cocktail that people normally don't anticipate will be good."
Appropriately named the Insanely Good Midori Sour, Dauermann's take on the cocktail proves that the liqueur can be absolutely delectable if used correctly. Instead of being cloyingly sweet, his variation on the classic is fruit forward and brightly acidic, with an abundance of actual melon flavor. He splits the Midori with an herbaceous London Dry gin and also dries out the drink by adding egg whites, which give the drink a hefty body and creamy mouthfeel. He goes on to add fresh lemon juice, making the Midori Sour actually sour (and like the Pisco Sour, the drink is served up in a coupe glass). The result is a cocktail that inspires people to say the unthinkable: "You've got to get the Midori Sour."