Eat Oysters and Drink from a Urinal at This Epic Pop-Up Party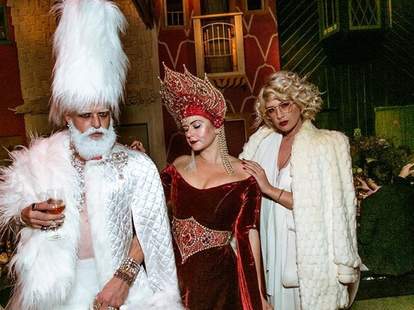 Courtesy of Disco Dining Club
Unlimited oysters, incredible performances, eccentric celebrities...poppers—you might have gone to some great parties in your time, but you've never been to a party like the Disco Dining Club. Launched in 2015 by professional partier and hostess extraordinaire Courtney Nichols, the bi-monthly pop-up parties (which primarily occur in Los Angeles but have popped up in cities like Berlin) "brings the warehouse scene to the dinner table" and demands that guests "consume everything."
The best part? While a few, select VIPs receive hard copy invitations (embossed with quotes from Nichols' favorite disco-era books), anyone can buy tickets, which run at $200 for a decadent, multi-course meal along with all-you-can-eat oysters, an open bar and "late night frivolity," or $100 for everything except dinner.
Here, everything you need to know about the LA party you can and should go to. Immediately.
The Inspiration
"The original idea came to me at 4 a.m. at a warehouse party when I turned to my friend and said, 'I'm craving a full steak dinner right now,'" Nichols recalls. "And while not everyone on the dance floor was looking for food—they were probably looking for other substances—I thought there must be a family out there that likes to dance and eat." She put up a post online to gauge people's interest, and the response was immediate. The first Disco Dining Club took place at a restaurant in Silver Lake, and it blazed the trail for more parties to come. "People came in full gowns, people danced on the tabletop, I learned after that people had sex in the restroom," she says. "People were really going for it." After that, the parties were opened up to the public and the debauched, disco-inspired events took over private spaces where people could be as loud and depraved as they wanted.
It should be noted that while the series is certainly disco-inspired (the first year, all of the parties were themed after disco sub-genres like "Cosmic" and "Bathhouse"), this is not a throwback party. So put your platform shoes away. Nichols is breaking from the disco era entirely, while maintaining the time's exuberant ethos. "No matter what era, there were always dancers and dreamers," Nichols says. "So this year, we decided to theme the parties after moments of decadence throughout history, all of which built to the ultimate decadence: disco."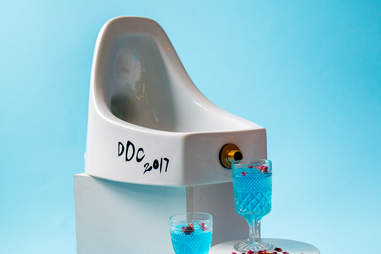 Courtesy of Disco Dining Club
The Menu
"When I was first creating this, I made bullet points of what I wanted at my ideal party, and one of them was unlimited oysters," Nichols says. The bivalves make an appearance in abundance at every Disco Dining Club and have even become the event's de facto mascot. "Oysters are a version of decadence that is still rather affordable. Oysters are sexual and playful. We have a custom made disco ball in the shape of an oyster. People love it." Aside from the oysters, the menu changes with the theme of each party. For example, the Fabergé Edition featured caviar, beef tongue and smoked mackerel, while the Blade Runner-themed event offered pork belly ramen. The custom cocktails are also curated to match the party's theme and color palette. For the most recent event, which was inspired by the surrealist movement, mixologist Malina Bickford came up with drinks like The Garden of Earthly Delights (rum, absinthe, strawberry, black tea, palo santo and lemon, served in a smoking fish bowl) and the Fountain (mezcal, absinthe, blue curaçao, rose, pineapple, lime and tonic, served from a "porcelain vessel). "I like to always have a drink in hand—sometimes two drinks," Nichols says. "These cocktails are conversation pieces served at the dinner." The after-party comes with its own specialty punches.
The People & Styles
Nichols' extravagant style and energetic events have attracted a quality group of party animals. We're talking people like burlesque goddess Dita Von Teese and theremin master (it's a thing) Armen Ra—both of whom are bona fide boho icons. The non-celeb guests do their part to stand out, also. They come decked to the nines in statement dresses and outrageous outfits. The surrealist party was the first time Nichols requested a dress code: pastels. "It made it great," she says. "It turned everything into the full package."
The Stories
One time, two guests dressed in cheap polyester "disco" clothes (the only two guests to ever commit such a faux pas) got "obliterated" and started fighting on the table. "People thought they were performing," Nichols says. "It was perfect." Another time, she served Champagne Jello Shots containing communion wafers as a real gospel choir sang at the gospel-themed party. But one of Nichols' favorite stories that she believes represents the true "hardcore feasting mentality" of the Disco Dining Club happened in Berlin. "We had this incredible DJ, The Mole, come," she says. "He went straight for the oysters like I've never seen before. He probably ate 30 in under 10 minutes. Every once in awhile you get a bad oyster—it's not the shucker's fault, it just happens—and The Mole got a bad one. So he went out into the alley, vomited and then immediately came back in and ate more oysters. It was just so gluttonous and Romanesque."
Courtesy of Disco Dining Club
The Poppers
The other staple at every DDC party, aside from the oysters, are the poppers (aka alkyl nitrites). "They're a legal drug," she says. "It's my little homage to the bath houses of the '70s." Intended for sniffing (one of DDC's slogans is "Don't drink the poppers"), the poppers add a touch of the exotic and over-the-top kitsch to the event. "We dress them up," Nichols says. "For the Fabergé party, we made them little fur hats. For the surrealist event, we put them in mouths. They were dressed as black lights for the Blade Runner party. It's a little something extra for the guests. It's almost ritualistic."
The Super-Pro Hostess Tips
Even if you don't have a warehouse space at your disposal or an oyster hookup, you can still host a memorable party at home. "One of my favorite little tricks is to put a different soundtrack in the restroom," Nichols says. "There's something lovely when you're having a pee and listening to a different song." She also recommends offering party guests an opening signature shot. "It's like a popper," she says—except you can drink it.