You Can Sleep Over at These 7 Distilleries
Visiting a distillery is always fun, but leaving a distillery is not. After hours of drinking, eating and taking in the beautiful scenery, trying to track down a cab or rouse your bored, resentful DD can be a chore. Luckily, there are some distilleries that let you stay—all night. If you're looking for a quick overnight getaway or a quiet (but booze-filled) place to spend a weekend, these seven distilleries offer hotel rooms, adjacent B&Bs and even chalets, so you can get the most out of your experience. From a chic London drinking mecca to a Colorado mountainside retreat, here are the best distilleries where you can stay the night.
This Texas distillery and winery cranks out rum, vodka, bourbon and almost 20 different vinos for visitors to sample. If you want to crash after a long day of tasting, Kiepersol has four different options: a room in their bed and breakfast, a five-bedroom stable house, a three-bedroom chalet or the two-room caretaker's cottage. All guests get to enjoy a complimentary breakfast at the Restaurant at Kiepersol, which features indulgent dishes like eggs Benedict with filet mignon.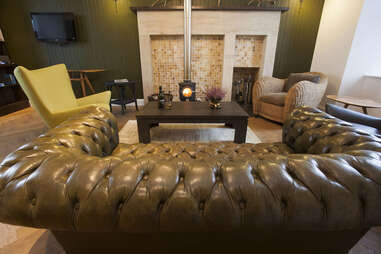 This newly renovated cottage was originally home to Ardbeg's distillery manager and offers stunning views of Leodamais Bay. It sleeps up to six adults and features three en-suite bathrooms, heated floors, a laundry room and fully-equipped kitchen so you can relax and experience life at the distillery firsthand—with a dram in hand, of course.
If scenic glens, towering mountains and single malt whisky on a remote Canadian island sounds like a great getaway to you, then a visit to Glenora is in order. The distillery grounds feature both a country inn and six log chalets, depending on how much privacy you prefer. After embarking on a grand tour of the distillery, retreat to the Washback Pub for a dram while you enjoy the live music and festivities of a traditional ceilidh.
This newly-opened, four-story ode to gin in London's Notting Hill neighborhood is the home to Portobello Road gin and so much more. Not only does The Distillery feature two signature bars and The Ginstitute—where you can create your own gin blend—but also three on-site rooms. With gorgeous views of the city, a vinyl selection curated by Rough-Trade and the chance to drink Martinis in bed, you may never want to leave.
If you're looking for a Colorado retreat that's more relaxed than Aspen or Denver, you need to check out Carbondale and visit Marble Distilling Co. The sustainable craft distillery currently makes vodka, coffee liqueur and gingercello, with whiskey on deck. After an evening of sipping cocktails and noshing on local meats and cheeses at The Marble Bar, retreat to The Distillery Inn where you'll find mountain-chic accommodations (complete with fireplaces). Luxurious linens, views of Mt. Sopris, private outdoor spaces, personalized mini bars and Martini bars will leave you feeling like you've finally found your place in the world.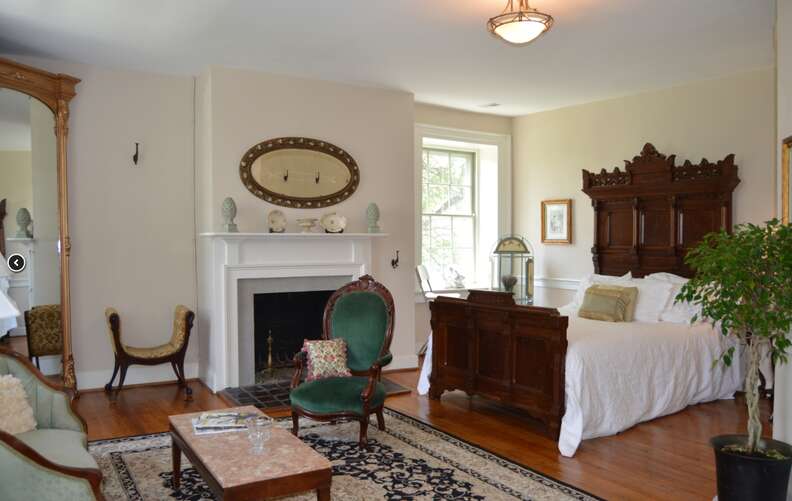 This distillery incorporates its pastoral surroundings into its quality spirits. They produce bourbon, rye and caramel corn whiskey using corn harvested on their farm; age their molasses rums in used bourbon barrels; and infuse their gin with lavender from on-premise fields. The distillery walls are even constructed from the shipping crate in which their Bavarian Holstein still arrived. After tasting all of their craft spirits, enjoy one of Springfield inn's Victorian-style rooms and a farm fresh country breakfast.
For fans of both beer and spirits, Dogfish Inn is the ultimate getaway. Start your day with a tour of the distillery, then taste through their signature gins and vodka. Next, fuel up at their newest bar, Chesapeake & Maine—which was nominated for a James Beard award this year—where you can sample some of the freshest fish from the region in dishes like seafood pho and lobster bisque, accompanied by on-tap cocktails and, of course, a few pints of Dogfish Head's lauded brews. Finally, rest your booze-weary head in one of the Dogfish Inn's 16 thoughtfully-designed rooms that include amenities like locally made snacks, as well as chairs and tote bags to take to the beach.