In a summer oversaturated with frosé, comically large Moscow Mules and popsicles topping every cocktail in town, bars have had to step up their game to stand out this season. At New York's The Fat Monk, their foray into the ring is a drink that wiggles like it's alive: The Getting Jiggle With it, a frozen cocktail served in a giant, edible green jello cup. Just look at this mesmerizing video and try not to get lost in its jiggly emerald depths.
The whimsical drink was invented by Cody Goldstein, beverage director at The Fat Monk and founder of Muddling Memories, an experiential cocktail consulting firm. His inspiration for the cocktail didn't come from watching Flubber (somehow, Goldstein says, we're the first people to draw this comparison), but instead from his main ingredient: Jägermeister.
"My goal was to take Jäger and elevate it in the way that it's meant to be elevated," Goldstein says. "There's a stigma from back in the day that it's just meant for a shot and a beer, and while that's great and delicious, Jäger has so many amazing botanicals, bitter flavors and herbaceous notes to play up."
But just because Goldstein wanted the Jägermeister cocktail to taste high-class didn't mean he wanted it to feel stuffy. Instead, he gave it "a wink and a nod to the feeling we had drinking Jäger back in the day: fun."
"The Solo cup was my first inclination," he says. "I thought we could put the cocktail in the red cup and play into the college feel of drinking out of red cups. But how do we make that red cup special? For some reason I thought of Jello Shots."
After a lot of trial and error playing with different methods and ratios, Goldstein landed on 80 percent Jell-O to 20 percent gelatin to create the ultimate edible jello cup. It can be picked up, nibbled, holds a cocktail without spilling and won't melt in the sun. And, of course, it jiggles. While the wriggling cup certainly brings all the customers and Instagram likes to the yard, the blended cocktail itself is also tasty, innovative and equally colorful.
"Not a lot of cocktails use fresh cantaloupe because it goes bad fairly quickly after you juice it, but it's one of my favorite ingredients," Goldstein says. "When you blend it, it gets slushy like watermelon. With the herbaceousness and bitterness of Jäger mixed with orangey Aperol and St-Germain for wild blossom sweetness—and pineapple and lemon juice for fresh citrus—it's delicious, and pretty boozy."
With his cocktail consulting company Muddling Memories, Goldstein's chief goal—aside from making really tasty drinks—is to create a sensory-driven, memorable cocktail experience, something he successfully realized in the Getting Jiggle With It.  
"It's sight, taste, smell, touch—everything is incorporated into the cocktail," he says. "Visually, the color of green and orange is the Jägermeister branding which is fun, and we stuck an umbrella in it for a tiki feel. Hit it with a finger and it jiggles. Taste the drink and it reminds you of college because of the Jäger. Taste the jello and it's reminiscent of childhood. 'Oh this reminds me' is the best compliment I can receive because I've brought someone back to a time that made him or her feel good, and that makes it all worth it."
Unfortunately, because of the cost and time consuming nature of prepping edible jello cups for service, the cocktail was only available at the Fat Monk for a two-week run. But if customer interest in its return is high, Goldstein says he'll consider a revival.
"I would definitely be open to bringing it back," Goldstein says. "If the customers ask for it, I'd be happy to do it again in a limited quantity. I'd even take special requests from people if they emailed in advance. But there's always fun new things going on at the Fat Monk that are visually out-there to try."
In the meantime, before we band together to convince Goldstein to bring back his glorious concoction, you can make your own edible jello cup, and the slushy Jäger cocktail inside of it, at home.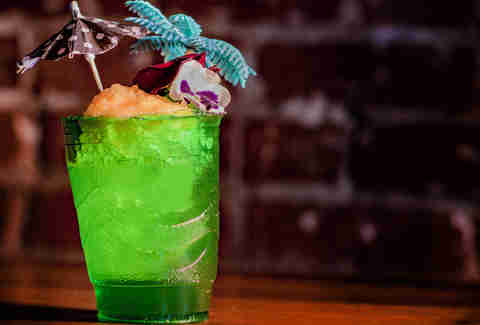 Getting Jiggle With It
Created by Cody Goldstein, The Fat Monk, NYC
1.25 oz Jägermeister

1.5 oz Fresh Pineapple Juice

1 oz Simple Syrup

.75 oz St-Germain

.50 oz Fresh Lemon Juice

.25 oz Aperol

1 cup of Cantaloupe, sliced
 Method:
Combine all ingredients in a blender with 4 ice cubes.

Blend for 10 seconds and strain into a lime jello cup. Garnish with a paper umbrella.
Edible Lime Jello-O Cup
160 g Lime Jell-O

50 g gelatin

300 ml boiling water

6 oz cold water

18-oz "Red Cup"

8-oz "Red Cup"

2 knives, or something heavy to lay across the cup
 Method:
Combine Jell-O, gelatin and boiling water in a large bowl, and stir with a spoon until dissolved.

Pour 8 oz of jello mixture into an 18-oz Red Cup. Fill the 8-oz red cup with cold water and place it inside of the larger Red Cup. The jello mixture will come close to the top of the cup.

Take two heavy knives and lay them flat across the top of the cups to hold the smaller cup steady and in place. Make sure the cup is centered so all sides are equal.

Place inside the refrigerator for 4 hours to let the mold set.

Remove from the refrigerator and gently pull the smaller cup out of the mold. Using scissors, cut a small slit at the top of the larger cup so you can pull down the walls of the cup. Slowly pull off the cup's walls and remove the molded jello. Make sure to keep the jello cup refrigerated before assembling the drink.