Unfortunately, we can't all be like Khloé Kardashian, whose hyper-organized home bar features a dedicated vodka fridge, catered by Diddy. But you can take inspiration from the "Khlo-C-D" queen and outfit your bar with gear that will take it from cluttered to classy—whether you've got a tiny apartment bar or a backyard-sized tiki bar. Here, everything you need to organize your home bar like a pro.
Recommended Video
'Power's' Joseph Sikora on His Craziest Fan Encounters and the Last Season of 'Power'
Wine Racks
It might be called a wine rack, but this ultra-useful piece of equipment can also be used to store liquor bottles. Butterfly racks, like this one from Sorbus ($19) let you stack bottles horizontally. Or you could choose to elevate your bottles and create more open bar surface space with this wall-mounted wine-stem rack from Crate and Barrel ($50).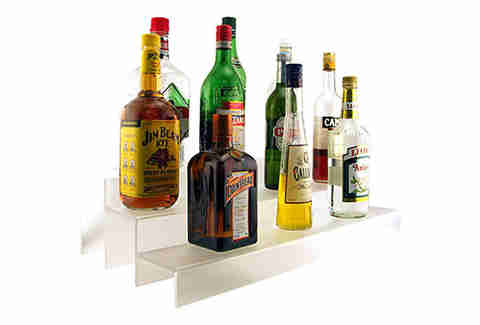 Bottle Shelves
That mass of bottles sitting on your bar doesn't just look cluttered—it's downright hazardous. Make selecting a bottle safe and simple by investing in a tiered bar shelf, like this 24-inch three-tier shelf from KegWorks ($100).
Trays
Use trays to partition bottles, glassware and tools on your bar. Not only will they keep your bar surface separated, they'll also allow you to whisk a selection of spirits across the room at a moment's notice—the true sign of a pro host. Any of these swanky serving trays ($20-$100) from Crate and Barrel will make your bar both fancy and functional.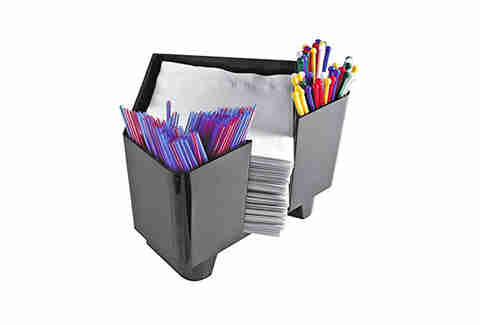 Napkin, Straw and Swizzle Stick Holders
Basic bar caddies, like this triangular one from Co-Rect Products ($10), are a storage no-brainer. Rather than let your napkins blow away in the air-conditioned breeze or allow your straws to freely roll about, store them neatly in a contained caddy. If you want something more attractive to highlight unique straws and swizzle sticks, opt for that hipster go-to, a Mason jar.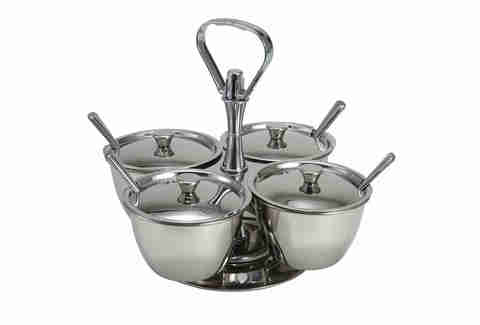 Garnish Containers
You'll never see a professional bartender clumsily fishing olives out of a jar when someone orders a Dirty Martini. That's because they store their garnishes in condiment trays for easy access. Follow their lead by purchasing your own garnish container, like this Kovot tray ($20), which comes with a built-in ice chamber to keep the garnishes chilled, or this attractive, stainless steel rotating caddy from KegWorks ($22).
Magnetic Holders
Free up even more bar space by securing your metal tools with magnetic holders. This stainless steel magnetic knife holder from Unique Effects ($17) can affix your bar knife collection to the wall, while the BottleLoft from Uncommon Goods ($38) suspends bottles of ginger beer and tonic water from the ceiling of your fridge.  
Multi-tools
Why clutter your bar up with juicers, zesters, bottle openers, jiggers, knives, can lances, bar spoons and muddlers, when you can get one tool that can do it all? Swiss Army knife-like bar multi-tools pack all the essential, auxiliary bar equipment into one easy-to-store device. Whether you go for the 10-in-1 Bar10der tool ($40) or splurge for the ultimate Barbarian ($60), you'll be saving precious bar space for more important things, like booze.