What to Drink According to Your Favorite Doctor Who Doctor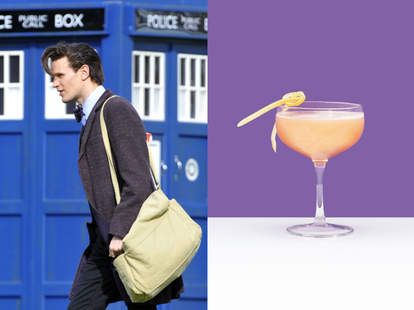 Matthew Horwood/Getty Images / Supercall
Doctor Who has been around since 1963. And while that's nothing for a Time Lord, that's a very long time for a television show. Sure, there was the 16 year gap between 1989 and 2005 (with some padding thanks to a 1996 made-for-TV movie), but the show has still managed to stand the test of time. Over the years, 12 Doctors have come and gone with the 13th (the first ever female Doctor) preparing to make her true debut later this year. The Doctors, while all technically the same being, come with their own nuances and therefore attract their own fans. Grab the drink that best fits your favorite Doctor and settle onto the sofa (so you have somewhere to hide from the Daleks) as you prepare to binge the entire series before the new Doctor bursts onto the screen.
Mirrorpix via Getty Images / Supercall
William Hartnell (1963-1966): Old Fashioned
For the O.G. Doctor, we of course recommend the O.G. cocktail: the Old Fashioned. No spring chicken even then, the First Doctor was wise (if a bit scatterbrained at times) and somewhat ruthless. If you want to lean into the First Doctor's later, more grandfatherly years, try making your Old Fashioned with sweet bourbon. If, on the other hand, you like his mean streak, go with spicy rye.
PA Images via Getty Images / Supercall
Patrick Troughton (1966-1969): Whiskey Sour
The Second Doctor, with his oversized coat and impish appeal (he was nicknamed the "Cosmic Hobo"), was a younger, more energetic Doctor. The Whiskey Sour is essentially a sweet-and-sour take on an Old Fashioned, and often appeals to new drinkers. If you identify with the Cosmic Hobo and his recorder-playing ways, then get yourself a Whiskey Sour.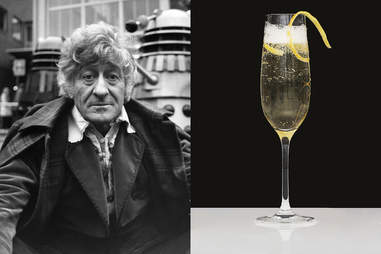 Fox Photos/Getty Images / Supercall
Jon Pertwee (1970-1974): French 75
The dapper master of Venusian Aikido was polished, proper and always dressed to impress—but he did have a daring streak (as illustrated by his serpent tattoo). The French 75 is similarly refined with a pour of gin, adding danger and intrigue. Don your best cape and ruffliest of ruffled shirts, and relax with a French 75, Third Doctor fans.
Michael Putland/Getty Images / Supercall
The most prolific of Doctors, the Fourth Doctor, as portrayed by the curly-haired Tom Baker, managed to escape regeneration for seven consecutive seasons. One of the most recognized Doctors (thanks, in part, to his extremely long, eccentrically colored signature scarf), the Fourth Doctor was known for his dark and occasionally brooding personality, peppered by moments of warmth. The Dark 'N' Stormy represents those two sides, and also the weather for which the Fourth Doctor was seemingly dressed.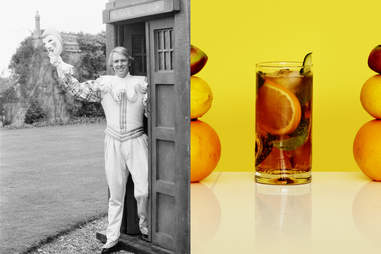 Geoffrey Day/Mirrorpix/Getty Images / Supercall
Peter Davison (1981-1984): Pimm's Cup
Dressed in his cricket best with a trusty celery stalk pinned to his left lapel, the Fifth Doctor's only appropriate representation in drink is a dapperly dressed Pimm's Cup. Youthful, curious and exceedingly British, he may have been able to handle some serious tragedy during his time manning the Tardis, but he couldn't have handled anything stronger than the low-proof mix of Pimm's No. 1 and fizzy lemonade.
Mirrorpix via Getty Images / Supercall
Though the Sixth Doctor had a much darker personality than his predecessor, his manner of dress would say otherwise. Clad in clashing colors, which Baker once described as looking like "an explosion in a rainbow factory," he immediately appears to be bright and carefree. But in reality, he is stubborn, difficult and sharp-witted. The Singapore Sling is also hiding something behind its brightly colored, fruit punch appearance: lots of alcohol. It was created in the early 1900s as a means for women to secretly drink in public in Singapore, and its vibrant hue threw off the authorities.
Arnold Slater/Mirrorpix/Getty Images / Supercall
Sylvester McCoy (1987-1989): Ace
The final Doctor of Doctor Who's initial run, the Seventh Doctor began as a bumbling, comical character, but the darkness within soon worked its way out, in part due to his time with Ace, a troubled, time-stranded teen who the Doctor helped work through a sordid past (and also used to defeat an enemy). The Ace cocktail is a lot less troubled than Ace the girl, but it, like her, is underappreciated. Made with gin, grenadine, cream, egg white and lemon juice, it's perfect for some brunchtime Doctor Who binging.
BBC/Youtube / Supercall
The most romantic of the Doctors, the Eighth Doctor gave into human emotions (including love) and was known as an idealist. If you can't get enough of this short-lived Doctor, then go ahead and indulge in a cocktail that lives up to his romantic nature: the Chocolate Martini.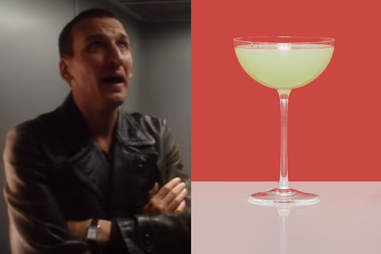 Doctor Who/Youtube / Supercall
Christopher Eccleston (2005): The Last Word
The first Doctor after nearly a decade, the Ninth Doctor, as played by the classically trained Eccleston, was responsible for kickstarting the uber-successful Doctor Who reboot. He was stripped down, scarred by war and somewhat testy. The Last Word is also a stripped down reboot. The equal parts, four-ingredient cocktail was brought back into cocktail consciousness in 2004 after a 50 year hiatus.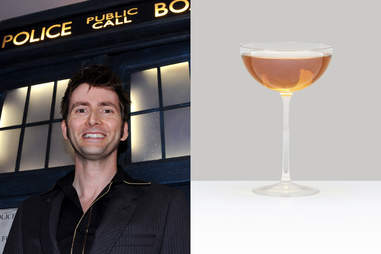 Joel Ryan - PA Images/PA Images via Getty Images / Supercall
David Tennant (2005-2010): Bijou
A bit of a hipster, the dashing Tenth Doctor combined Converse All-Star sneakers with a tailored suit, overcoat (which he says was given to him by Janis Joplin) and the occasional pair of 3D glasses. If you want to pair your love of David Tennant's effortlessly cool Doctor with a cocktail that will earn you serious hipster cred, try a Bijou, a geeky (in the cocktail sense) drink made with gin, green Chartreuse, sweet vermouth and orange bitters.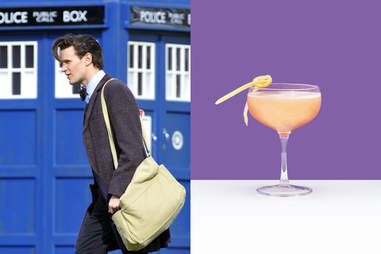 Matthew Horwood/Getty Images / Supercall
Matt Smith (2010-2013): Brown Derby
The Eleventh Doctor loved hats. From fezzes to Stetsons to top hats, all hats were "cool" to this energetic incarnation. The Brown Derby (a cocktail named for a restaurant shaped like a derby hat) is most definitely cool. Made with bourbon, grapefruit juice and honey syrup, it's an edgy, darker riff on a Daiquiri that would certainly catch the eye of the thrill-seeking Eleventh Doc.
Matthew Horwood/Getty Images / Supercall
Peter Capaldi (2013-2017): Negroni
According to the BBC, Capaldi described the Twelfth Doctor as, "Simple, stark and back to basics. No frills, no scarf, no messing, just 100 percent Rebel Time Lord." Though kind at heart and certainly heroic, he couldn't care less about what others thought of him. The Negroni shares that attitude, refusing to hide its bitter, boozy ingredients behind a sugary facade. Should you not be a Negroni fan, on the other hand, feel free to celebrate the Doctor's Scottish brogue with a Bobby Burns.
BBC/youtube / Supercall
Jodie Whittaker (2017-Today): Mary Pickford
Not much is known about the Thirteenth Doctor's personna yet—aside from the fact that, for the first time ever, the regenerated Doctor is female. "Oh, brilliant!" the newly regenerated Doctor said upon realizing her gender, and we can't agree more. To celebrate the new Doctor, try a cocktail that takes its name from another powerful lady: Mary Pickford was a Canadian-American silent film star who co-founded United Artists, helped start the Academy of Motion Picture Arts and Sciences, and was even named an honorary colonel by the U.S. Army. She also inspired a darn tasty cocktail made with white rum, pineapple juice, grenadine and Maraschino liqueur.