I Washed My Hair with Vodka for a Week, Here's What Happened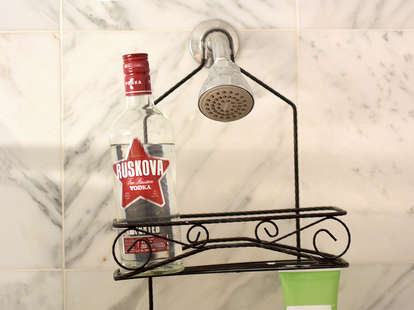 Nickolaus Hines / Supercall
Nickolaus Hines / Supercall
It's 8 a.m. on a Thursday and for the seventh time this week I turn off the shower and dump vodka on my head. The smell of a $10 bottle washes over me for about 15 seconds as I work the spirit into my hair, carefully avoiding my eyes. Then I dry off, and go about my day.
Living by the advice of beauty bloggers can lead you down some strange life paths. I ended up dousing my hair with vodka after coming across a blog post on The Beauty Gypsy by Anubha Charan, who has worked as a Vogue beauty director and Marie Claire beauty editor. In the piece, she suggests using a vodka-water mix as a clarifying rinse after washing your hair in order to remove "product buildup from the scalp and strands." Color me intrigued.
I found similar stories about using vodka as a hair product in babe, the Style Craze blog, XO Jane and countless others. It's not a perfect measure, but the first 10 pages of Google search results on washing hair with vodka are filled with people testing it out and spreading the vodka-wash gospel. It can "cure almost all problems related to hair and scalp," one blog wrote, while another added that vodka "leaves your hair smooth, lustrous and voluminous" with the added benefit of "preventing dandruff."
"Vodka works really well as a clarifying agent to remove product buildup from the strands and scalp," Charan told Supercall in an email. "By doing this, it stimulates hair growth and makes the strands shine! It also lowers hair's pH, helping the cuticles to close, and sealed cuticles mean reduced frizz and tons of shine (again!)."
Sold. I use product to keep the hair out of my face, and vodka's potential to chill the frizz while also removing hair product "buildup" sounded immediately appealing. Plus, who would complain about tons of extra shine?
Charan says her vodka rinse technique—one cup water, one tablespoon of vodka applied after washing—came from a 67-year-old woman from Samara, Russia. Charan says she tried it out herself with positive results. That was enough to convince me, someone who last got a professional haircut in 2014, to try it. Ignoring Charan's advice to not do too much too fast ("not more than once a week" was the specific advice), I decided to try it out every day for a week like Jacqueline Suazo did for her babe story. But instead of Suazo's vodka-conditioner mix, I went with Charan's vodka rinse since I don't use conditioner in the first place—my sister regularly tells me I have "girl's hair" already, and I'm perfectly content with my hair's natural softness. Plus I'm cheap and two bottles for hair always seemed excessive.
From day one, my girlfriend Heather had some understandable reservations. Keeping a bottle of vodka at the ready in the shower is a questionable move at best. Then there's the smell. The steam from the hot shower carried the smell of vodka throughout our entire, admittedly small, New York apartment. At the end of the first day though, Heather made a curious observation: My hair smelled better in a neutral way.
In the hopes of learning more, I reached out to hair scientists, cosmetic schools and other beauty bloggers. New York University's Langone Health turned down my request to speak with researchers about the effect alcohol can have on hair, and Bernstein Medical never answered. Five cosmetology schools and seven beauty bloggers ignored my emails as well. Even a request on Help A Reporter Out, a tool that connects journalists with sources, didn't dig up any leads. Apparently it's a hard request to take seriously, so I was left to my own research.
An interview with hair loss expert Samuel Lam on the blog Naturally Curly was the first negative sign I found. Lam said that he couldn't "seriously answer the question of whether vodka does anything special for hair," but he acknowledged that home remedies "have been touted to work but have not panned out."
A study examining the safety of putting ethanol on your skin was published in 2008 by the National Center for Biotechnology Information (NCBI). It appears dumping vodka on your head wasn't common enough to be included in the study, and it analyzed high-alcohol hand sanitizers to determine the topical effects of alcohol instead. Alcohol, the study states, has antimicrobial effects because it denatures protein. It's also the most rapid bactericidal and fungicidal ingredient in hand disinfection. Adding to the good news, the study states that alcohol-based products "cause less skin irritation than hand washing."
This was all promising, except for the fact that hand sanitizer has between 60 and 90 percent alcohol. Vodka is only 40 percent, and I was weakening its bacteria-killing potential even further by mixing it with a cup of New York water that's so questionable it comes out of the shower head a somewhat milky white color. Vodka isn't even strong enough to kill bacteria in drinks, a study in late 2017 found. A 2002 hygiene study by the Centers for Disease Control stated that alcohol's ability to clean relies on concentration and contact time, adding that "applying small volumes" is "not more effective than washing" with soap and water.
Per Charan's recommendation, however, the rinse isn't for killing off bacteria. It's for getting rid of any product build up on your hair and scalp, so it might not matter if the bacteria just gets a little drunk instead of dying off. There aren't any government-funded studies about alcohol removing excess product build up, though, so I had to rely on my own experience for that.
The more days in a row I rinsed with vodka, the greasier my hair seemed to get. It was a subtle, but noticeable, difference. My hair, which is painfully straight and can be fluffy, also lost any frizz and fell flatter on my head than normal. Vodka surprisingly didn't dry my scalp out or cause dandruff or itchiness, but it also didn't really do anything positive. The effects, in my experience, were minimal.
So should you rinse your hair with vodka? It's probably not worth the questions you'll get about the bottle by your tub.