The Incredible True Story of Don Julio González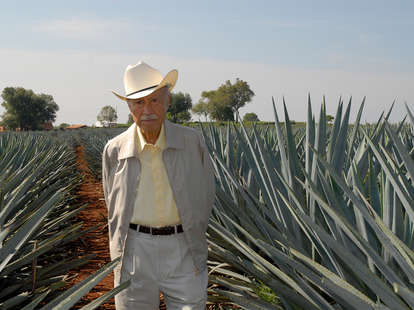 Courtesy of Don Julio
Courtesy of Don Julio
Hollywood hasn't yet come calling for the movie rights to Don Julio González's life story, but it would certainly be fertile ground—like the red-clay soil the man toiled in for decades—for any screenwriter.
The pivotal scene occurred in 1942, when González was still very young. He approached the wealthiest merchant in the Mexican town of Atotonilco, Jalisco, and told the man he wanted to open his own distillery. "You must be crazy!" said the merchant. "How are you going to get the money to do that?" Young Julio took a beat and replied, "You are going to lend it to me."
And so it came to pass, like most of the goals González set for himself during his long, cinematic life: The rich man loaned him 20,000 pesos and Julio got to work establishing his own distillery. He would go on to revolutionize the tequila industry. Below you'll find 12 more highlights from a remarkable life we'd bet a Tinseltown blockbuster's budget you didn't know about.
He started working at the tender age of 10
Several years before his encounter with the wealthy man from Atotonilco, young Julio took a job at his uncle Jose's tequila distillery in Jalisco, learning the basics of tequila production. And we mean learning: The kid wasn't just head-down, stringing tasks together, he was absorbing knowledge in a precocious, big-picture kind of way.
He was forced to become the sole breadwinner for his household at age 15
When his father died in 1940, leaving behind a wife and seven children, Julio, as the oldest son, was tasked with providing for the entire brood. He first hired on as a farmhand, but after recognizing that the nine pesos a week he earned from that job would hardly be enough, he set out on his first independent tequila venture…
He spent several years distributing tequila on horseback
The teenage Gonzalez would saddle up his horse and load two 25-liter barrels of tequila onto the animal, before journeying all over the region to sell the spirit. He ended up quintupling his weekly salary as a farmhand. Instead of nine pesos a week, he was now earning nine pesos a day.
He understood that fortune favors the bold
As if his response to the wealthy businessman in Atotonilco were not confident enough, Julio immediately doubled down on it. As the story goes, when the rich man said, "You're just a young man. How do you think you're going to pay me back?" Julio replied that though he now stood before the man in huaraches (peasant sandals), "I will return the money to you wearing boots." The entire self-help book industry is based on teaching this kind of entrepreneurial self-confidence, and apparently, González was just born with it.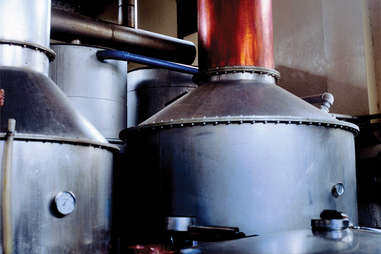 The tequila distillery he opened as a young man is still in use today
The facility, eventually named La Primavera, began operations in Atotonilco not long after González secured his loan. He soon rolled out his first brand, Tres Magueyes, and, within a decade, was well on his way to the success that would yield the Don Julio Tequila collection of Blanco, Reposado, Añejo, 70, 1942, and the ultra-premium REAL. All six variants are still produced at La Primavera.
He was a one-man show at La Primavera in the beginning
"I did everything," he recalled in a 2010 interview with a tequila expert. "I was the distiller and the salesman. I would go home to Ocotlan to see my family only for part of the day Saturday and Sunday."
He pioneered agricultural techniques that set his brand apart
The mineral-rich, red clay soil of the Highlands (Los Altos) of Jalisco is ideal for growing agave plants. The area is also a microclimate where nighttime temperatures dip, slowing the maturation process. González studied ancient methods from the region and was well versed in the area's conditions and their effect on the agave. He surmised that spacing his plants farther apart would allow them to absorb more nutrients, and grow bigger and sweeter. They'd also have a longer path to full maturity in these conditions, so he let his plants age between seven and 10 years, longer than the industry norm at the time. These measures were hardly driven by profit-motive: wider spacing meant fewer plants, and longer grow times meant slower tequila production. This is the part where the Don Julio biopic would show stodgy business-school professors shaking their heads in disapproval.
He was a quote machine
The man threw out aphorisms like Bartlett's. Two examples: "Don't be too proud or arrogant in life because in this condition you will not recognize problems when they come up." "Hard work and honesty. Never judge anyone, that is all and with that people will trust you." These could be intertitles in the Don Julio movie, each illustrating a chapter in his life.
His namesake tequila transformed the industry
To celebrate Don Julio's 45th year as a tequilero, his family threw a special party to honor him. At this legendary affair, González offered guests the tequila he had been aging in his office. It was the best he had, and he wanted to share it with his loved ones. After the party, people who'd been there began calling him and asking to buy the tequila they'd tasted. But Don Julio said it wasn't for sale. Eventually, though, he relented, and decided he would make this tequila for sale after all, thereby introducing what would become one of the first true, luxury tequilas. It transformed the industry, creating an entirely new category of tequila.
He revolutionized the tequila bottle, too
Until Tequila Don Julio hit the market, the traditional tequila bottle was a long, tall vessel. Placed between two guests or family members at the table, it literally obstructed social interaction—you couldn't see the person across the table from you. Don Julio's round, short bottle provided a simple solution to that problem.
He cultivated more than 3 million agave plants in his time
His wife, Dorothea, was fond (or not so fond) of saying that she had nine children, "and thousands more"—meaning the agaves to which her husband was so devoted during his more than 60 years in the business.
His legacy of innovation lives on
Enrique De Colsa, the current Master Distiller at La Primavera, was a protege of Don Julio González, training with the founder for five years before taking the reins in 2004. To commemorate the 70th anniversary of the brand in 2012, De Colsa borrowed a page from Don Julio's innovation playbook, creating Don Julio 70, the world's first clear añejo. Like his predecessor, De Colsa set the industry standard with this move, as similar products hit the market soon after Don Julio 70's introduction. Following the founder's death, at age 87, De Colsa told Haute Living that González "was more than a tequila producer; he was a tequila lover and he worked hard to achieve perfection. He was a disciplined and dedicated guy. If he wanted something, he was like an arrow: persistent in one direction." There's your voiceover, Hollywood. You're welcome.

Those who know drink responsibly.
DON JULIO Tequila. 40% Alc/Vol. Imported by Diageo Americas, Norwalk, CT.