The Solo Traveler's Guide to Drinking Alone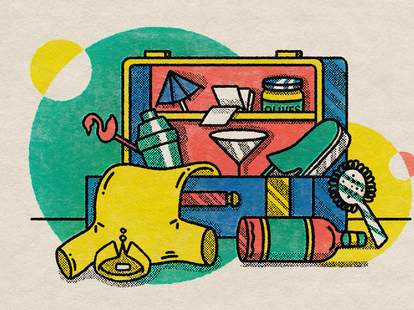 Traveling alone can seem scary if you've never done it before. But solo vacations are a great way to get to know yourself and your new surroundings, without the need to please multiple personalities or have a strict agenda. Drinking alone is also a wonderful thing, so long as you choose the right bar at the right time. If you travel for the main purpose of eating and drinking, like we do, then it's likely your independent travels will lead you to a bar or two. So if you want to imbibe the right way while on vacation, check out our solo traveler's guide to drinking alone. We promise it will help you make the most of every drink.
Have a Loose Plan
Whether you're traveling alone or accompanied, it's always wise to have some boozy destinations researched and mapped out. But don't let your preconceived plans put you in a box, either. Ask your hotel concierge or local coffee shop personnel where they like to unwind with a cocktail after a long day. Chat up the bartender and ask if the places on your list are solid, or if they'd suggest something different. Also, if you're walking down the street, pass a bar and feel the good vibes radiating, don't be afraid to check it out. You're likely to discover a hidden gem that isn't covered by every trendy travel guide out there.
Go Early
While a nightcap is always welcome when traveling, there's something to be said about everyone's favorite time of day: cocktail hour. Unless a bar serves lunch, they typically open around 5 or 6 p.m. to welcome the pre-dinner crowd. This is one of the best times to hit a bar solo. You'll have your choice of seat, the bartender won't be swamped with dozens of drink orders, and it's less likely that someone who's extremely inebriated will bother you.
Sit at the Bar
We love sitting at the bar, whether we're traveling or imbibing in our own city, because it encourages conversation with the bartender and staff. This interaction can be particularly helpful if you're on a solo vacation. Not only will you get to see the bartender in action (especially if it's the type of bar with beautiful, well-crafted cocktails), but if the staff is friendly, you could get some local tips about where to go and what to see during the rest of your time there. You could even end up making friends and scoring an invite to join the staff for a night out.
Stay in the City Center
If your travels land you in a big metropolis or even a small but bustling city, it's always good to wander off the beaten path to see how the locals truly live. But when it comes to late night bar hopping, sticking to the city center is a wise idea if you're traveling solo. The establishments are populated with more people, and you'll be more likely to find someone that speaks your language. Sticking to these areas is also helpful if you plan on taking a cab or using public transportation. We're not saying you shouldn't venture out on the road less traveled, but if you plan on having more than a couple drinks, know where you're going, and stick to areas that feel safe and busy.
Know Your Limit
The more drinks you have, the more your judgement becomes impaired, which isn't the end of the world if you're hanging at your local bar with friends and someone you know can help you get home safe. But if you're drinking alone in a foreign destination, the only person looking out for you is you. Know your limits, drink water in between every libation, and call it quits before you reach your edge. Not only is it the safe choice, but waking up with a hangover on vacation sucks and can make you lose precious exploring time if you're nursing a nasty headache.