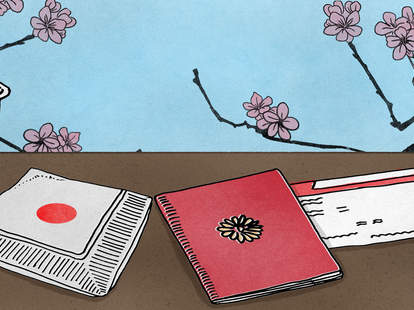 Drinking with Strangers at Tokyo's Meiji Jingu Stadium
Gooo, gooo! Sakamoto!" screeches the crowd. Jon, my husband as of a fortnight prior, is singlemindedly hollering along with the scrum and attempting to mimic the intricate cheers of the away team—Tokyo's Yomiuri Giants—which include a complex sequence of hand motions. First a one-armed tomahawk, then the wave, another tomahawk, and a half-dozen other outstretched gesticulations that I can't quite follow.
Jon is about a beat behind, but that hardly matters since the stadium's thousand-some other roaring voices drown out everything but the booming loudspeaker, which blasts rock walk-up tunes. If this were America, I'd be frightened—the pulsing sea of fans, drunk on tall cans of Asahi beer, has the dangerous look of a mouth-foaming rally one errant punch away from complete anarchy. But this is Japan, where even the chaos is orderly. Soon I'm swept up myself, and together Jon and I tipsily scream a mangled mixture of Japanese and English between chugs of watery beer. "GOOO, GOOO!!! SAKAMOTO!!!!" we whoop as 27-year-old shortstop Hayato Sakamoto takes the plate.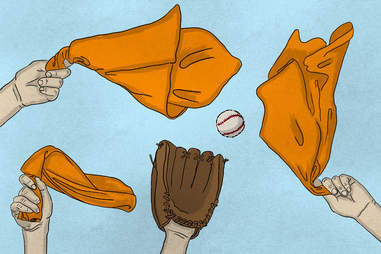 It's the last night of our honeymoon in Japan, which over the previous two weeks has enchanted and bewildered us in equal measure. Tonight's game is no exception. Baseball is massively popular in Japan with a history that dates back to the late 19th century, when an American named Horace Wilson introduced it to a Tokyo university, where he taught English. It's essentially the same sport as American baseball—but make no mistake: This isn't the game of Babe Ruth and Jackie Robinson. It's more like a bizarro doppelgänger, with its own traditions and mythos. Even as we cheer in sync with our section, all uniformed in Giants orange and white, Jon and I feel at a distance. As two of only a handful of Westerners (or gaijin, as the Japanese say) in the whole stadium, we're spectators in every sense of the word. It's as though we've stumbled into a stage act mid-performance and are trying, unconvincingly, to blend into the chorus.
Jon, for his part, is valiantly trying to pick up the game's complicated choreography. An avowed baseball obsessive, Jon can tick off vital information about maybe two-thirds of all Major League Baseball players in the States. That's why we've elected to sit in the bleachers, where only the most rabid fans plant themselves. By matter of chance, we're seated with fans of the Yomiuri Giants, today battling it out against fellow Tokyoites, the Yakult Swallows (a Subway Series game!). I've seen Jon this exuberant only a handful of times before, and one of those was our wedding day earlier this month. Here, he's howling and flopping around like a gaijin gone mad, which, I'm certain, is what ultimately grabs the attention of the group seated behind us.
There are about eight of them, all plastered on a potent mixture of 7-Up, green tea and cheap soju. The stuff has the intoxicating aroma of paint thinner. The ringleader shouts a slurred introduction in broken English: "Tomo Takahashi." A Yomiuri Giants superfan, Tomo has a nearly perfect attendance record going back years. He and his companions met in the stands a decade and a half ago, and have religiously attended games together ever since. (Two of them even got hitched last week, he says, to each other!) Tomo thrusts red solo cups of green tea and soju into our hands, and just like that, we're in.
It quickly becomes clear that I've underestimated Tomo's status within our cheering section. Imagine being adopted by the godfather of Red Sox Nation or the New York Yankees' Bleacher Creatures: it's like that. Tomo snaps his fingers and two orange Giants scarfs come floating down from the higher stands—gifts, he says. Tomo snaps again. Red bean-filled confections appear, gifts from a Giants fan a few seats away. Tomo loudly introduces us to everyone: Come meet the American newlyweds who love baseball, he shouts.
By now, we've gotten the chants down. Mostly. Wrapped in Giants orange, we bop up and down with Tomo's baseball family, erupting into elated shrieks when our man rounds home. The green tea and soju are flowing like gatorade in the bullpen, with more Asahi tallboys just for good measure. I'm so giddy watching the rippling, synchronized crowd that I don't even realize that we're losing. At the top of the ninth, Tomo calls it.
"You will come out with us," he says. It's more of a statement than a question. Jon and I have an early flight to Yangon tomorrow, but we waste little time deliberating. The answer seems obvious. The group sweeps out of the stadium in a drunken huff and squeezes into waiting taxis outside. Ours takes off before I even have a chance to ask where we're going.
We pull up in front of a two-story building and scurry up a steep flight of darkened stairs, where we're greeted by the heady scent of charred meat. It's a yakiniku restaurant, specializing in the Japanese interpretation of classic Korean barbeque. I quickly offer to pay for the cab, but Tomo makes a face as though I've just proclaimed allegiance to the Swallows. We're ushered into a private room, where everyone crams around a sturdy wooden table inset with glowing charcoal grills. Jon and I are seated in the center.
At first we politely refuse the drinks, which are treacly, electric green concoctions that, I later discover, belie their considerable alcohol content. But ultimately it is easier just to accept them. I suck one down absentmindedly and another appears in its place. I shrug and drink that one too. Language barriers, I think to myself like a drunken philosopher, are remarkably less barrier-y when booze is involved. I laugh at some joke of Tomo's and slosh green drink on my shoes.
Everyone has a million questions for us: Do we watch baseball at home? (Yes.) What team do we root for? (The Baltimore Orioles.) What do we think of Japan? (It's wonderful.) Will we tell our friends to visit? (Certainly.) Do we know the Japanese baseballers famous in America, like the Miami Marlins' Ichiro Suzuki or batting legend Hideki Matsui? (Who doesn't?)
Waiters arrive with gleaming plates slicked with thin slices of marbled Wagyu beef, thick strips of fatty pork belly and dozens of small bowls brimming with fermented vegetables flecked with sinus-clearing chili paste. I have no idea what all of this will cost, but I choose not to think about it. All I want is yakiniku, and another green drink, please. Then, without warning, we are presented with an enormous dessert plate piled with cake and fruit. "Happy Wedding, Rachel and Jon" is etched in chocolate. Everyone shouts "Choo! Choo! Choo!" which, Tomo explains, means "Kiss! Kiss! Kiss!" We oblige, and the room explodes in applause.
At 2 a.m., the party is still going. It takes about a half-hour to extricate ourselves, and Jon pulls out his wallet. "Unnecessary!" Tomo shrieks, not unkindly. Tomo grabs Jon's phone and adds himself on Facebook. "Next time, in New York City!" he says.
We stumble out from the private room and down the corridor, where our waiter stands at the top of the stairs. "Gifts," he says, handing us two weighty plastic-sealed packages each about the size of a baseball. It's unclear if they're from the restaurant or Tomo. In the cab on the way home, we examine them: Whole boiled cow's' tongues. After a beat we turn to each other and break down laughing, a dazed mixture of bafflement and joy.