The Ultimate 2017 Boozy Bucket List to Complete Before NYE
Say what you will about 2017, but it was a great year for drinking: Our favorite wines were turned into frozen drinks, vegetables were whipped into cocktails and there were plenty of festivals to keep our glasses full. If you're looking for ways to fill out your last few weeks of drinking this year, these 10 things should be at the top of your boozy bucket list.
Matthew Kelly / Supercall
Drink Your Last Frosé
Now that Frosecco is a thing, Frosé is so over. So pop a bottle of pink wine and whip up this cocktail one last time before it's totally passé.
Mix a Christmas Martini
Once the holidays pass, it's back to basic Martinis, so mix up one of these festive versions before the season is over.
Visit a Christmas-Themed Pop-Up Bar
Miracle pop-up bar has been gracing NYC with themed cocktails and over-the-top holiday decorations for three years, and now the holiday-themed watering hole is slinging drinks in 50 locations around the world. Whether you're in Hong Kong or Cleveland, there's bound to be a location setting up shop near you this season.
Play the Hallmark Christmas Movie Drinking Game
Whether you plop yourself on the couch for hours of Hallmark Christmas movie marathons or can't stand the cheesy storylines, everyone can agree that this drinking game makes the holiday films much more fun to watch.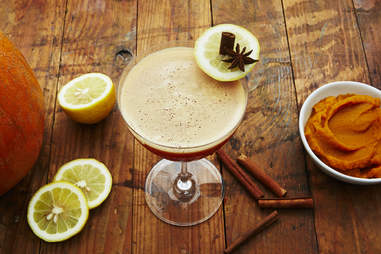 Matthew Kelly / Supercall
Get Your Fill of Pumpkin Spice
Whether you prefer it in cocktails, Jello Shots, or simply in a spiked latte, pumpkin spice won't be around come January. Get your fill now before you have to wait nine months for your next fix.
Pop Open a Boozy Advent Calendar
As kids, we loved opening those little paper doors to find a new chocolate every day, but as adults we're way more into booze-filled advent calendars. Whether you're a gin drinker or can't be without your whiskey, there's a version for you.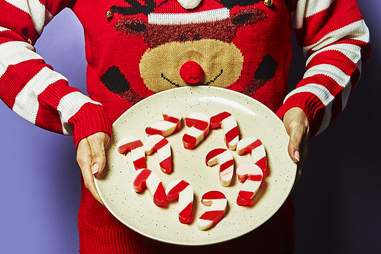 Matthew Kelly / Supercall
Make Candy Cane Jello Shots
These bittersweet jello jigglers will be the star of every holiday party, especially if your guests have refined cocktailian tastes. We promise the effort is worth the outcome.
Make a Big Batch of Eggnog
After the ball drops and January 2 rolls around, no one's in the mood for heavy cream-based cocktails. Make a massive batch of Eggnog and enjoy it before the post-holiday guilt sets in.
Drink Wine with Santa on a Boozy Train
We're not even mad that the Polar Express didn't roll through our town as kids because this boozy Wine Train is so much better. Hop onboard if you're in Napa so you can sip vino with Santa and Jolly the Bear (yes, the kids can come too).
Drink at a Fancy Hotel Bar
Hotel bars are swanky, so get dressed up and take yourself out for a holiday drink. Or better yet, find out which hotels offer free happy hours, and close out 2017 on the cheap.